Mario's Super Picross
From the Super Mario Wiki, the Mario encyclopedia
Jump to navigation
Jump to search
Mario's Super Picross

Japanese box art
For alternate box art, see the game's gallery.
Developer
Jupiter
Publisher
Nintendo
Platform(s)
Super Famicom, Virtual Console (Wii, Wii U, New Nintendo 3DS), Super Nintendo Entertainment System - Nintendo Switch Online
Release date
Super Famicom:
September 14, 1995[1]
Virtual Console (Wii):
December 19, 2006[2]
September 14, 2007[3]
September 14, 2007
Virtual Console (Wii U):
April 27, 2013[4]
April 27, 2013[3]
April 28, 2013
Virtual Console (New 3DS):
November 3, 2016[5]
November 4, 2016
November 28, 2016[6]
Super Nintendo Entertainment System - Nintendo Switch Online:
September 23, 2020[7]
September 23, 2020[8]
September 23, 2020[9]
September 23, 2020[10]
February 17, 2021[11]
February 17, 2021[12]

Genre
Puzzle
Rating(s)

| | |
| --- | --- |
| PEGI: | - Three years and older |
| CERO: | - All ages |
| ACB: | - General |

Mode(s)
Single player
Media

Super NES:

Game Pak

Wii:

Digital download

Wii U:

Digital download

Nintendo Switch:

Digital download

Nintendo 3DS:

Digital download

Input

Super NES:

Super NES Controller

Super NES Mouse

Wii:

Classic Controller

Nintendo GameCube Controller

Wii U:

Wii U GamePad

Classic Controller

Wii U Pro Controller

Nintendo Switch:

Joy-Con

Nintendo Switch Pro Controller

Super NES Controller

Nintendo 3DS:

Gamepad
Mario's Super Picross is the first sequel to the Game Boy game, Mario's Picross, and can be played on the Super Famicom. After the commercial failure of Mario's Picross internationally, this sequel was initially released only in Japan on September 14, 1995. The game plays much the same way as the first, except Wario appears in it and presents his own set of special rules, which also return in the sequel.
In December 2006, Mario's Super Picross was released on the Wii's Virtual Console in Japan. The game saw its first international release in September 2007 on the Virtual Console in Europe and Australia, albeit untranslated. It was later released on the Wii U's Virtual Console in April 2013, and the New Nintendo 3DS's Virtual Console in November 2016, in Japan, Europe, and Australia. Subsequent Picross games of this era, up until the game's release on Super Nintendo Entertainment System - Nintendo Switch Online on September 23, 2020, were never released in the Americas.
Gameplay
[
edit
]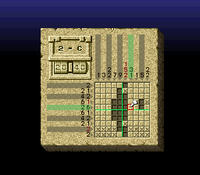 Picross is a logic puzzle game in which the player uses a chisel and rock hammer to uncover pictures. In order to reveal the picture, number clues are given to show how many squares go in each row or column. For example, a "5" horizontally means that there are 5 consecutive marked squares somewhere in that respective row. If there is more than one number, they all appear in that line in their respective order, but there must be at least one blank square between them. The player can also label squares with an "X" if they believe the square should not be marked. Labeling squares with an "X" serves no purpose in the solution of a puzzle, and is only used to assist the player. New to Mario's Super Picross is the ability to mark the hint numbers along the sides of the grid at will, preferably as each consecutive group of squares is solved on that line inside the grid.
There are two sets of puzzles, each divided into several levels. In Mario's set of puzzles, the player is given a time limit. In puzzles with time limits, the player is allotted 30 minutes to complete the puzzle, and is penalized for time for each wrongly marked square; 2 minutes for the first mistake, 4 minutes for the second, and 8 minutes for each mistake thereafter. At the start of the round, the player has the option to use a hint roulette, which cycles through the grid to completely reveal one row and one column. Once started, the player also has the option to use another hint roulette at the expense of 5 minutes deducted from the timer; this can be used multiple times as long as there is enough time remaining. When the player runs out of time, the game is over and they must restart the puzzle. After clearing the first level of Mario's puzzles, the player is granted access to Wario's puzzles.
In Wario's set of puzzles, there is no time limit and the player isn't notified of mistakes or given any hints, making the puzzles harder to solve. There is still a timer, however, it only increments to show the amount of time taken on a puzzle. There is a new option in the start menu, exclusive to Wario, called "? Start"; a guessing mode where the player halts progress on the puzzle and can make temporary marks on prospective squares, which can sometimes be necessary due to the lack of hints and the complexity of Wario's puzzles. The player can decide at any time if they want to cancel the guessing mode and remove the temporary marks, letting them continue from a state prior to entering this mode. If the player correctly finishes the puzzle while in this mode, the puzzle is completed as normal.
Each set has 11 levels with 12 puzzles each, except Wario who has a hidden twelfth "Ultra" level with eight puzzles, which is unlocked by clearing Mario and Wario's special level. After Wario's ultra level is cleared, EX puzzles are unlocked for both Mario and Wario. There is a total of 300 puzzles in the game and puzzle sizes range from 5x5 up to 20x20 and 25x20, the latter being new additions to the series.
A two-player mode exists in the game as well. By performing any input on a second controller, a second player is entered in to the game, and players can then solve puzzles cooperatively. This feature would later return in Picross 2, Picross NP, and Picross S in which players can cooperatively solve puzzles or compete to fill the most squares.
Puzzles
[
edit
]
Mario's Super Picross
[
edit
]
Level 1
マ (ma)
リ (ri)
オ (o)
の (no)
ピ (pi)
ク (ku)
ロ (ro)
ス (su)
Big Dipper
Sail Boat
Penguin
Mermaid
Level 2
Glasses
Dolphin
Angel Fish
Northern Fox
Post Box
Floppy Disk
Great South Gate
Key
Rocket
Clock
American Football Helmet
Slot Machine
Level 3
Magnet
Satellite Dish
Ruler
Electrical Outlet
Onigiri
Kokeshi Dolls
Bottle Opener
Australia
Sewing Machine
Flask
Medal
Ambulance
Level 4
Golf Green
Festival Fan
Condor
Ghost Leg
Diving
Dress Shirt
Weight Lifter
Fawn
Opera Glasses
Music Box
Harp
Baby and Mama
Level 5
Dinosaur Fossil
Microscope
Dog and Utility Pole
Gangster

Votive Picture

Longhorn Beetle
Headphones
Strawberry
The News
Hot Air Balloon
Gateball
Escalator
Level 6
Gorilla
Fishing
Exercising Rabbit
The Thinker
Tokyo Tower
Howling Dog
Weathercock
Horn
Pumpkin
Marilyn Monroe (Original)
Giant Tortoise (Re-releases)
Hannya
Traveler in the Desert
Level 7
Parakeet
Eel
Fountain
Sea Horse
Frog and Willow Tree
Spider
Flounder
Balancing
Origami Crane
Ptarmigan
Lighthouse
Praying Mantis
Level 8
Picross
Camera
Garbage Can
Plesiosaurus
Juice
Western Castle
Fox
Capitol
Japanese Castle
Dandelion
Alarm Clock
Magic Lamp
Level 9
Basketball
Eggplant
Palm Tree
Football
Lantern
Kettle
Hydrangea
Tropical Fish
King
Hang-On
Eagle
Woodpecker
Level 10
Helicopter
Fishbowl
Treasure Ship
Grand Piano
Flowers
Coat
Tulip
Water Mill
Cyclist
Kendo
Sumo
Horse Racing
Special
High-speed Boat
Paint
Ice Skates
Binoculars
Mount Fuji
Steam Train
Bee
Morning Glory
Man Playing the Guitar
Egypt
Uchide-no-Kozuchi
Gymnastics
EX
High Wheeler

Kabuto

Boxing Gloves
Pocket Watch
Chick
Coffee Cup
No Smoking Mark
Pelican
Lucky Cat

Raijin

Snowman
Basketball
Wario's Face
Wario's Super Picross
[
edit
]
Level 1
Uninhabited Island
Sole
Bomb

Kozaru

Cicada
Mosquito Coil
Thief
Dog
Tutankhamun
Adobe Dwelling
Parasol
Harvest Moon
Level 2
Orion
Tetris (Original)
Hermit Crab (Re-releases)
Bird's Nest
Shoshinsha Mark
Moon Landing
Emergency Exit
Africa
Daruma Doll
Killifish
Pop-eyed Goldfish
Failure of Yore
Doghouse
Level 3
Fugu
Butterfly
Flying Fish
The Sun
Army Ants
Bag of Money
Kappa
Iguana
Devil
Mouse
Bat
Skunk
Level 4
Uncle
Faucet
Flying Carpet
Pro Wrestler
Tadpole
Mizaru
Knock
Iwazaru
Hippopotamus
Tiger
Kikazaru
Teru Teru Bōzu
Level 5
Shogi
Owl
Dinosaur
TV Set
Man Smoking a Pipe
Flamingo
Catfish
Roast Bird
Monkey
Dodo
Grim Reaper
The Scream (Original)
Chameleon (Re-releases)
Level 6
Tea
Queen
Raccoon
Fishbone
Jizo
Panda Face
Porcine Mosquito Coil
Myna
Crescent Moon
Mole
Hurdle
Conductor
Level 7
Tyrannosaurus
Crocodile
Ostrich
Viking
Witch
Pegasus
The Americas
Lakitu
Parent and Child Tortoise
Nokko
Buffalo
Piggy Bank
Level 8
Heavy Metal
Chicken
Badly Drawn Dog
Clown
Maizō
Tanuki
Commuting
Squid
Frog
Knight
Goboten
Mountain Gorilla
Level 9
Kintarō Candy
Octopus with a Headband
Alien
Mountaineer
Rock-Paper-Scissors
Whale
Tōyama no Kin-san
Kurikuri
Giraffe
Tiny Wario
Reindeer
Ukiyo-e
Level 10
Bowl and Chopsticks
Car
Mr. Bear
Cow
Orca
Honey Bee
Excavator
Great Buddha
Sheep
Scorpion
Tuna
Carriage
Special
Sunfish
Squirrel
Beach
Locust
Lion
Tanuki Figure
Luffa
Scale
Haniwa Horse
Princess Kaguya
Cherry Blossom
Sea Lion
Ultra
Waitress
Koala
Coelacanth
Backpack
Tabby
Baby
Rider
Wolf
EX
Bad Guy's Mark
Terrible Guy
Bad Guy's Eye
Gallant Mustache
Sideburns of Yours Truly
Ear of Yours Truly
Mark of the Hero
Beautiful Eyes
Helmet of Yours Truly
Gloves of Yours Truly
Tiny Wario's Head
Shoes of Yours Truly
View of the Moon
Pansy
Bunbuku Chagama
Reception
[
edit
]
Reviews
Release
Reviewer, Publication
Score
Comment
SNES
Marcel van Duyn, Nintendo Life
9/10
"Mario's Super Picross is more of the same, but that's not bad at all, since, well, it's Picross! Whether you've played Picross before or not, Super Picross must be played — It's arguably the best in the series. Unlike the unforgiving first games, it's great whether you're a beginner or an expert, its difficulty starting off on the gentle side before ramping up as more puzzles are completed."
Aggregators
Compiler
Platform / Score
Metacritic
[N/A]
GameRankings
[N/A]
Gallery
[
edit
]
Names in other languages
[
edit
]
Language
Name
Meaning
Japanese
マリオのスーパーピクロス
Mario no Sūpā Pikurosu
Mario's Super Picross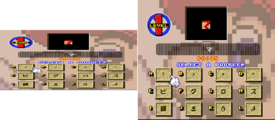 Mario's Super Picross utilizes a "high resolution SD mode". While still constrained to the 224 lines of standard definition TVs, the horizontal definition of the images is doubled to 512 so that pixels twice as thin can be displayed. In order to better show such images on modern displays with square pixels, the horizontal lines need to be doubled to restore the apparent aspect ratio. This mode is only used for screens that use text to allow a higher level of detail to display the kana characters. The puzzles themselves and the menus are in the standard Super Famicom resolution, 256x224.
The solutions of the first eight puzzles spell out "マリオのピクロス" (ma-ri-o-no-pi-ku-ro-su), which translates to "Mario's Picross."
External links
[
edit
]
References
[
edit
]
Super Mario games
Platformers
Super Mario series
Super Mario Bros. (1985, NES) • Super Mario Bros.: The Lost Levels (1986, FDS) • Super Mario Bros. 2 (1988, NES) • Super Mario Bros. 3 (1988, NES) • Super Mario Land (1989, GB) • Super Mario World (1990, SNES) • Super Mario Land 2: 6 Golden Coins (1992, GB) • Super Mario 64 (1996, N64) • Super Mario Sunshine (2002, GCN) • New Super Mario Bros. (2006, DS) • Super Mario Galaxy (2007, Wii) • New Super Mario Bros. Wii (2009, Wii) • Super Mario Galaxy 2 (2010, Wii) • Super Mario 3D Land (2011, 3DS) • New Super Mario Bros. 2 (2012, 3DS) • New Super Mario Bros. U (2012, Wii U) • Super Mario 3D World (2013, Wii U) • Super Mario Maker (2015, Wii U) • Super Mario Run (2016, iOS/iPadOS/Android) • Super Mario Odyssey (2017, Switch) • Super Mario Maker 2 (2019, Switch)
Donkey Kong /
Mario vs. Donkey Kong series
Donkey Kong (1981, arcade) • Donkey Kong (1994, GB) • Mario vs. Donkey Kong (2004, GBA) • Mario vs. Donkey Kong 2: March of the Minis (2006, DS) • Mario vs. Donkey Kong: Minis March Again! (2009, DSiWare) • Mario vs. Donkey Kong: Mini-Land Mayhem! (2010, DS) • Mario and Donkey Kong: Minis on the Move (2013, 3DS) • Mario vs. Donkey Kong: Tipping Stars (2015, 3DS/Wii U) • Mini Mario & Friends: amiibo Challenge (2016, 3DS/Wii U)
Mario Bros. series
Mario Bros. (1983, arcade) • Mario Bros. Special (1984, computer) • Punch Ball Mario Bros. (1984, computer) • Mario Clash (1995, VB)
Wrecking Crew series
VS. Wrecking Crew (1984, VS) • Wrecking Crew (1985, NES) • Wrecking Crew '98 (1998, SFC)
Other
Mario Bros. (1983, G&W) • Mario's Cement Factory (1983, G&W) • Super Mario Bros. Special (1986, computer) • Mario & Wario (1993, SNES) • Hotel Mario (1994, CD-i) • Super Princess Peach (2005, DS) • New Super Luigi U (2013, Wii U) • Captain Toad: Treasure Tracker (2014, Wii U) • Super Mario Bros. 35 (2020, Switch)
Ports and remakes
Crazy Kong (1981, arcade) • Donkey Kong (1982, G&W) • VS. Super Mario Bros. (1986, VS) • Super Mario Bros. (1986, G&W) • All Night Nippon: Super Mario Bros. (1986, FDS) • Kaettekita Mario Bros. (1988, FDS) • Super Mario Bros. (1989, NGW) • Super Mario Bros. 3 (1990, NGW) • Super Mario World (1991, NGW) • Super Mario All-Stars (1993, SNES) • Donkey Kong (1994, NGW) • Super Mario All-Stars + Super Mario World (1994, SNES) • BS Super Mario USA (1996, SNES) • BS Super Mario Collection (1997, SNES) • Super Mario Bros. Deluxe (1999, GBC) • Super Mario Advance (2001, GBA) • Super Mario World: Super Mario Advance 2 (2002, GBA) • Super Mario Advance 4: Super Mario Bros. 3 (2003, GBA) • Famicom Mini Series (2004, GBA) • Classic NES Series (2004-2005, GBA) • Super Mario 64 DS (2004, DS) • Virtual Console (2006-2016, Wii/3DS/Wii U) • Super Mario All-Stars Limited Edition (2010, Wii) • Luigi Bros. (2013, Wii U) • Super Mario Maker for Nintendo 3DS (2016, 3DS) • Captain Toad: Treasure Tracker (2018, Switch/3DS) • New Super Mario Bros. U Deluxe (2019, Switch) • Super Mario 3D All-Stars (2020, Switch) • Game & Watch: Super Mario Bros. (2020, G&W) • Super Mario 3D World + Bowser's Fury (2021, Switch)
Tech demos
snd_test (Unknown, SNES) • Super Mario 128 (2000, GCN) • New Super Mario Bros. Mii (2011, Wii U) • Mario vs. Donkey Kong Wii U demo (2014, Wii U)
Canceled games
Super Mario's Wacky Worlds (CD-i) • Mario Takes America (CD-i) • VB Mario Land (VB) • Super Mario 64 2 (N64DD)
Mario Kart series
Main
Super Mario Kart (1992, SNES) • Mario Kart 64 (1996, N64) • Mario Kart: Super Circuit (2001, GBA) • Mario Kart: Double Dash!! (2003, GCN) • Mario Kart DS (2005, DS) • Mario Kart Wii (2008, Wii) • Mario Kart 7 (2011, 3DS) • Mario Kart 8 (2014, Wii U) • Mario Kart Tour (2019, iOS/iPadOS/Android)
Arcade
Mario Kart Arcade GP (2005, arcade) • Mario Kart Arcade GP 2 (2007, arcade) • Mario Kart Arcade GP DX (2013, arcade) • Mario Kart Arcade GP VR (2017, arcade)
Other
Mario Kart Live: Home Circuit (2020, Switch)
Ports
Mario Kart 8 Deluxe (2017, Switch)
Tech demos
Mario Kart for Nintendo GameCube (2001, GCN)
Pitches / canceled games
VB Mario Kart (VB) • Mario Kart XXL (GBA) • Tesla Mario Kart game (Tesla vehicles)
Mario Party series
Main
Mario Party (1998, N64) • Mario Party 2 (1999, N64) • Mario Party 3 (2000, N64) • Mario Party 4 (2002, GCN) • Mario Party 5 (2003, GCN) • Mario Party 6 (2004, GCN) • Mario Party 7 (2005, GCN) • Mario Party 8 (2007, Wii) • Mario Party 9 (2012, Wii) • Mario Party 10 (2015, Wii U) • Super Mario Party (2018, Switch) • Mario Party Superstars (2021, Switch)
Handheld games
Mario Party Advance (2005, GBA) • Mario Party DS (2007, DS) • Mario Party: Island Tour (2013, 3DS) • Mario Party: Star Rush (2016, 3DS) • Mario Party: The Top 100 (2017, 3DS)
Arcade
Super Mario Fushigi no Korokoro Party (2004, arcade) • Super Mario Fushigi no Korokoro Party 2 (2005, arcade) • Mario Party Fushigi no Korokoro Catcher (2009, arcade) • Mario Party Kurukuru Carnival (2012, arcade) • Mario Party Fushigi no Korokoro Catcher 2 (2013, arcade) • Mario Party Challenge World (2016, arcade)
Other
Mario Party-e (2003, GBA)
Sports games
Mario Golf series
Golf (1984, NES) • Family Computer Golf: Japan Course (1987, FDS) • Family Computer Golf: U.S. Course (1987, FDS) • NES Open Tournament Golf (1991, NES) • Mario Golf (1999, N64) • Mario Golf (1999, GBC) • Mobile Golf (2001, GBC) • Mario Golf: Toadstool Tour (2003, GCN) • Mario Golf: Advance Tour (2004, GBA) • Mario Golf: World Tour (2014, 3DS) • Mario Golf: Super Rush (2021, Switch)
Mario Tennis series
Mario's Tennis (1995, VB) • Mario Tennis (2000, N64) • Mario Tennis (2000, GBC) • Mario Power Tennis (2004, GCN) • Mario Tennis: Power Tour (2005, GBA) (Bicep Pump [Unknown, Adobe Flash] • Reflex Rally [Unknown, Adobe Flash]) • Mario Tennis Open (2012, 3DS) • Mario Tennis: Ultra Smash (2015, Wii U) • Mario Tennis Aces (2018, Switch)
Mario Baseball series
Baseball (1989, GB) • Mario Superstar Baseball (2005, GCN) • Mario Super Sluggers (2008, Wii)
Mario Strikers series
Super Mario Strikers (2005, GCN) • Mario Strikers Charged (2007, Wii) • Mario Strikers: Battle League (2022, Switch)
Other
Donkey Kong Hockey (1984, G&W) • Famicom Grand Prix: F1 Race (1987, FDS) • Famicom Grand Prix II: 3D Hot Rally (1988, FDS) • Super Mario Race (1992, GwB) • Mario Hoops 3-on-3 (2006, DS) • Mario Sports Mix (2010, Wii) • Mario Sports Superstars (2017, 3DS)
Ports
New Play Control! Mario Power Tennis (2009, Wii)
Canceled games
Super Mario American football game (GCN) • Super Mario Spikers (Wii)
Role-playing games
Paper Mario series
Paper Mario (2000, N64) • Paper Mario: The Thousand-Year Door (2004, GCN) • Super Paper Mario (2007, Wii) • Paper Mario: Sticker Star (2012, 3DS) • Paper Mario: Color Splash (2016, Wii U) • Paper Mario: The Origami King (2020, Switch)
Mario & Luigi series
Mario & Luigi: Superstar Saga (2003, GBA) • Mario & Luigi: Partners in Time (2005, DS) • Mario & Luigi: Bowser's Inside Story (2009, DS) • Mario & Luigi: Dream Team (2013, 3DS) • Mario & Luigi: Paper Jam (2015, 3DS)
Other
Super Mario RPG: Legend of the Seven Stars (1996, SNES)
Remakes
Mario & Luigi: Superstar Saga + Bowser's Minions (2017, 3DS) • Mario & Luigi: Bowser's Inside Story + Bowser Jr.'s Journey (2018, 3DS)
Canceled games
Super Mario RPG 2 (N64DD) • Super Paper Mario (GCN)
Dr. Mario series
Main
Dr. Mario (1990, NES/GB) • Dr. Mario 64 (2001, N64) • Dr. Mario Online Rx (2008, WiiWare) • Dr. Mario Express (2008, DSiWare) • Dr. Luigi (2013, Wii U) • Dr. Mario: Miracle Cure (2015, 3DS) • Dr. Mario World (2019, iOS/iPadOS/Android)
Other
VS. Dr. Mario (1990, VS) • Dr. Mario (1993, GwB)
Remakes
Tetris & Dr. Mario (1994, SNES) • Nintendo Puzzle Collection (2003, GCN) • Dr. Mario & Puzzle League (2005, GBA)
Luigi's Mansion series
Main
Luigi's Mansion (2001, GCN) • Luigi's Mansion: Dark Moon (2013, 3DS) • Luigi's Mansion 3 (2019, Switch)
Arcade
Luigi's Mansion Arcade (2015, arcade)
Remakes
Luigi's Mansion (2018, 3DS)
Tech demos
Luigi's Mansion (2000, GCN)
Educational games
Mario Discovery series
Mario is Missing! (1993, MS-DOS/SNES/NES) • Mario's Time Machine (1993, MS-DOS/SNES/NES) • Mario's Early Years! Fun with Letters (1993, MS-DOS/SNES) • Mario's Early Years! Fun with Numbers (1994, MS-DOS/SNES) • Mario's Early Years! Preschool Fun (1994, MS-DOS/SNES)
Other
Family BASIC (1984, FC) • Mario Teaches Typing (1991, MS-DOS) • Super Mario Bros. & Friends: When I Grow Up (1991, MS-DOS) • Mario Teaches Typing 2 (1996, MS-DOS)
Ports
Mario's Early Years! CD-ROM Collection (1995, MS-DOS)
Canceled games
Mario's Mission Earth (SNES)
Art utilities
Games
I am a teacher: Super Mario Sweater (1986, FDS) • Super Mario Bros. Print World (1991, MS-DOS) • Mario Paint (1992, SNES) • Super Mario Collection Screen Saver (1997, PC) • Mario no Photopi (1998, N64) • Mario Artist: Paint Studio (1999, N64DD) • Mario Artist: Talent Studio (2000, N64DD) • Mario Artist: Communication Kit (2000, N64DD) • Mario Artist: Polygon Studio (2000, N64DD) • Mario Family (2001, GBC)
Pitches / canceled games
Mario Factory ("Game Processor RAM Cassette") • Mario Paint 3D (N64) • Mario Artist: Game Maker / Graphical Message Maker / Sound Maker / Video Jockey Maker (N64DD)
Miscellaneous
Games / other software
Mario's Bombs Away (1983, G&W) • Pinball (1984, NES) • Alleyway (1989, GB) • Mario's Egg Catch (1990, SMBW) • Luigi's Hammer Toss (1990, SMBW) • Princess Toadstool's Castle Run (1990, SMBW) • Mario the Juggler (1991, G&W) • Yoshi's Safari (1993, SNES) • Undake30 Same Game (1995, SFC) • Mario's Game Gallery (1995, MS-DOS) • Mario's Picross (1995, GB) • Mario's Super Picross (1995, SFC) • Donkey Kong (1996, arcade) • Picross 2 (1996, GB) • Mario's FUNdamentals (1998, Windows) • Mario's Memory Madness (1998, Adobe Shockwave) • Crazy Counting (1999, Adobe Shockwave) • Dinky Rinky (1999, Adobe Shockwave) • Goodness Rakes (1999, Adobe Shockwave) • Melon Mayhem (1999, Adobe Shockwave) • Nomiss (1999, Adobe Shockwave) • Picross NP (1999-2000, SFC) • The Lab (2001, Adobe Flash) • Mario Party 4 (2002, Adobe Flash) • Super Mario Fushigi no Janjan Land (2003, arcade) • Mario Pinball Land (2004, GBA) • Yakuman DS (2005, DS) • Mario Trivia (Unknown, Adobe Flash) • Mario Memory (Unknown, Adobe Flash) • Virus Attack! (Unknown, Adobe Flash) • Mini-Mario Factory Game! (2004, Adobe Flash) • Bill Bounce (2004, Adobe Flash) • Mario Party 7 Bon Voyage Quiz (2005, Adobe Flash) • Super Mario Strikers Advergame (2005, Adobe Flash) • Dr. Mario Vitamin Toss (2005, Adobe Flash) • Bowser's Lair Hockey (2005, Adobe Flash) • Heads-Up (2005, Adobe Flash) • Parasol Fall (2005, Adobe Flash) • Dribble Skillz (2006, Adobe Flash) • Superstar Shootout (2006, Adobe Flash) • Mario vs. DK 2: Cannon Kaos (2006, Adobe Flash) • Super Paper Mario Memory Match (2007, Adobe Flash) • Are You Smarter Than Mario? (2008, Adobe Flash) • Mario Calculator (2009, DSiWare) • Mario Clock (2009, DSiWare) • Play Nintendo activities (2014-2023)
Tech demos
Mario Demo (1994, VB) • morphdemo (Unknown, N64) • Peach's Castle (2002, GCN) • Mario's Face (Unknown, DS) • DSpeak (2005, DS) • Koopa Troopa Forest (Unknown, Wii) • Mario FPS (Unknown, Wii)
Pitches / canceled games
Mario's Castle ("Project Atlantis") • Boss Game Studios' Super Mario game pitch (Unknown) • Retro Studios' Boo project (DS) • Mario Motors (DS)
Crossovers
Game & Watch Gallery series
Game & Watch Gallery (1997, GB) • Game & Watch Gallery 2 (1997, GB) • Game & Watch Gallery 3 (1999, GBC) • Game & Watch Gallery 4 (2002, GBA)
Super Smash Bros. series
Super Smash Bros. (1999, N64) • Super Smash Bros. Melee (2001, GCN) • Super Smash Bros. Brawl (2008, Wii) • Super Smash Bros. for Nintendo 3DS (2014, 3DS) • Super Smash Bros. for Wii U (2014, Wii U) • Super Smash Bros. Ultimate (2018, Switch)
Itadaki Street series
Itadaki Street DS (2007, DS) • Fortune Street (2011, Wii)
Mario & Sonic series
Mario & Sonic at the Olympic Games (2007, Wii) • Mario & Sonic at the Olympic Games (2008, DS) • Mario & Sonic at the Olympic Winter Games (2009, Wii) • Mario & Sonic at the Olympic Winter Games (2009, DS) • Mario & Sonic at the London 2012 Olympic Games (2011, Wii) • Mario & Sonic at the London 2012 Olympic Games (2012, 3DS) • Mario & Sonic at the Sochi 2014 Olympic Winter Games (2013, Wii U) • Mario & Sonic at the Rio 2016 Olympic Games (2016, Wii U) • Mario & Sonic at the Rio 2016 Olympic Games (2016, 3DS) • Mario & Sonic at the Rio 2016 Olympic Games Arcade Edition (2016, arcade) • Mario & Sonic at the Olympic Games Tokyo 2020 (2019, Switch) • Mario & Sonic at the Olympic Games Tokyo 2020 - Arcade Edition (2020, arcade)
Mario + Rabbids series
Mario + Rabbids Kingdom Battle (2017, Switch) • Mario + Rabbids Sparks of Hope (2022, Switch)
Other
Excitebike: Bun Bun Mario Battle (1997, Satellaview) • NBA Street V3 (2005, GCN) • Dance Dance Revolution: Mario Mix (2005, GCN) • SSX on Tour (2005, GCN) • Tetris DS (2006, DS) • Captain Rainbow (2008, Wii) • Art Style: PiCTOBiTS (2009, DSiWare) • Nintendo Land (2012, Wii U) • Puzzle & Dragons: Super Mario Bros. Edition (2015, 3DS)
Tech demos
Chase Mii (Unknown, Wii U)
Pitches / canceled games
Mario/Rabbids crossover adventure game (Wii) • DDR MARIO 2 (Wii)