World
From the Super Mario Wiki, the Mario encyclopedia
Jump to navigation
Jump to search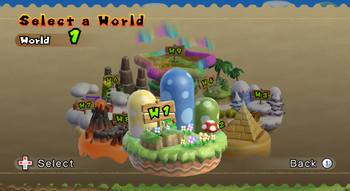 A world is a group of levels in Mario games. In Super Mario Bros. and Super Mario Bros.: The Lost Levels, each world always has exactly four levels, and in Super Mario Bros. 2, each world has three (except the final world, which has only two). However, starting in Super Mario Bros. 3, most games have a varying number of levels. In some three-dimensional Mario games, worlds are no longer used; now each level stands alone (but each level is sometimes referred to as a world), and the missions are referred to as either stars or episodes. In earlier games, worlds were simply numbered "World 1," "World 2," etc. Super Mario Bros. 3 was the first Mario game to give the worlds distinct names, though some later games return to the standard numerical naming.
In general terms, a world refers to any large area of land and space marked off from other regions. As such, "world" may refer to a politically or geographically distinct region of land (such as Desert Land or Chocolate Island), a planet, or even an entire galaxy. Each world has several different terrains and locations.
List of worlds
[
edit
]
Glitch worlds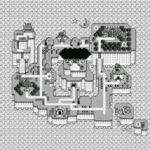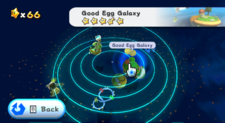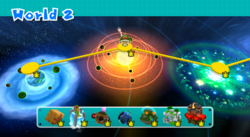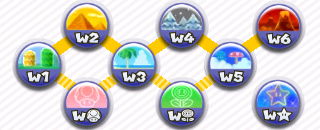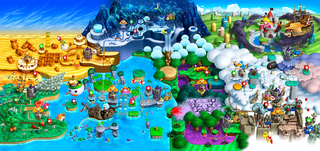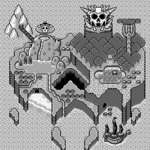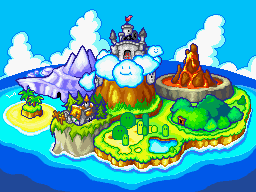 It has been requested that more images be uploaded for this section. Remove this notice only after the additional image(s) have been added.
Names in other languages
[
edit
]
Language
Name
Meaning
Japanese
ワールド
Wārudo
World
Chinese
世界
Shìjiè
World
Dutch
Wereld
World
French
Monde
World
German
Welt
World
Italian
Mondo
World
Korean
월드
Woldeu
World
Portuguese
Mundo
World
Russian
Мир
Mir
World
Spanish
Mundo
World