Roy's HardBrick Hotel
From the Super Mario Wiki, the Mario encyclopedia
Jump to navigation
Jump to search
"ROY AND HIS HENCHMEN ARE PREPARING FOR YOUR ARRIVAL"

—

Introductory tagline

"Aha, here's the problem: too many toasters!"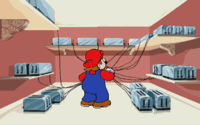 Roy's HardBrick Hotel is the second hotel found in Hotel Mario, owned by Roy Koopa. The name is a pun on the Heartbreak Hotel, a fictional hotel mentioned in a song by Elvis Presley. As its name implies, it is a hotel built mainly out of bricks.
After Morton Koopa Jr. is defeated in his Wood Door Hysteria Hotel, Princess Toadstool falls in the arms of Roy Koopa, who brings her to the HardBrick Hotel. The hotel's lights have an inexplicable flicker that is visible from outside, leading Luigi to ask Mario how they will be able to find the princess with the lights going out. Mario conjectures that there is a switch located inside the hotel that would solve the problem. He later finds that the flicker is caused by the excessive usage of electricity in the toaster room, where a cluster of toasters toast Bowser's Sourpuss Bread.
Enemies found in the hotel are Mini Ninjas, Parabombs, Koopas and Goombas. The boss stage is known as Roy's Rowdy Rooftop.
| Level | Preview | Description | Enemies and obstacles encountered |
| --- | --- | --- | --- |
| Stage 1 | | The first stage of this hotel which features five floors. | Goombas |
| Stage 2 | | The second stage of this hotel which features five floors. | Goombas, Koopa Troopas |
| Stage 3 | | The third stage of this hotel which introduces Mini Ninjas and features five floors. | Goombas, Mini Ninjas |
| Stage 4 | | The fourth stage of this hotel which features five floors. | Koopa Troopas, Mini Ninjas |
| Stage 5 | | The fifth stage of this hotel which features five floors. | Mini Ninjas |
| Stage 6 | | The sixth stage of this hotel which introduces Parabombs and features five floors. | Goombas, Parabombs |
| Stage 7 | | The seventh stage of this hotel which features five floors. | Koopa Troopas, Parabombs |
| Stage 8 | | The eighth stage of this hotel which features five floors. | Mini Ninjas, Parabombs |
| Stage 9 | | The ninth stage of this hotel which features five floors. | Parabombs |
| Roy's Rowdy Rooftop | | The tenth and final stage of this hotel which features five floors and the boss fight against Roy. | Roy Koopa |