World 8 (New Super Mario Bros.)
From the Super Mario Wiki, the Mario encyclopedia
Jump to navigation
Jump to search

World 8 is the final world of New Super Mario Bros. Mario and Luigi travel to this world after defeating Monty Tank or Lakithunder, or using the cannon in World 5. This world is divided into two parts: a "dark forest" area, and a "lava" area (which cannot be seen until the player beats the first castle, even on the map on the touch screen); both having their separate towers and castles. The bosses of this world are Bowser Jr. (fought twice alone), Dry Bowser, and a resurrected Bowser fighting alongside Bowser Jr., making up a total of four boss battles, the most of any world in the New Super Mario Bros. series.
The first half of the world has a "spooky" theme; featuring Splunkins, Scuttlebugs and Crowbers, and featuring the same music as the Ghost House levels. Notably, this is the only world to have Boos in a non-Ghost House level. The second half introduces rising lava and unique enemies such as Sledge Bros., Fire Bros., Kab-ombs, and Volcanic debris.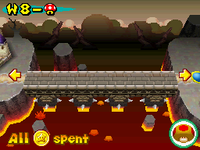 Unlike all the other worlds, this world does not feature secret exits or unlockable courses. One of each type of Toad House can be found in the forest area, but none can be found in the lava area.
A racecourse called Grumble Volcano which has a similar theme to this world is featured in Mario Kart Wii, and returns in Mario Kart 8 and Mario Kart 8 Deluxe.
Level information
[
edit
]

Enemies introduced
[
edit
]
When Mario enters the second part of World 8, additional drums and a double-reeded flute are added while roaming in the map.
This is one of the two lava-themed worlds in the New Super Mario Bros. series to feature Toad Houses, the other is World 6 from New Super Mario Bros. 2.