Jungle (Donkey Kong Country Returns)
From the Super Mario Wiki, the Mario encyclopedia
Jump to navigation
Jump to search
The Jungle is the first world of Donkey Kong Country Returns and its Nintendo 3DS remake, Donkey Kong Country Returns 3D. It is the successor to Kongo Jungle from the original Donkey Kong Country, as both are the first world of their respective game, are themed after a jungle, and appear at the bottom of Donkey Kong Island. It is also where DK's Tree House and its underlying banana hoard are located. When asked if they were the same location, senior designer Kynan Pearson approved of the idea.[1]
Being the first world, the Jungle in-part serves as a tutorial world. Tutorial Pig appears throughout, introducing the new and recurring mechanics of the game. Mugly is fought as the world's boss.
The Jungle reappears in Donkey Kong Country: Tropical Freeze during the opening cinematic, where the Snowmads have turned the island into a snowscape. While the Jungle does not return as a world, it is featured as a representative level, Homecoming Hijinxs.
Appearance
[
edit
]
The Jungle is covered with trees, many of them being large. There is a large waterfall coming down from a high cliff next to the Temple, and there are some rivers running through the trees. The Jungle itself is on a big peninsula, mostly bordered by a sandy coastline. The part that is not bordered by coastline is bordered by a very high, sheer cliff face, which goes up half the mountain to the Factory. More giant hills and cliffs appear later in the world, and the world boss, Mugly, is fought on the highest hill.
Aside from its jungle theme, the Jungle features many ancient and dilapidated ruins. It also features a cavern area where Donkey Kong and Diddy Kong ride around on a Mine Cart.
Profiles
[
edit
]
Donkey Kong Country Returns

[

edit

]
Prima Strategy Guide: "The Jungle is the first world. This is Donkey Kong's natural environment. There are lots of trees whose tops serve as platforms. Awks are one of the main enemies you face here, along with the tricky Frogoons. Of course, expect some of the Tikis, such as Tiki Goons and Tiki Dooms. This world is the least dangerous of the eight, so it is a great place for learning how to control Donkey Kong and experimenting with his various moves."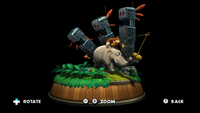 The following is extra content that can be unlocked in the Jungle. The unlockables can be seen in their respective galleries after selecting the "EXTRAS" option in a file's menu. For a full list of extras in the game, see here.
Images are unlocked by collecting all Puzzle Pieces in certain levels. All images that can be unlocked in the Jungle area are listed below, along with their titles and the levels wherein they can be unlocked (mentioned in parentheses).
A soundtrack selection for this world can be unlocked after beating Mugly.
Names in other languages
[
edit
]
Language
Name
Meaning
Japanese
ジャングルエリア
Janguru Eria
Jungle Area
German
Dschungel
Jungle
Italian
Giungla
Jungle
References
[
edit
]