Pyrobot
From the Super Mario Wiki, the Mario encyclopedia
Jump to navigation
Jump to search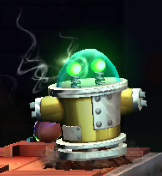 Pyrobots[1] are Ready-Bot enemies that appear in the Factory world of Donkey Kong Country Returns. They resemble fire hydrants, which is reflected in their Japanese name. There are two types of Pyrobots, both of whom patrol a set area back and forth and occasionally release fire from their arms like a flamethrower before resuming with their march. If Donkey Kong and Diddy Kong come in contact with the fire, they get burned and injured.
The red, older Pyrobot Mk I[2] (also spelled Pyrobot Mk 1[3]) is invulnerable to every attack from the Kongs themselves. However, they can temporarily immobilize a Pyrobot Mk I by jumping on it. A Pyrobot Mk I can only be defeated if the Kongs throw a barrel or a BuckBomb at it.
The yellow, newer-looking Pyrobot Mk II[4] is less durable and can be jumped on three times to be defeated. The Kongs can throw a barrel at a Pyrobot Mk II to instantly defeat it.
In Donkey Kong Country Returns 3D, the red Pyrobots in Robo Factory shoot fire steams out of their heads while the yellow ones act like normal Pyrobots.
Gallery
[
edit
]
Names in other languages
[
edit
]
Pyrobot Mk I
[
edit
]
Language
Name
Meaning
Japanese
レッドハイドロイド[5]
Reddo Haidoroido
Red Hydroroid
Pyrobot Mk II
[
edit
]
Language
Name
Meaning
Japanese
ハイドロイド[5]
Haidoroido
Hydroroid
References
[
edit
]