Squidly
From the Super Mario Wiki, the Mario encyclopedia
Jump to navigation
Jump to search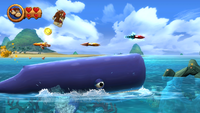 Squidlys[1] (also pluralized as Squidlies[2]), also known as Squiddles[3] (pluralized as Squiddless[4] or Squiddles[5]), are enemies that appear in Donkey Kong Country Returns and its Nintendo 3DS remake, Donkey Kong Country Returns 3D. They are squid-like torpedos that are indefinitely fired from Squid Shots. Squidlys have an electrical variant named Electrasquid.
When fired out from a Squid Shot, Squidlys slowly move in a straight line, either left or right (depending on where the Kongs are located). Squidlys get destroyed once they hit a wall, or they damage Donkey Kong or Diddy Kong upon contact. The Kongs can defeat a Squidly by jumping on them.
Squidlys seem to have design origins from the orthoceras, a genus of extinct cephalopods with external shells and no feeding tentacles, similar to Squidly.
Names in other languages
[
edit
]
Language
Name
Meaning
Japanese
トビーカ
Tobīka
Corruption of「トビイカ」(tobi'ika, flying squid)
Italian
Malacaro
An anagram of "Calamaro" (squid)
References
[
edit
]