Mario Toy Company
From the Super Mario Wiki, the Mario encyclopedia
Jump to navigation
Jump to search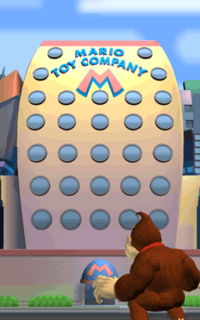 The Mario Toy Company is a company that sells Mini-Mario toys in Mario vs. Donkey Kong. In the game, Donkey Kong tries to purchase a Mini-Mario toy after seeing a commercial for the toys on television. However, all the stores are sold out. As a result, Donkey Kong travels to the company's factory and steals all of the Mini-Mario toys he can get his hands on. Eventually, Mario recovers all of the toys and defeats Donkey Kong. This is the first world in Mario vs. Donkey Kong.
The Mario Toy Company acts as the introductory world in the game and contains simple puzzles. The world has an urban setting, featuring the company's headquarters surrounded by its affiliated buildings and many apartment blocks. During the Donkey Kong fight, Mario must throw Garbage Cans that appear depending on the buttons that Donkey Kong activates for a total of four times.
In the sequel, Mario vs. Donkey Kong 2: March of the Minis, Mini Peach, Mini Donkey Kong, and Mini Toad toys are also produced by the Mario Toy Company, here renamed the Mini Mario Toy Company.[1] A theme park based on the toys is additionally made.
Gallery
[
edit
]
Names in other languages
[
edit
]
Language
Name
Meaning
Japanese
ミニマリオこうじょう
Mini Mario Kōjō
Mini-Mario Factory
French
Jouets Mario & Co.
Mario & Co. Toys
German
Mini-Mario AG
Mini-Mario AG (AG means "Aktiengesellschaft", anonymous society)
Italian
Mario Toy Company (March of the Minis onward)
Giochi Mario SPA (Mario vs. Donkey Kong)
-
Mario Toys/Games joint-stock company (Allusion to Italian toy company Giochi Preziosi S.p.A.)
Spanish
Fábrica de Juguetes Mario
Mario Toy Factory
References
[
edit
]