Soft sand
From the Super Mario Wiki, the Mario encyclopedia
Jump to navigation
Jump to search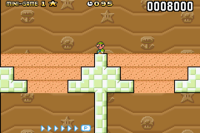 Soft sand,[1][2] also referred to as soft desert sand[3] or simply sand,[4] is a type of Semisolid Platform that can be destroyed. It first appeared in Yume Kōjō: Doki Doki Panic and Super Mario Bros. 2, where it is found in the deserts of World 2 and World 6. Mario and his friends can dig the sand directly under their feet when
is pressed as long as they are not carrying anything with their hands. Toad is the fastest digger, followed by Mario, then Luigi, and finally Princess Toadstool. Soft sand can also be blown up by Bob-ombs and bombs.
Soft sand reappears in World-e of Super Mario Advance 4: Super Mario Bros. 3.
In Super Mario Maker 2, SMB2 Mario can dig through Cloud Blocks as if they were soft sand.
Names in other languages
[
edit
]
Language
Name
Meaning
Japanese
やわらかい

土

[5][6][7]
Yawarakai tsuchi
砂[8]
Suna
Soft soil

Sand
Italian
Sabbia[9]
Sand
References
[
edit
]