Ptooie
From the Super Mario Wiki, the Mario encyclopedia
Jump to navigation
Jump to search
This article is about the Piranha Plant that can walk and carry a tiny spiked ball at the same time. For the Piranha plant that can only walk, see Stalking Piranha Plant. For the Piranha Plant that can only carry a spiked ball, see River Piranha Plant. For the special move in Super Smash Bros. Ultimate, see Ptooie (move).
"You make me so mad I could spit!"

—

Ptooie

, "Never Koop a Koopa"
Ptooies are a type of Piranha Plant that can hover Spike Balls over their mouths. Many of them are also capable of walking, though some are stationed within pipes instead. Their name is an onomatopoeia for spitting.
History
[
edit
]
Super Mario Bros. 3

[

edit

]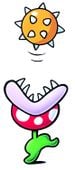 Ptooies, also referred to as Ptooie Plants,[1] make their debut in Super Mario Bros. 3 as regular enemies. A Ptooie can be identified by the spiked ball it suspends in the air over its mouth. Occasionally, Ptooies will blow the spiked ball high into the air in order to inflict damage on passing travelers. As with standard Piranha Plants, Ptooies can be destroyed with fireballs, hammers, Koopa Shells, or Raccoon or Tanooki Mario's tail whips. Additionally, the spiked ball can be crushed by Tanooki Mario (in statue form) for 2000 points.
The Adventures of Super Mario Bros. 3

[

edit

]
Ptooies make a few appearances in The Adventures of Super Mario Bros. 3, where they always attack Mario and/or his friends on sight. They are sometimes used as guns. Unlike in the game, where they are limited to blowing a single spiked ball in the air, Ptooies can shoot a whole barrage of spiked balls in any direction.
Ptooies in the show are capable of speaking in the episode "Never Koop a Koopa", despite the fact that most members of the Piranha Plant family never speak at all.
Nintendo Adventure Books

[

edit

]
Two Ptooies appear in Koopa Capers, presumably brought to Dark Land by Wendy O. Koopa, who needs one to season a potion she intends to create. Encountered by Luigi in a Fortress, the plumber escapes the plants by jumping over them while absentmindedly wondering what they are doing wandering around in a dark and dank fortress, instead of being outside.
Super Princess Peach

[

edit

]

In Super Princess Peach, if Princess Peach uses Rage to pound the ground or simply uses Poundbrella nearby, the ball will be lost, but Ptooie will survive. They will then simply move back and forth slowly until defeated. Even without the ball, Ptooies cannot be stomped. In this game, Ptooies had a green skin coloration similar to the Wild Ptooie Piranha, a species of Piranha Plant found in the Yoshi franchise. A species of Ptooie under the Vibe Scepter's spell called Glad Ptooies appear.
Paper Mario series

[

edit

]
Paper Mario: Color Splash

[

edit

]
"Sometimes I just get the urge to beat up a Ptooie. You ever get that urge? They're just so annoying!"
Ptooies return in Paper Mario: Color Splash, found in Mossrock Theater and the Emerald Circus. In battle, they can blow their Spiked Balls with enough force to fall on Mario, but without them, they bite him. They can be summoned by Lemmy Koopa to assist in battle, along with Circus Bros. and Juggler Bros.
There is also a character named Piper that is a Ptooie.
Paper Mario: The Origami King

[

edit

]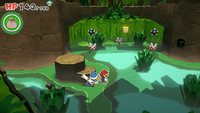 Ptooies make an appearance in Paper Mario: The Origami King, where origami Ptooies can be encountered as regular enemies. In the Shroom City café, a singing Ptooie can be found alongside a singing Dino Rhino and a Sombrero Guy.
Super Smash Bros. Ultimate

[

edit

]
In Super Smash Bros. Ultimate, Piranha Plant can produce a spiked ball and hover it in place in the same fashion as a Ptooie. In addition, it can direct the spiked ball to other fighters and attack them. This Piranha Plant also has feet like the Ptooie, but does not leave its flower pot in order to move. On the Palutena's Temple stage, Ptooies are mentioned briefly by Viridi during Palutena's Guidance dialogue for Piranha Plant.
Mario Kart 8 Deluxe

[

edit

]
This section is referring to a subject in an upcoming or recently released DLC wave. When the DLC wave is released, or more information about this subject is found, this section may need major rewriting. This notice should be removed after a month has passed since the DLC wave was first released.
Ptooies make their Mario Kart series (and overall fully three-dimensional) debut in Mario Kart 8 Deluxe's Booster Course Pass as obstacles in GBA Riverside Park. They blow items such as Dash Mushrooms and Banana Peels instead of Spike Balls, which fall onto the course when the Ptooies are hit by an item such as a Green Shell.[2] The Ptooies do not blow any items in Time Trials or when the item settings are not set on Normal Items.
In tweets made about GBA Riverside Park's appearance in the Booster Course Pass, Nintendo mistook the Ptooies for Stalking Piranha Plants.[3] The mistake was later corrected.[4]
Unused appearances
[
edit
]
Paper Mario: Sticker Star

[

edit

]
Ptooies were originally going to appear in Paper Mario: Sticker Star, but they were removed.
Profiles and statistics
[
edit
]
フーフーパックン
種族 フラワー族
性格 すぐむきになる
登場ゲーム 3
すごい肺活量のフラワー
大きく口を開き、トゲのついた黒い玉"シューリンガン"を真上に吹いて遊んでいる。土管にずっといるものと、歩きまわるものと2種類いる。歩きまわるものが2匹出てくる所もあるので要注意。[5]
Ptooie
Tribe: Flower clan
Disposition: Quick to take offense
Game appearances: 3
Flower with amazing lung capacity
They open their mouths wide and blow their spiked black balls, called "shūringan", right up into the air. There are two types: those that stay in Warp Pipes all the time and those that walk around. Be careful, because there are places where there are two of them walking around.
Paper Mario: Color Splash

[

edit

]
Paper Mario: Color Splash

enemy
Ptooie
HP
64
Type
Spiny

3

Strong
Jump
Weak
None
Moves
Bite Attack (9), Ball Attack (36), Ball Counterattack (5), Group Attack (9), Blowback Attack (24)
Location(s)
Mossrock Theater
Quotes
N/A
Enemy class
ENEMY_FIRE
Dropped items

| | | | | | | | | | | | | | |
| --- | --- | --- | --- | --- | --- | --- | --- | --- | --- | --- | --- | --- | --- |
| Hammer Scraps | 20 | Red paint | 35 | Yellow paint | 35 | Blue paint | 0 | Orange paint | 0 | Green paint | 35 | Purple paint | 0 |
Paper Mario: The Origami King

[

edit

]
Paper Mario: The Origami King

enemy
Ptooie
HP
48
Moves
Location(s)
Type
Spiked
Bite (?), Bite Barrage (?), Ball Toss (?), Spell Toss (?), Team Toss (?), Plant Pitch (?)
Spring of Jungle Mist
Item drops
Large bag of Confetti
Word to the wise: those spiky balls they keep aloft by breath alone hurt a fair bit if they fall on you.
Gallery
[
edit
]
Names in other languages
[
edit
]
Language
Name
Meaning
Japanese
フーフーパックン[6]
Fūfū Pakkun
Portmanteau of「フーフー」(fūfū, onomatopoeia for blowing sound) and「パックンフラワー」(Pakkun Furawā, Piranha Plant)
Chinese
呼呼吞食花
Hūhū Tūnshí Huā
Blow Piranha Plant
Dutch
Ptooie
-
French
Ptooie
-
German
Flora Morgenstern
Spuck-Pflanze
Spucki (The Adventures of Super Mario Bros. 3)
Spucker (Never Koop a Koopa only)
Flora Morning Star
Spit Plant
Spitty
Spitter
Italian
Pianta Canterina
Sparamine ("Never Koop a Koopa")
Sputamine volanti ("Kootie Pie Rocks")
Singing Plant
Mine Shooter
Flying Mine Spitter
Korean
후후뻐끔
Huhu Ppeokkeum
Blowing Piranha
Portuguese
Planta Cuspideira
Spitter Plant
Romanian
Scuipătoare (The Adventures of Super Mario Bros. 3)
Spitter
Russian
тьфуша
t'fusha
From "тьфу" (t'fu, onomatopoeia for spitting) with Russian masculine diminutive suffix "-ша" (-sha)
Spanish
Flor Metralla (The Adventures of Super Mario Bros. 3)
Spanish (NOA)
Piraña Petraña
Spanish (NOE)
Plantarina
From "planta" (plant) and "bailarina" (ballerina)
References
[
edit
]
Mario Kart 8 / Mario Kart 8 Deluxe
Racers
Featherweight
Baby Mario • Baby Luigi • Baby Peach • Baby Daisy • Baby Rosalina • Lemmy Koopa • Dry Bones
Light
Toad • Koopa Troopa • Shy Guy (Light-blue* · Black* · Green* · Yellow* · White* · Blue* · Pink* · Orange*) • Lakitu • Toadette • Larry Koopa • Wendy O. Koopa • Cat Peach* • Villager (Female)* • Isabelle* • Bowser Jr. • Inkling Girl
Medium
Princess Peach • Princess Daisy • Yoshi (Light-blue* · Black* · Red* · Yellow* · White* · Blue* · Pink* · Orange*) • Mario • Luigi • Iggy Koopa • Ludwig von Koopa • Tanooki Mario* • Villager (Male)* • Inkling Boy • Birdo *** (Orange *** · Yellow *** · Blue *** · Light-blue *** · Green *** · Red *** · Black *** · White *** )
Cruiser
Rosalina • Metal Mario (Gold ) • Pink Gold Peach • Donkey Kong • Waluigi • Roy Koopa • Link* • King Boo
Heavy
Bowser • Wario • Morton Koopa Jr. • Dry Bowser*
Any
Mii
Vehicle parts
Bodies
Karts
Standard Kart • Pipe Frame • Mach 8 • Steel Driver • Cat Cruiser • Circuit Special • Tri-Speeder • Badwagon • Prancer • Biddybuggy • Landship • Sneeker • Sports Coupe • Gold Standard • GLA* • W 25 Silver Arrow* • 300 SL Roadster* • Blue Falcon* • Tanooki Kart* • B Dasher* • Streetle* • P-Wing* • Koopa Clown
Standard bikes
Standard Bike • The Duke • Flame Rider • Varmint • Mr. Scooty • City Tripper* • Master Cycle Zero **
Sport bikes
Comet • Sport Bike • Jet Bike • Yoshi Bike • Master Cycle*
ATVs
Standard ATV • Wild Wiggler • Teddy Buggy • Bone Rattler* • Inkstriker • Splat Buggy
Tires
Standard • Monster • Roller • Slim • Slick • Metal • Button • Off-Road • Sponge • Wood • Cushion • Blue Standard • Hot Monster • Azure Roller • Crimson Slim • Cyber Slick • Retro Off-Road • Gold Tires • GLA Tires* • Triforce Tires* • Leaf Tires* • Ancient Tires **
Gliders
Super Glider • Cloud Glider • Wario Wing • Waddle Wing • Peach Parasol • Parachute • Parafoil • Flower Glider • Bowser Kite • Plane Glider • MKTV Parafoil • Gold Glider • Hylian Kite* • Paper Glider* • Paraglider **
Courses
New courses
Mushroom Cup
Mario Kart Stadium • Water Park • Sweet Sweet Canyon • Thwomp Ruins
Flower Cup
Mario Circuit • Toad Harbor • Twisted Mansion • Shy Guy Falls
Star Cup
Sunshine Airport • Dolphin Shoals • Electrodrome • Mount Wario
Special Cup
Cloudtop Cruise • Bone-Dry Dunes • Bowser's Castle • Rainbow Road
Classic courses
Shell Cup
Wii Moo Moo Meadows • GBA Mario Circuit • DS Cheep Cheep Beach • N64 Toad's Turnpike
Banana Cup
GCN Dry Dry Desert • SNES Donut Plains 3 • N64 Royal Raceway • 3DS DK Jungle
Leaf Cup
DS Wario Stadium • GCN Sherbet Land • 3DS Music Park • N64 Yoshi Valley
Lightning Cup
DS Tick-Tock Clock • 3DS Piranha Plant Slide • Wii Grumble Volcano • N64 Rainbow Road
DLC courses*
Egg Cup
GCN Yoshi Circuit • Excitebike Arena • Dragon Driftway • Mute City
Triforce Cup
Wii Wario's Gold Mine • SNES Rainbow Road • Ice Ice Outpost • Hyrule Circuit
Crossing Cup
GCN Baby Park • GBA Cheese Land • Wild Woods • Animal Crossing
Bell Cup
3DS Neo Bowser City • GBA Ribbon Road • Super Bell Subway • Big Blue
Booster courses***
Golden Dash Cup
Tour Paris Promenade • 3DS Toad Circuit • N64 Choco Mountain • Wii Coconut Mall
Lucky Cat Cup
Tour Tokyo Blur • DS Shroom Ridge • GBA Sky Garden • Ninja Hideaway
Turnip Cup
Tour New York Minute • SNES Mario Circuit 3 • N64 Kalimari Desert • DS Waluigi Pinball
Propeller Cup
Tour Sydney Sprint • GBA Snow Land • Wii Mushroom Gorge • Sky-High Sundae
Rock Cup
Tour London Loop • GBA Boo Lake • 3DS Rock Rock Mountain • Wii Maple Treeway
Moon Cup
Tour Berlin Byways • DS Peach Gardens • Merry Mountain • 3DS Rainbow Road
Fruit Cup
Tour Amsterdam Drift • GBA Riverside Park • Wii DK Summit • Yoshi's Island
Boomerang Cup
Tour Bangkok Rush • DS Mario Circuit • GCN Waluigi Stadium • Tour Singapore Speedway
Battle courses
Wii U
Wii Moo Moo Meadows • GCN Dry Dry Desert • SNES Donut Plains 3 • N64 Toad's Turnpike • Mario Circuit • GCN Sherbet Land • N64 Yoshi Valley • Toad Harbor
Switch
3DS Wuhu Town • GCN Luigi's Mansion • SNES Battle Course 1 • Urchin Underpass • Dragon Palace • Battle Stadium • Sweet Sweet Kingdom • Lunar Colony
Other
Items
Banana • Blooper • Boo • Boomerang Flower • Bullet Bill • Coin • Crazy Eight • Feather • Fire Flower • Golden Mushroom • Green Shell • Lightning • Mushroom • Piranha Plant • Red Shell • Spiny Shell • Super Horn • Triple Bananas • Triple Green Shells • Triple Mushrooms • Triple Red Shells
Course objects
Antigravity Panel • Arrow field *** • Barrel • Bell* • Board • Boulder • Bowser Statue • Bus • Bumper *** • Cannon • Car • Cargo truck • Cash • Ceiling Needle *** • Coin • Crate • Current • Dash Panel • Dash panel ramp truck • Drain Pipe • Falling Pillar • Fire Bar • Fire Chain • Flipper *** • Glide Ramp • Goal Ring *** • Hot-air balloon • Half-pipe *** • Item Box • Lava Geyser • Leaf pile* • Master Sword* • Mecha Piranha Plant *** • Metal ball *** • Millstone • Mine Cart* • Mushroom Platform *** • Mushroom Trampoline *** • Oil slick • Pit* • Ring • Rupee* • Snowboy* • Snowman • Spin Boost Pillar • Spinner • Submarine • Tire • Traffic cone • Train* • Truck • Volcanic debris • Water Geyser *** • Winged Cloud ***
Enemies and species
Bone Piranha Plant • Boo • Bouncing Note • Bowser Monument • Chain Chomp • Cheep Cheep • Deku Baba* • Dolphin • Dry Bones • Fire Piranha Plant *** Fire Snake • Fish Bone • Freezie • Frogoon • Goomba • Goomba Tower • Goonie *** • Hammer Knight • Huffin Puffin *** • Incoming Chomp *** • Innertube Goomba *** • Jellybeam • Keese* • Little bird • Manta • Mecha Cheep • Mechakoopa • Mini Toad* • Monty Mole • Moo Moo • Mr. Resetti* • Nep-Enut *** • Noki • Penguin *** • Petal Guy *** • Pianta • Piranha Plant • Pokey • Poochy *** • Ptooie *** • Raving Piranha Plant • Screaming Pillar • Sidestepper • Skating Shy Guy • Snowboarding Shy Guy *** • Stilt Guy *** • Super Thwomp* • Swoop • Thwomp • Tiki Goon • Toad • Unagi • Wiggler *** • Whomp *** • Yoshi
Techniques
Anti-gravity • Drift • Hop • Mini-Turbo • Rocket Start • Slipstream • Spin Boost • Spin Turn • Jump Boost • U-turn • Underwater driving
Miscellaneous
Andrew Trego • Animal Crossing × Mario Kart 8* • "Blue Shell Blues" • Cheese* • Daisy Cruiser* • DK's Tree House • Emblem • Finish line • From the Pit • Ghost • Gravity • Highlight Reel • In-game statistics (Deluxe) • Item probability distributions • Lakitu • The Legend of Zelda × Mario Kart 8* • Mario Kart 8 Deluxe – Booster Course Pass *** • Mario Kart Band • Mario Kart TV • Mercedes-Benz × Mario Kart 8* • Miiverse • Official tournaments • Pre-release and unused content • Soundtrack • Sponsors • Staff (Deluxe) • Stamp (list)
Related

Play Nintendo

activities:


Take a spin in one of these beauties!

•

Racing through this poll

•

One cup, four tracks…

•

Leaf it to me

•

Gaming gardens trivia quiz

•

Mario Kart 8 Deluxe Memory Match-Up

* - Indicates downloadable content in Mario Kart 8 • ** - Indicates content available in version 1.6.0 and later of Mario Kart 8 Deluxe • *** - Indicates content available in the Mario Kart 8 Deluxe – Booster Course Pass • - Indicates exclusivity to Mario Kart 8 • - Indicates exclusivity to Mario Kart 8 Deluxe