Full Moon Island
From the Super Mario Wiki, the Mario encyclopedia
Jump to navigation
Jump to search
This article is under construction. Therefore, please excuse its informal appearance while it is being worked on. We hope to have it completed as soon as possible.
Crescent Moon Island /
Full Moon Island

Crescent Moon Island, the initial state of the island
Toads
3
Not-Bottomless Holes
3
Collectible Treasures
1
? Blocks
2
Enemies
Cheep Cheeps
Sidesteppers
"Ah. The crescent moon has filled out to become a FULL moon... Thus, Crescent Moon Island shall now be known as...Full Moon Island."
Full Moon Island, initially known as Crescent Moon Island, is one of 11 accessible islands in the Great Sea in Paper Mario: The Origami King. It is charted in territory F-3 on the Sea Chart with a shape of a circle (a crescent moon until the middle of the island is brought up). To bring up the central portion of the island, Mario must first fish up a Sidestepper at the fishing spot and defeat it to spawn a Magic Circle for the Earth Vellumental. Once the central portion surfaces, there is a stone Toad statue right in the middle of the island. Mario can examine the statue to see a diagram indicating that this now-circle-shaped island forms a baseball diamond layout with three other islands, Full Moon Island corresponding to the first base. The diagram also depicts a diamond-shaped island to be found midpoint between the other islands (corresponding to the pitcher's mound). There is a chest containing a Mushroom Handle in front of the statue. In the same chest, Mario finds a note from Luigi saying, "Hey, Bro! Got the key! Come find me on the mushroom-shaped island!" Beneath both the statue and the chest is a slab with an important message for progressing through the Great Sea: "To collect the three orbs, you must journey to Diamond Island."
Collectibles
[
edit
]
Hidden Toads
[
edit
]
Form
Description
Image
3 Hidden Toads
Once the Sidestepper has been caught, Mario can find an origami fish swimming among Cheep Cheeps and Bloopers. It will unfold into a blue Toad when hammered.
There is a pile of leaves with an origami rabbit that will unfold into a yellow Toad when hammered.
Once the central portion of the island surfaces, a red origami fish can be found flopping on the western side of the island. It will unfold into a red Toad when hammered.
After they return to The Princess Peach, the above Toads can be seen sharing a table by themselves at the ship's bow.
Not-Bottomless Holes
[
edit
]
| | |
| --- | --- |
| There are two Not-Bottomless Holes very obvious on the ground of the island. | |
| There is a Not-Bottomless Hole at the fishing spot required to fill in to progress. | |
Collectible Treasure
[
edit
]
? Blocks
[
edit
]
Hidden
Item
Description
Image
2 blocks

Coin Bag
A ? Block hides above a patch of sand centered between three small holes.

Shiny Tail
Above the northside of the island near the local fishing dock, there is a ? Block.
Names in other languages
[
edit
]
Full Moon Island
[
edit
]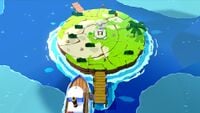 Language
Name
Meaning
Japanese
マンゲツ

島


Mangetsu-jima
Full Moon Island
Chinese (Simplified)
满月岛
Mǎn yuè dǎo
Full Moon Island
Chinese (Traditional)
滿月島
Mǎn yuè dǎo
Full Moon Island
Dutch
Vollemaaneiland
Full Moon Island
French
Île pleine lune
Full Moon Island
German
Vollmond-Insel
Full Moon Island
Italian
Isola Plenilunio
Full Moon Island
Spanish
Isla Plenilunio
Full Moon Island
Crescent Moon Island
[
edit
]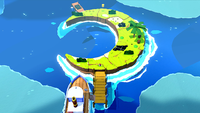 Language
Name
Meaning
Japanese
ミカヅキ

島


Mikazuki-jima
Crescent Moon Island
Chinese (Simplified)
新月岛
Xīnyuè Dǎo
Crescent Moon Island
Chinese (Traditional)
新月島
Xīnyuè Dǎo
Crescent Moon Island
French
Île croissant de lune
Crescent Moon Island
Italian
Isola Mezzaluna
Half/Crescet Moon Island
Spanish
Isla Medialuna
Half Moon Island