My Heart's a-Burnin'
From the Super Mario Wiki, the Mario encyclopedia
Jump to navigation
Jump to search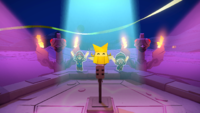 "My Heart's a-Burnin'" is the ritual song Olivia sings to summon the Fire Vellumental Cave in Paper Mario: The Origami King. It is learned after she, Mario, and Professor Toad study the mural in the Snif City Royal Hotel's suite, which suggests that it must be performed by someone with a "melodic voice" and "mega pipes", and depicts body movements that must be performed as part of the incantation. After the party practice it, Olivia can then sing it at the ritual stand in the Scorching Sandpaper Desert.
When Olivia performs the ritual, the song is revealed to be a J-pop-style song while Mario and Professor Toad dance while holding glow sticks and the bird statues dance with jets of fire emitting from their wings emulating glow sticks. After the performance, confetti is released while applause can be heard and the Fire Vellumental Cave appears.
Later on in the game, the song may also play in the Sudden Death round in Shy Guys Finish Last, where the word "aflame" is replaced with a question mark and the player has to recall the word by selecting one of four answers. "Aflame" is listed as answer D, while the other three, incorrect choices are "insane", "the same", and "a game" (answers A, B, and C respectively).
The song can be played in the Sound Gallery in the Musée Champignon, where it is listed as song number 102.
English
[
edit
]
Oh can you hear me... Are you
there? Are you there?

I could really use some help now!

Do you care? Are you there?
Fire's burnin' in my chest now!

It's aflame... I call your name...
I wanna see you in the pulp now!

Let's...let's all rise up...
and join together!
Japanese
[
edit
]
Japanese script
Romanization
Translation

ハートがドキドキ 準備はオッケー!

カミさまお願い チカラをちょうだい

ハートにファイヤー 炎上しちゃうわ

カミさま聞いてる? キモチとどいて

あなたのそばへ 行きたいの

Hāto ga dokidoki junbi wa okkē!

Kami-sama onegai chikara o chōdai

Hāto ni faiyā enjō shichau wa

Kami-sama kiiteru? Kimochi todoite

Anata no soba e ikitai no

My heart is pounding, I'm ready!

Vellumental, please grant me your power

The fire in my heart is aflame

Are you listening, Vellumental? Reach my feelings

I want to be at your side
Italian
[
edit
]
Italian script
Translation

Oh, non ti ho riconosciuto...
Chi va là? Chi va là?

Ho bisogno del tuo aiuto!

Chi va là? Chi va là?
Sento il cuore che mi scoppia!

È in fiamme... e il troppo stroppia.
Oh, la vista mi si sdoppia!

Devo vederti, in carta e bordi...
E i miei dubbi... saran solo ricordi!

Oh, I didn't recognize you
Who goes there? Who goes there?

I need your help!

Who goes there? Who goes there?
I feel my heart bursting!

It's ablaze... and you can have too much of a good thing
Oh, I'm starting to see double!

I must see you, in paper and edges
And my doubts... will be only memories.
Spanish
[
edit
]
Spanish script
Translation

Escúchame, escúchame
donde quiera que estés.

Necesito tu presencia
para no desfallecer.

¡Mi pecho late violentamente!

¡Y es que tengo
el corazón ardiente!

¡Porque quiero verte
inmediatamente!

Listen to me, listen to me
wherever you are.

I need your presence
not to faint.

My chest beats violently!

And is that I've got
a burning heart!

Because I want to see you
immediately!
Dutch script
Translation

Hoor je me, ik zoek naar je,
is er ergens iemand voor me?

Ik smeek en klaag, heb één vraag,
is er ergens iemand voor me?

Ik roep je naam, ben eenzaam,
mijn hart in vuur en vlam hier...

staat in brand, staat aan je kant,
kan niet wachten op je teken!

We komen samen
en zijn onverslaanbaar!

Do you hear me, I am searching for you,
is there someone for me somewhere?

I beg and complain, have one question,
is there someone for me somewhere?

I call your name, am lonely,
my heart in fire and flame here...

is in flames, is on your side,
cannot wait for your sign!

We come together
and are invincible!
My Heart's a-Burnin' (Instrumental)

File info
​
Names in other languages
[
edit
]
Language
Name
Meaning
Japanese
ヘキガの呪文
Hekiga no Jumon
Mural Incantation
Dutch
Brandend hart
Burning heart
German
Der Tempel-Beat
The Temple-Beat
Italian
Un cuore in fiamme
Burning heart
Spanish
Corazón ardiente
Burning Heart