Go with the Flow (song)
From the Super Mario Wiki, the Mario encyclopedia
Jump to navigation
Jump to search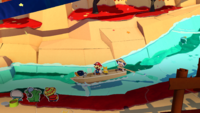 "Go with the Flow" is the song sung by the Oarsman in Paper Mario: The Origami King when Mario, Olivia, and Bob-omb enter Eddy River for the first time. As the Oarsman sings, the lyrics are highlighted in blue in a similar style to karaoke.
Later, Olivia can sing this song at the ritual stand in the Scorching Sandpaper Desert, although this version is slightly faster. The song does not do anything, and a different song must be performed to reveal the Fire Vellumental Cave. Professor Toad comments that the song made him question all of his decisions. The song cannot be sung again after the cave is revealed.
The song may also play in Shy Guys Finish Last in the Sudden Death round, where the word "sculler" is replaced with a question mark and the player has to recall the word by selecting one of four answers. "Sculler" is listed as answer A, while the other three, incorrect choices are "captain", "sea Toad", and "sailor" (answers B, C, and D respectively).
The song can be played in the Sound Gallery in the Musée Champignon, where it is listed as song number 65.
English
[
edit
]
Ohh, day by day, ohh, row by row.
One thing this old sculler knows...

Life is good if ya go with the flow!
Japanese
[
edit
]
Japanese script
Romanization
Translation

小舟はゆくよ 水しぶき
人生という 終わりのない川

流れにまかせて 生きるのさ

Kobune wa yuku yo mizu shibuki
Jinsei to iu owari no nai kawa

Nagare ni makasete ikiru no sa

The small boat sails, a splash of water
Life as an endless river

Live by leaving it to the flow!
Italian
[
edit
]
Italian script
Translation

Cullato dall'acqua sferzante
Assaporo ogni singolo istante

Di una vita vissuta sulla corrente

Cruddle by the lashing water
I relish every single moment

Of a lifetime spent on the stream
Spanish
[
edit
]
Spanish script
Translation

Día a día, palada a palada,
la vida fluye como si nada.

Déjate llevar
por el río hasta el mar.

Day by day, row by row,
life flows as usual.

Let yourself be carried away
by the river to the sea.
Dutch script
Translation

O, golf na golf, o, bocht na bocht,
hoor me an... zong de veerman...

Traag is goed, bij eb en bij vloed.

Oh, wave after wave, oh, turn after turn,
listen to me... the ferryman sang...

Slow is good, by ebb and by flood.
Names in other languages
[
edit
]
Language
Name
Meaning
Japanese
川の流れのごとく
Kawa no Nagare no Gotoku
Like the Flow of the River
Dutch
Vertier op de rivier
Stroom van het leven
Entertainment on the river
Flow of life
Italian
Cullati dalla corrente
Lulled by the flow
Spanish
Déjate llevar
Go with the Flow