Shogun Studios Master Key
From the Super Mario Wiki, the Mario encyclopedia
Jump to navigation
Jump to search
"EVERY door? Whoa! That key is like the ruler over all other park keys! We need that key. If it's missing... we have no choice but to track it down ourselves."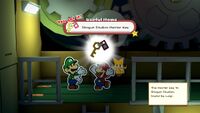 The Shogun Studios Master Key is a special item in Paper Mario: The Origami King. It is the first key Luigi finds on his quest for the Key to Peach's Castle. This key is used to unlock several attractions at Shogun Studios, including the Big Sho' Theater, the House of Riddles, a satellite office, and the Souvenir Shop.
To find this key, Mario must wander off on the Ninja Attraction to find a small house with two park workers. He must walk down into the basement to find Luigi wedged in the gears, the cause of the sign at the front of the attraction getting stuck in place. Mario must hammer the crank to start up the gears, then hammer out Luigi to rescue him.
Luigi thanks Mario for rescuing him and shows off this key, believing it is the key to Peach's Castle. He explains how he found the key and how he got trapped, having been scared into the attraction by Princess and subsequently scared off by the ninjas. Olivia calmly explains it is the incorrect key. Luigi is shocked by this, believing it was important as it was in an important spot. He understands this, however, and runs off to find the correct key, leaving Mario to unlock and explore the other exhibits.
Names in other languages
[
edit
]
Language
Name
Meaning
Japanese

OEDO

ランドのマスターキー
OEDO Rando No Masutā Kī
"Great Edo" Land's Master Key
French
Clé de Shogunland
Shogun Studios Key
German
Shogunland-Schlüssel
Shogun Studios Key
Italian
Passe-partout di Ninjaland
Shogun Studios' Master Key
Spanish
Llave maestra del Parque Samurái
Shogun Studios Master Key