List of Super Princess Peach pre-release and unused content
From the Super Mario Wiki, the Mario encyclopedia
Jump to navigation
Jump to search
This is a list of pre-release and unused content for the game Super Princess Peach.
Early builds
[
edit
]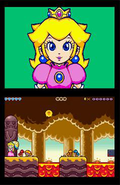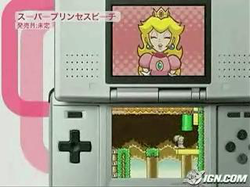 A very early screenshot shows a very early version of the "Peach's face" screen, which ended up on the bottom screen, to be on the top screen and totally devoid of Heart Panels and also having a bright green, solid background and a different design for Peach. Since Heart Panels, which were used to change Vibes in the final game, are lacking from this screenshot, this suggests that Super Princess Peach was once planned to not use Vibes and be a more average side-scroller.
Unused graphics
[
edit
]
Gallery
[
edit
]
Pre-release screenshots
[
edit
]
Early Peach and Vibe designs.

Bob-ombs have a different design when compared to the final game.

An early screenshot of the level choosing map for a Gleam Glacier-like area, which was originally going to be the third world of the game.