List of Mario Party 2 pre-release and unused content
From the Super Mario Wiki, the Mario encyclopedia
Jump to navigation
Jump to search
This article is under construction. Therefore, please excuse its informal appearance while it is being worked on. We hope to have it completed as soon as possible.
Much like Mario Party, Mario Party 2 contains the same type of leftovers and preserving some of its unused content, suggesting that it is using the same engine as the previous with some enhancements.
Debug Mode
[
edit
]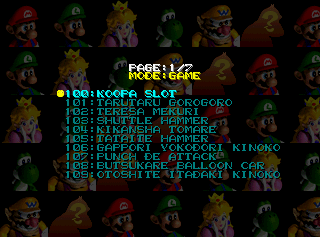 The debug mode consists of minigames and a crude character select. It should be worth noting that the pages are missing entries, such as no entry shown for #121.
- Select a minigame, confirm a character, etc.
- On game list, ask to erase game data.
- Navigate menus.
- Start the mini-game ( doesn't do it)
- Changes the game mode.
- On the game list, opens the options menu to be more precise how the game handles input and such. seems to randomize elements, such as PAD0/PAD1/PAD2/PAD3 (represents P1/P2/P3/P4 controller ports respectively). PADN represents what corner is reading what controller port. GRP determines which team a player is on in certain Mini-Games.
Unused graphics
[
edit
]
Miscellaneous images
[
edit
]
External links
[
edit
]