Plunder Chest
From the Super Mario Wiki, the Mario encyclopedia
Jump to navigation
Jump to search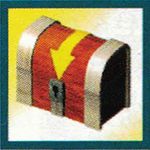 The Plunder Chest is an item in Mario Party 2, Mario Party 3, and Mario Party Superstars. It is a treasure chest that can steal an item from another player. In Mario Party 2 and Mario Party 3, it is Princess Peach's favorite item.
In Mario Party 2, when used, the Plunder Chest randomly chooses another player that is holding an item, steals their item and gives it to the player. In Mario Party 3, players can choose who they want to steal from; however, if the person being targeted has two or three items, the item that is stolen is picked at random.
In Mario Party 2, the stolen item can be used on the same turn.
In Mario Party Superstars, the Plunder Chest is normally exclusive to Item Minigames; however, they can be purchased from the Forest Shop in Woody Woods for 20 coins, hence why they are not considered special items. The Hidden Block Card shares the same trait.
There is a much rarer version of the Plunder Chest in Mario Party 3, called the Barter Box, which swaps all of the player's items with all of the targeted player's items.
Gallery
[
edit
]
Names in other languages
[
edit
]
Language
Name
Meaning
Japanese
よこどりボックス
Yokodori bokkusu
Robbing box
Dutch
Plunderkist
Plunder chest
French
Coffre Butin (Mario Party 2)
Coffre Pillage (Mario Party 3)
Booty Coffer
Looting Coffer
German
Raubtruhe
Robbery Chest
Italian
Baule saccheggio (Mario Party 2)
Forziere bandito (Mario Party Superstars)
Loot chest
Bandit chest
Korean
빼앗기 상자
Ppaeasgi Sangja
Snatch Box
Portuguese
Baú saqueador
Looter Chest
Spanish
Cofre de Botín
Loot Chest