Thwomp Ruins
From the Super Mario Wiki, the Mario encyclopedia
Jump to navigation
Jump to search
Thwomp Ruins is the fourth and final course of the Mushroom Cup in Mario Kart 8 and Mario Kart 8 Deluxe. This course takes place in ancient ruins that are populated with Thwomps.
Course layout
[
edit
]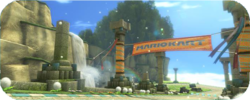 The race starts outside, and after a straightaway, turns left twice. Next, there is a right turn that leads the player into a tunnel. Inside, players can either drive up the wall on an anti-gravity path, or stay on the main path which curves right, where Millstones begin rolling out of a raised area. When the player exits the tunnel, they enter an open area with three routes. If the player takes the right or left turn, they can either stay on the main path where there is a Thwomp, or drive up the wall. If they drive straight, they can either drive into the water and go right or left, or go drive off a Glide Ramp and soar over the pool of water. In the underwater section of the course, engravings in the surrounding walls resemble Thwomp mouths. The gliding pad is only accessible when a Millstone knocks the ramp into place on the second lap. Once the paths join up, players will enter the mouth of a Thwomp, which is also the entrance to another tunnel, and an anti-gravity section begins. There is then a right turn, which leads to the tunnel exit. After this, there are three more turns, and two Thwomps, leading to where there is a gliding section and a straightaway toward the finish line.
In the E3 trailer, the anti-gravity section was a normal section and the finish line was not present on the path after it.[1]
Shortcuts
[
edit
]
If the player uses a Mushroom in the grass between two big rocks, one can cut off the first two turns.
The player can drive onto a fallen pillar cutting off the turn before the second glider ramp.
Staff ghost
[
edit
]
The staff ghost for this track is Donkey Kong on the Varmint (Standard ATV in Mario Kart 8 Deluxe 150cc), with a time of 2:11.157. In Mario Kart 8 Deluxe 200cc, it is Bowser with a time of 1:31.436.
"This is a bit of a tricky number, with the rhythm written in triplets. We use a gamelan instrumentation along with metallic effects to add an ethnic feel. The image we had in mind was of a ruined temple somewhere in Asia. We added some thudding percussion here and there to give an image of of a Thwomp shaking the ground."
Gallery
[
edit
]
Donkey Kong, right before the finish line (pre-release)

The stamp obtained for beating the staff ghost at this course
Names in other languages
[
edit
]
Language
Name
Meaning
Japanese
ドッスンいせき
Dossun Iseki
Thwomp Ruins
Chinese (Simplified)
咚咚遗迹
Dōngdōng Yíjī
Thwomp Ruins
Chinese (Traditional)
咚咚遺跡
Dōngdōng Yíjī
Thwomp Ruins
Dutch
Thwomps Tempel
Thwomp's Temple
French (NOA)
Temple Ka-Bang
Thwomp Temple
French (NOE)
Temple Thwomp
Thwomp Temple
German
Steinblock-Ruinen
Thwomp Ruins
Italian
Rovine di Twomp
Thwomp's Ruins
Korean
쿵쿵 유적
Kungkung Yujeok
Thwomp Ruins
Portuguese
Ruínas do Granitão
Thwomp's Ruins
Russian
Руины бамсов
Ruiny bamsov
Thwomp Ruins
Spanish (NOA)
Ruinas Don Pisotón
Thwomp Ruins
Spanish (NOE)
Ruinas Roca Picuda
Thwomp Ruins
References
[
edit
]
Mario Kart 8 / Mario Kart 8 Deluxe
Racers
Featherweight
Baby Mario • Baby Luigi • Baby Peach • Baby Daisy • Baby Rosalina • Lemmy Koopa • Dry Bones
Light
Toad • Koopa Troopa • Shy Guy (Light-blue* · Black* · Green* · Yellow* · White* · Blue* · Pink* · Orange*) • Lakitu • Toadette • Larry Koopa • Wendy O. Koopa • Cat Peach* • Villager (Female)* • Isabelle* • Bowser Jr. • Inkling Girl
Medium
Princess Peach • Princess Daisy • Yoshi (Light-blue* · Black* · Red* · Yellow* · White* · Blue* · Pink* · Orange*) • Mario • Luigi • Iggy Koopa • Ludwig von Koopa • Tanooki Mario* • Villager (Male)* • Inkling Boy
Cruiser
Rosalina • Metal Mario (Gold ) • Pink Gold Peach • Donkey Kong • Waluigi • Roy Koopa • Link* • King Boo
Heavy
Bowser • Wario • Morton Koopa Jr. • Dry Bowser*
Any
Mii
Vehicle parts
Bodies
Karts
Standard Kart • Pipe Frame • Mach 8 • Steel Driver • Cat Cruiser • Circuit Special • Tri-Speeder • Badwagon • Prancer • Biddybuggy • Landship • Sneeker • Sports Coupe • Gold Standard • GLA* • W 25 Silver Arrow* • 300 SL Roadster* • Blue Falcon* • Tanooki Kart* • B Dasher* • Streetle* • P-Wing* • Koopa Clown
Standard bikes
Standard Bike • The Duke • Flame Rider • Varmint • Mr. Scooty • City Tripper* • Master Cycle Zero **
Sport bikes
Comet • Sport Bike • Jet Bike • Yoshi Bike • Master Cycle*
ATVs
Standard ATV • Wild Wiggler • Teddy Buggy • Bone Rattler* • Inkstriker • Splat Buggy
Tires
Standard • Monster • Roller • Slim • Slick • Metal • Button • Off-Road • Sponge • Wood • Cushion • Blue Standard • Hot Monster • Azure Roller • Crimson Slim • Cyber Slick • Retro Off-Road • Gold Tires • GLA Tires* • Triforce Tires* • Leaf Tires* • Ancient Tires **
Gliders
Super Glider • Cloud Glider • Wario Wing • Waddle Wing • Peach Parasol • Parachute • Parafoil • Flower Glider • Bowser Kite • Plane Glider • MKTV Parafoil • Gold Glider • Hylian Kite* • Paper Glider* • Paraglider **
Courses
New courses
Mushroom Cup
Mario Kart Stadium • Water Park • Sweet Sweet Canyon • Thwomp Ruins
Flower Cup
Mario Circuit • Toad Harbor • Twisted Mansion • Shy Guy Falls
Star Cup
Sunshine Airport • Dolphin Shoals • Electrodrome • Mount Wario
Special Cup
Cloudtop Cruise • Bone-Dry Dunes • Bowser's Castle • Rainbow Road
Classic courses
Shell Cup
Wii Moo Moo Meadows • GBA Mario Circuit • DS Cheep Cheep Beach • N64 Toad's Turnpike
Banana Cup
GCN Dry Dry Desert • SNES Donut Plains 3 • N64 Royal Raceway • 3DS DK Jungle
Leaf Cup
DS Wario Stadium • GCN Sherbet Land • 3DS Music Park • N64 Yoshi Valley
Lightning Cup
DS Tick-Tock Clock • 3DS Piranha Plant Slide • Wii Grumble Volcano • N64 Rainbow Road
DLC courses*
Egg Cup
GCN Yoshi Circuit • Excitebike Arena • Dragon Driftway • Mute City
Triforce Cup
Wii Wario's Gold Mine • SNES Rainbow Road • Ice Ice Outpost • Hyrule Circuit
Crossing Cup
GCN Baby Park • GBA Cheese Land • Wild Woods • Animal Crossing
Bell Cup
3DS Neo Bowser City • GBA Ribbon Road • Super Bell Subway • Big Blue
Booster courses***
Golden Dash Cup
Tour Paris Promenade • 3DS Toad Circuit • N64 Choco Mountain • Wii Coconut Mall
Lucky Cat Cup
Tour Tokyo Blur • DS Shroom Ridge • GBA Sky Garden • Ninja Hideaway
Turnip Cup
Tour New York Minute • SNES Mario Circuit 3 • N64 Kalimari Desert • DS Waluigi Pinball
Propeller Cup
Tour Sydney Sprint • GBA Snow Land • Wii Mushroom Gorge • Sky-High Sundae
Rock Cup
Tour London Loop • GBA Boo Lake • 3DS Rock Rock Mountain • Wii Maple Treeway
Moon Cup
Tour Berlin Byways • DS Peach Gardens • Merry Mountain • 3DS Rainbow Road
Battle courses
Wii U
Wii Moo Moo Meadows • GCN Dry Dry Desert • SNES Donut Plains 3 • N64 Toad's Turnpike • Mario Circuit • GCN Sherbet Land • N64 Yoshi Valley • Toad Harbor
Switch
3DS Wuhu Town • GCN Luigi's Mansion • SNES Battle Course 1 • Urchin Underpass • Dragon Palace • Battle Stadium • Sweet Sweet Kingdom • Lunar Colony
Other
Items
Banana • Blooper • Boo • Boomerang Flower • Bullet Bill • Coin • Crazy Eight • Feather • Fire Flower • Golden Mushroom • Green Shell • Lightning • Mushroom • Piranha Plant • Red Shell • Spiny Shell • Super Horn • Triple Bananas • Triple Green Shells • Triple Mushrooms • Triple Red Shells
Course objects
Antigravity Panel • Arrow field *** • Barrel • Bell* • Board • Boulder • Bowser Statue • Bus • Bumper *** • Cannon • Car • Cargo truck • Cash • Coin • Crate • Current • Dash Panel • Dash panel ramp truck • Drain Pipe • Fire Bar • Fire Chain • Flipper *** • Glide Ramp • Hot-air balloon • Half-pipe *** • Item Box • Lava Geyser • Leaf pile* • Lovúška s syurikenami *** • Master Sword* • Metal ball *** • Millstone • Mine Cart* • Mushroom Platform *** • Mushroom Trampoline *** • Oil slick • Pit* • Ring • Rupee* • Snowboy* • Snowman • Spin Boost Pillar • Spinner • Submarine • Tire • Traffic cone • Train* • Truck • Volcanic debris • Water Geyser ***
Enemies and species
Bone Piranha Plant • Boo • Bouncing Note • Bowser Monument • Chain Chomp • Cheep Cheep • Deku Baba* • Dolphin • Dry Bones • Fire Snake • Fish Bone • Freezie • Frogoon • Goomba • Goomba Tower • Hammer Knight • Jellybeam • Keese* • Little bird • Manta • Mecha Cheep • Mechakoopa • Mini Toad* • Monty Mole • Moo Moo • Mr. Resetti* • Noki • Penguin *** • Pianta • Piranha Plant • Pokey • Raving Piranha Plant • Screaming Pillar • Sidestepper • Skating Shy Guy • Super Thwomp* • Swoop • Thwomp • Tiki Goon • Toad • Unagi • Wiggler *** • Whomp *** • Yoshi
Techniques
Anti-gravity • Drift • Hop • Mini-Turbo • Rocket Start • Slipstream • Spin Boost • Spin Turn • Jump Boost • U-turn • Underwater driving
Miscellaneous
Andrew Trego • Animal Crossing × Mario Kart 8* • Cheese* • Daisy Cruiser* • DK's Tree House • Emblem • Finish Line • From the Pit • Ghost • Gravity • Highlight Reel • In-game statistics (Deluxe) • Item probability distributions • Lakitu • The Legend of Zelda × Mario Kart 8* • Mario Kart 8 Deluxe – Booster Course Pass *** • Mario Kart Band • Mario Kart TV • Mercedes-Benz × Mario Kart 8* • Miiverse • Official tournaments • Pre-release and unused content • Soundtrack • Sponsors • Staff (Deluxe) • Stamp (list)
Related

Play Nintendo

activities:


Take a spin in one of these beauties!

•

Racing through this poll

•

One cup, four tracks…

•

Leaf it to me

•

Gaming gardens trivia quiz

•

Mario Kart 8 Deluxe Memory Match-Up

* - Indicates downloadable content in Mario Kart 8 • ** - Indicates content available in version 1.6.0 and later of Mario Kart 8 Deluxe • *** - Indicates content available in the Mario Kart 8 Deluxe – Booster Course Pass • - Indicates exclusivity to Mario Kart 8 • - Indicates exclusivity to Mario Kart 8 Deluxe