Mario Kart Band
From the Super Mario Wiki, the Mario encyclopedia
Jump to navigation
Jump to search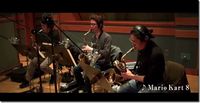 The Mario Kart Band is a band that performs the music of Mario Kart 8 and Mario Kart 8 Deluxe. The band was first shown during the Mario Kart 8 Direct in 2014, performing three songs from the game.[1]
Performers
[
edit
]
Electric & Acoustic Guitar: Takashi Masuzaki
Electric & Acoustic Bass: Teppei Kawasaki
Drums: Satoshi Bandoh
Drums: Hiroyuki Noritake
Acoustic Guitar: Tetsuro Toyama
Alto Saxophone: Kazuki Katsuta
Alto Saxophone: Masato Honma
Soprano, Tenor & Baritone Saxophone / Flute: Takuo Yamamoto
Tenor Saxophone: Masakuni Takeno
Trumpet: Eric Miyashiro
Trumpet / Flugelhorn: Koji Nishimura
Trumpet: Luis Valle
Trumpet: Sho Okumura
Trombone: Yoichi Murata
Trombone: Eijiro Nakagawa
Trombone: Kanade Shishiuchi
Flute / Tin Whistle: Hideyo Takakuwa
Oboe: Takayuki Mogami
Violin / Erhu: Masatsugu Shinozaki
Violin: Toshihiro Nakanishi
Violin: Hitoshi Konno
Accordion: Yoshiaki Sato
Kazumi Totaka played vibraphone in the band, but was not credited.[2]
See also
[
edit
]
References
[
edit
]
Mario Kart 8 / Mario Kart 8 Deluxe
Racers
Featherweight
Baby Mario • Baby Luigi • Baby Peach • Baby Daisy • Baby Rosalina • Lemmy Koopa • Dry Bones
Light
Toad • Koopa Troopa • Shy Guy (Light-blue* · Black* · Green* · Yellow* · White* · Blue* · Pink* · Orange*) • Lakitu • Toadette • Larry Koopa • Wendy O. Koopa • Cat Peach* • Villager (Female)* • Isabelle* • Bowser Jr. • Inkling Girl
Medium
Princess Peach • Princess Daisy • Yoshi (Light-blue* · Black* · Red* · Yellow* · White* · Blue* · Pink* · Orange*) • Mario • Luigi • Iggy Koopa • Ludwig von Koopa • Tanooki Mario* • Villager (Male)* • Inkling Boy
Cruiser
Rosalina • Metal Mario (Gold ) • Pink Gold Peach • Donkey Kong • Waluigi • Roy Koopa • Link* • King Boo
Heavy
Bowser • Wario • Morton Koopa Jr. • Dry Bowser*
Any
Mii
Vehicle parts
Bodies
Karts
Standard Kart • Pipe Frame • Mach 8 • Steel Driver • Cat Cruiser • Circuit Special • Tri-Speeder • Badwagon • Prancer • Biddybuggy • Landship • Sneeker • Sports Coupe • Gold Standard • GLA* • W 25 Silver Arrow* • 300 SL Roadster* • Blue Falcon* • Tanooki Kart* • B Dasher* • Streetle* • P-Wing* • Koopa Clown
Standard bikes
Standard Bike • The Duke • Flame Rider • Varmint • Mr. Scooty • City Tripper* • Master Cycle Zero **
Sport bikes
Comet • Sport Bike • Jet Bike • Yoshi Bike • Master Cycle*
ATVs
Standard ATV • Wild Wiggler • Teddy Buggy • Bone Rattler* • Inkstriker • Splat Buggy
Tires
Standard • Monster • Roller • Slim • Slick • Metal • Button • Off-Road • Sponge • Wood • Cushion • Blue Standard • Hot Monster • Azure Roller • Crimson Slim • Cyber Slick • Retro Off-Road • Gold Tires • GLA Tires* • Triforce Tires* • Leaf Tires* • Ancient Tires **
Gliders
Super Glider • Cloud Glider • Wario Wing • Waddle Wing • Peach Parasol • Parachute • Parafoil • Flower Glider • Bowser Kite • Plane Glider • MKTV Parafoil • Gold Glider • Hylian Kite* • Paper Glider* • Paraglider **
Courses
New courses
Mushroom Cup
Mario Kart Stadium • Water Park • Sweet Sweet Canyon • Thwomp Ruins
Flower Cup
Mario Circuit • Toad Harbor • Twisted Mansion • Shy Guy Falls
Star Cup
Sunshine Airport • Dolphin Shoals • Electrodrome • Mount Wario
Special Cup
Cloudtop Cruise • Bone-Dry Dunes • Bowser's Castle • Rainbow Road
Classic courses
Shell Cup
Wii Moo Moo Meadows • GBA Mario Circuit • DS Cheep Cheep Beach • N64 Toad's Turnpike
Banana Cup
GCN Dry Dry Desert • SNES Donut Plains 3 • N64 Royal Raceway • 3DS DK Jungle
Leaf Cup
DS Wario Stadium • GCN Sherbet Land • 3DS Music Park • N64 Yoshi Valley
Lightning Cup
DS Tick-Tock Clock • 3DS Piranha Plant Slide • Wii Grumble Volcano • N64 Rainbow Road
DLC courses*
Egg Cup
GCN Yoshi Circuit • Excitebike Arena • Dragon Driftway • Mute City
Triforce Cup
Wii Wario's Gold Mine • SNES Rainbow Road • Ice Ice Outpost • Hyrule Circuit
Crossing Cup
GCN Baby Park • GBA Cheese Land • Wild Woods • Animal Crossing
Bell Cup
3DS Neo Bowser City • GBA Ribbon Road • Super Bell Subway • Big Blue
Booster courses***
Golden Dash Cup
Tour Paris Promenade • 3DS Toad Circuit • N64 Choco Mountain • Wii Coconut Mall
Lucky Cat Cup
Tour Tokyo Blur • DS Shroom Ridge • GBA Sky Garden • Ninja Hideaway
Turnip Cup
Tour New York Minute • SNES Mario Circuit 3 • N64 Kalimari Desert • DS Waluigi Pinball
Propeller Cup
Tour Sydney Sprint • GBA Snow Land • Wii Mushroom Gorge • Sky-High Sundae
Rock Cup
Tour London Loop • GBA Boo Lake • 3DS Rock Rock Mountain • Wii Maple Treeway
Moon Cup
Tour Berlin Byways • DS Peach Gardens • Merry Mountain • 3DS Rainbow Road
Battle courses
Wii U
Wii Moo Moo Meadows • GCN Dry Dry Desert • SNES Donut Plains 3 • N64 Toad's Turnpike • Mario Circuit • GCN Sherbet Land • N64 Yoshi Valley • Toad Harbor
Switch
3DS Wuhu Town • GCN Luigi's Mansion • SNES Battle Course 1 • Urchin Underpass • Dragon Palace • Battle Stadium • Sweet Sweet Kingdom • Lunar Colony
Other
Items
Banana • Blooper • Boo • Boomerang Flower • Bullet Bill • Coin • Crazy Eight • Feather • Fire Flower • Golden Mushroom • Green Shell • Lightning • Mushroom • Piranha Plant • Red Shell • Spiny Shell • Super Horn • Triple Bananas • Triple Green Shells • Triple Mushrooms • Triple Red Shells
Course objects
Antigravity Panel • Arrow field *** • Barrel • Bell* • Board • Boulder • Bowser Statue • Bus • Bumper *** • Cannon • Car • Cargo truck • Cash • Coin • Crate • Current • Dash Panel • Dash panel ramp truck • Drain Pipe • Fire Bar • Fire Chain • Flipper *** • Glide Ramp • Hot-air balloon • Half-pipe *** • Item Box • Lava Geyser • Leaf pile* • Lovúška s syurikenami *** • Master Sword* • Metal ball *** • Millstone • Mine Cart* • Mushroom Platform *** • Mushroom Trampoline *** • Oil slick • Pit* • Ring • Rupee* • Snowboy* • Snowman • Spin Boost Pillar • Spinner • Submarine • Tire • Traffic cone • Train* • Truck • Volcanic debris • Water Geyser ***
Enemies and species
Bone Piranha Plant • Boo • Bouncing Note • Bowser Monument • Chain Chomp • Cheep Cheep • Deku Baba* • Dolphin • Dry Bones • Fire Snake • Fish Bone • Freezie • Frogoon • Goomba • Goomba Tower • Hammer Knight • Jellybeam • Keese* • Little bird • Manta • Mecha Cheep • Mechakoopa • Mini Toad* • Monty Mole • Moo Moo • Mr. Resetti* • Noki • Penguin *** • Pianta • Piranha Plant • Pokey • Raving Piranha Plant • Screaming Pillar • Sidestepper • Skating Shy Guy • Super Thwomp* • Swoop • Thwomp • Tiki Goon • Toad • Unagi • Wiggler *** • Whomp *** • Yoshi
Techniques
Anti-gravity • Drift • Hop • Mini-Turbo • Rocket Start • Slipstream • Spin Boost • Spin Turn • Jump Boost • U-turn • Underwater driving
Miscellaneous
Andrew Trego • Animal Crossing × Mario Kart 8* • Cheese* • Daisy Cruiser* • DK's Tree House • Emblem • Finish Line • From the Pit • Ghost • Gravity • Highlight Reel • In-game statistics (Deluxe) • Item probability distributions • Lakitu • The Legend of Zelda × Mario Kart 8* • Mario Kart 8 Deluxe – Booster Course Pass *** • Mario Kart Band • Mario Kart TV • Mercedes-Benz × Mario Kart 8* • Miiverse • Official tournaments • Pre-release and unused content • Soundtrack • Sponsors • Staff (Deluxe) • Stamp (list)
Related

Play Nintendo

activities:


Take a spin in one of these beauties!

•

Racing through this poll

•

One cup, four tracks…

•

Leaf it to me

•

Gaming gardens trivia quiz

•

Mario Kart 8 Deluxe Memory Match-Up

* - Indicates downloadable content in Mario Kart 8 • ** - Indicates content available in version 1.6.0 and later of Mario Kart 8 Deluxe • *** - Indicates content available in the Mario Kart 8 Deluxe – Booster Course Pass • - Indicates exclusivity to Mario Kart 8 • - Indicates exclusivity to Mario Kart 8 Deluxe