Miiverse
From the Super Mario Wiki, the Mario encyclopedia
Jump to navigation
Jump to search
This article is about Nintendo's social network. For the Super Smash Bros. for Wii U stage, see Miiverse (stage).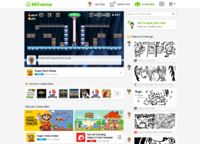 Miiverse was a social network accessible on Wii U and Nintendo 3DS. It was integrated into software such as WaraWara Plaza to bring people together in order to communicate and comment on certain games and software. The network was built similarly to Twitter, as players could "Yeah" (like) and flag comments and posts, as well as follow or befriend other users. A Miiverse profile was automatically generated once a user signed up for a Nintendo Network ID, which the service required. Originally available only on Wii U, Miiverse was later released on the Nintendo 3DS family as part of a major system update in December 2013, which also introduced the Nintendo Network ID. A browser version of Miiverse was also available for access on smartphones, PCs, and tablets. Another major renovation was updated in August 2015. As announced on August 28, 2017, the Miiverse service was officially shut down on November 7, 2017 at 10:00 PM (PST).[1][2][3]
The Wii U's succeeding console, the Nintendo Switch, which originally launched on March 2017, does not have native support for Nintendo Network, so Miiverse was never implemented on it.
Usage in Wii U games
[
edit
]
New Super Mario Bros. U

[

edit

]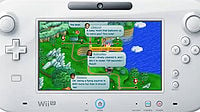 New Super Mario Bros. U was the first main Super Mario title to incorporate Miiverse. Miiverse in New Super Mario Bros. U was used to create comments on specific courses that either inform, advise, or comment on the course itself. Players were also able to use Miiverse to create snapshots/replays of their accomplishments or results of Challenge Mode or Boost Rush Mode and post it on community forums.
Nintendo Land

[

edit

]
Miiverse in Nintendo Land worked similarly to Miiverse in New Super Mario Bros. U, with the ability to take snapshots of the results of attractions and post comments on the plaza to inform, advise, or communicate with other players.
After November 7, 2017, online user Miis with posts were reverted back to CPU Miis.
Game & Wario

[

edit

]
A minigame similar to the Sketch minigame in Game & Wario could be played with other users on Miiverse in a mode called Miiverse Sketch.
Super Mario 3D World

[

edit

]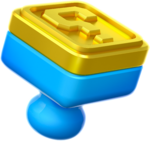 Players can collect stamps in Super Mario 3D World, which could be used to customize Miiverse posts with images of characters and items that are found in the game. Players could also see other players' Miiverse posts after completing every course and on the world map.
After November 7, 2017, players can still collect stamps, but they no longer serve any purpose outside of unlocking World Crown. The Miiverse posts that appeared on the course select screen and when selecting courses have also disappeared.
Mario Kart 8

[

edit

]
In Mario Kart 8, players could share replay videos of an entire race, or a shorter video created by the software showing the highlights of the race. Players could also view and comment on others' videos. This was done within the software through a feature called Mario Kart TV, not within the Miiverse software itself. Additionally, players could use stamps to customize their posts, just like in Super Mario 3D World.
After November 7, 2017, players can still collect stamps, but they no longer serve any purpose and cannot be viewed. Players are also no longer able to upload gameplay videos to YouTube since they also posted to Miiverse at the same time. The tournament function is also no longer available.
Super Smash Bros. for Wii U

[

edit

]
A Miiverse stage appeared in Super Smash Bros. for Wii U as free downloadable content. Miiverse posts by other users appeared in the background cheering characters on. As of version 1.0.6, players could also share photos replays, video replays, custom stages, and Mii Fighters via Miiverse.
After November 7, 2017, players can still battle on the Miiverse stage, but community posts are no longer displayed. Players also cannot post replays to YouTube/Miiverse, share stages, or create tournaments.
Super Mario Maker

[

edit

]
In Super Mario Maker, players could post Miiverse comments on levels people have created. Additionally, any level uploaded was shown on Miiverse in the in-game posts section in the Super Mario Maker Miiverse community.
After November 7, 2017, players could still upload courses but were no longer able to comment on any. The ability to upload courses themselves was ultimately discontinued on March 31, 2021.
Usage in Nintendo 3DS games
[
edit
]
Miiverse was released on Nintendo 3DS systems on December 9, 2013, with a limited number of game communities. Initially, there were communities for Mario Party: Island Tour, Mario & Luigi: Dream Team, Mario Kart 7, Super Mario 3D Land, New Super Mario Bros. 2, Mario and Donkey Kong: Minis on the Move, and Luigi's Mansion: Dark Moon, as well as a few other games. Players could access Miiverse by tapping the icon on the Home menu.
Super Smash Bros. for Nintendo 3DS was the only Super Mario-related 3DS title to have full Miiverse integration. The game used this to post photos from in-game.
Super Mario installments with Miiverse support

[

edit

]
Names in other languages
[
edit
]
Language
Name
Meaning
Japanese

Miiverse

[4]
Mībāsu
-
Spanish
Miiverse
-
References
[
edit
]