Cup
From the Super Mario Wiki, the Mario encyclopedia
Jump to navigation
Jump to search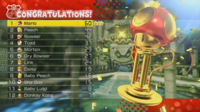 "Keep on racing and soon you'll conquer every cup!"
A cup is a representation of a certain number of courses in the Mario Kart series. In Super Mario Kart, a cup consists of five courses, whereas in the later games, the number was reduced to four (due to the single tracks being longer). When racing the Grand Prix mode, players race through all the tracks from a cup. Cups are usually named after items from the Super Mario franchise, e.g., the Mushroom Cup and the Star Cup. The names are not associated with the tracks in the cups, so consequently cup names reappear throughout the series, hosting different tracks. The cups in the arcade Mario Kart games contain only two courses each and are named after the playable characters, aside from the Rainbow Cup. In Mario Kart Tour, cups are named after the playable characters but contain three courses and a bonus challenge. Courses in a character's cup will be treated as a favored or favorite course for that character.
In Super Mario Strikers, a cup consists of a number of matches against varying enemies. Each cup has more enemies than the last, and thus, there are more rounds played. The table system is used. Players score three points when winning, one when losing by a Golden Goal, and zero when losing. In the end, the player with the most points wins. The Bowser Cup features semifinals and finals after the regular phase is over. The unlockable Super Cups are the same as the original cups but with no Rookie setting available and return matches.
In Super Nintendo World's Mario Kart: Bowser's Challenge, attendees race in a cup known as the Golden Cup.[1]
List of cups
[
edit
]
Mario Kart Tour

[

edit

]
Unlike in other Mario Kart games, cups in Mario Kart Tour are not always available but rotate with every tour. Cups consist of three race courses (always different) and a bonus challenge. The character corresponding to the cup is also granted a boost and ranks higher in each race course.
| Cup | Emblem | Debut tour | # of appearances | Times as ranked cup | Most recent appearance | Largest streak of absence (# of tours) |
| --- | --- | --- | --- | --- | --- | --- |
| Mario Cup | | New York Tour | 47 | 20 | Anniversary Tour (2023) | 7 (Winter Tour (2020) - Snow Tour) |
| Donkey Kong Cup | | New York Tour | 36 | 4 | Anniversary Tour (2023) | 10 (Animal Tour - Ninja Tour (2023)) |
| Yoshi Cup | | New York Tour | 37 | 7 | Vacation Tour | 13 (Los Angeles Tour (2020) - Mario Tour (2021)) |
| Koopa Troopa Cup | | New York Tour | 26 | 1 | Sunshine Tour | 23 (Paris Tour (2021) - Amsterdam Tour) |
| Toad Cup | | New York Tour | 38 | 5 | Anniversary Tour (2023) | 10 (Autumn Tour (2022) - Mario Tour (2023)) |
| Peach Cup | | New York Tour | 40 | 11 | Sundae Tour (2023) | 10 (Space Tour (2023) - Mii Tour (2023)) |
| Bowser Cup | | New York Tour | 34 | 7 | Vacation Tour | 8 (Frost Tour - Space Tour (2021)) |
| Dry Bones Cup | | New York Tour | 24 | 2 | Bowser Tour (2023) | 21 (Los Angeles Tour (2021) - Amsterdam Tour) |
| Toadette Cup | | New York Tour | 37 | 8 | Anniversary Tour (2023) | 8 (Battle Tour - (Space Tour (2023)) |
| Daisy Cup | | New York Tour | 41 | 9 | Anniversary Tour (2023) | 8 (Exploration Tour (2023) - Mii Tour (2023)) |
| Diddy Kong Cup | | New York Tour | 30 | 2 | Vacation Tour | 14 (Samurai Tour - Anniversary Tour (2022)) |
| Baby Mario Cup | | New York Tour | 21 | 3 | Princess Tour | 29 (Los Angeles Tour (2022) - Mario Tour (2023)) |
| Shy Guy Cup | | New York Tour | 26 | 3 | Sunshine Tour | 22 (Halloween Tour (2021) - Sundae Tour (2022)) |
| Baby Peach Cup | | New York Tour | 29 | 2 | Summer Tour (2023) | 23 (Halloween Tour (2021) - Bowser Tour (2022)) |
| Dry Bowser Cup | | New York Tour | 36 | 6 | Sunshine Tour | 8 (Ocean Tour - Autumn Tour (2022)) |
| Metal Mario Cup | | New York Tour | 28 | 2 | Anniversary Tour (2023) | 20 (Penguin Tour - Mario vs. Luigi Tour (2022)) |
| Rosalina Cup | | Tokyo Tour | 30 | 11 | Vacation Tour | 12 (Bangkok Tour - Peach vs. Bowser Tour (November–December 2022)) |
| Lakitu Cup | | Tokyo Tour | 29 | 2 | Summer Tour (2023) | 14 (New Year's 2022 Tour - Bangkok Tour) |
| Bowser Jr. Cup | | Tokyo Tour | 27 | 5 | Vacation Tour | 13 (Wario vs. Waluigi Tour - Piranha Plant Tour) |
| Baby Daisy Cup | | Tokyo Tour | 23 | 2 | Mario vs. Luigi Tour (2023) | 22 (Singapore Tour - Autumn Tour (2022)) |
| Ludwig Cup | | Tokyo Tour | 20 | 0 | Summer Tour (2023) | 20 (Cat Tour (2022) - Doctor Tour (2023)) |
| Larry Cup | | Tokyo Tour | 27 | 2 | Vacation Tour | 25 (2nd Anniversary Tour - Bowser Tour (2022)) |
| Baby Rosalina Cup | | Tokyo Tour | 27 | 2 | Night Tour | 8 (Mii Tour (2022) - Metropolitan Tour) |
| Wendy Cup | | Tokyo Tour | 21 | 0 | Mii Tour (2023) | 25 (Trick Tour (2021) - Amsterdam Tour) |
| Wario Cup | | Tokyo Tour | 36 | 3 | Pipe Tour | 9 (Exploration Tour (2023) - Mario vs. Luigi Tour (2023)) |
| Peachette Cup | | Tokyo Tour | 28 | 1 | Sunshine Tour | 14 (2nd Anniversary Tour - Samurai Tour) |
| Luigi Cup | | Halloween Tour (2019) | 41 | 13 | Night Tour | 7 (Flower Tour - Wild West Tour) |
| Lemmy Cup | | Halloween Tour (2019) | 17 | 0 | Anniversary Tour (2023) | 29 (Cooking Tour - Summer Tour (2021)) |
| Waluigi Cup | | Halloween Tour (2019) | 28 | 4 | Yoshi Tour (2023) | 17 (Samurai Tour - Autumn Tour (2022)) |
| Baby Luigi Cup | | Halloween Tour (2019) | 27 | 2 | Vacation Tour | 9 (Exploration Tour (2020) - Sunset Tour) |
| Morton Cup | | Halloween Tour (2019) | 21 | 0 | Mii Tour (2023) | 18 (Metropolitan Tour - Exploration Tour (2023)) |
| King Boo Cup | | Halloween Tour (2019) | 29 | 4 | Sundae Tour (2023) | 14 (Yoshi Tour (2022) - Battle Tour) |
| Roy Cup | | Paris Tour (2019) | 24 | 0 | Princess Tour | 9 (Sky Tour - Metropolitan Tour) |
| Iggy Cup | | Winter Tour (2019) | 17 | 0 | Summer Tour (2023) | 26 (Peach Tour - Wedding Tour) |
| Birdo Cup | | Holiday Tour (2019) | 28 | 6 | Sundae Tour (2023) | 22 (Wedding Tour - Samurai Tour) |
| Pauline Cup | | Holiday Tour (2019) | 29 | 3 | Anniversary Tour (2023) | 15 (Los Angeles Tour (2022) - Bowser Tour (2022)) |
| Hammer Bro Cup | | Hammer Bro Tour | 26 | 5 | Mario Tour (2023) | 13 (Ninja Tour (2023) - current) |
| Ice Mario Cup | | Hammer Bro Tour | 27 | 7 | Sundae Tour (2023) | 9 (Peach Tour - 1st Anniversary Tour) |
| Pink Gold Peach Cup | | Peach Tour | 27 | 4 | Sundae Tour (2023) | 10 (Marine Tour - Sunset Tour) |
| Monty Mole Cup | | Wild West Tour | 30 | 4 | Sunshine Tour | 5 (Ocean Tour - Anniversary Tour (2022)) |
| Fire Bro Cup | | Sunset Tour | 26 | 2 | Mii Tour (2023) | 11 (Peach vs. Bowser Tour (November–December 2022) - Spring Tour) |
| Funky Kong Cup | | Bowser vs. DK Tour | 22 | 5 | Night Tour | 10 (Mario vs. Peach Tour - Holiday Tour (2021)) |
| Kamek Cup | | Kamek Tour | 29 | 4 | Anniversary Tour (2023) | 3 (Metropolitan Tour - Piranha Plant Tour) |
| Ice Bro Cup | | Space Tour (2021) | 15 | 2 | Pipe Tour | 6 (Sky Tour - Doctor Tour (2022)) |
| Cat Peach Cup | | New Year's 2022 Tour | 20 | 3 | Anniversary Tour (2023) | 5 (Pipe Tour - Sundae Tour (2023)) |
| Dixie Kong Cup | | Los Angeles Tour (2022) | 11 | 2 | Sundae Tour (2023) | 7 (Battle Tour - New Year's Tour (2023)) |
| Mii Cup | | Mii Tour (2022) | 39 | 3 | Anniversary Tour (2023) | 1 (Amsterdam Tour) |
| Nabbit Cup | | Cat Tour (2022) | 17 | 2 | Sundae Tour (2023) | 3 (Bowser Tour (2022) - Battle Tour) |
| Chargin' Chuck Cup | | Animal Tour | 11 | 2 | Anniversary Tour (2023) | 5 (Bowser Tour (2023) - Night Tour) |
| Fire Rosalina Cup | | Holiday Tour (2022) | 11 | 5 | Anniversary Tour (2023) | 2 (Bowser Tour (2023) - Mii Tour (2023)) |
| King Bob-omb Cup | | Exploration Tour (2023) | 7 | 2 | Sundae Tour (2023) | 4 (Mii Tour (2023) - Night Tour) |
| Tanooki Mario Cup | | Mario Tour (2023) | 4 | 2 | Sundae Tour (2023) | 5 (Bowser Tour (2023) - Night Tour) |
| Poochy Cup | | Mii Tour (2023) | 4 | 2 | Sundae Tour (2023) | 3 (Princess Tour - Night Tour) |
| Boomerang Bro Cup | | Vacation Tour | 3 | 0 | Anniversary Tour (2023) | |
| Gold Mario Cup | | Anniversary Tour (2023) | 1 | 1 | Anniversary Tour (2023) | |
Other cups
[
edit
]
References
[
edit
]