Striker Cup
From the Super Mario Wiki, the Mario encyclopedia
Jump to navigation
Jump to search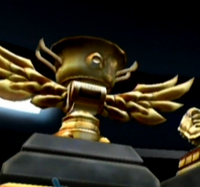 The Striker Cup is the third and final tournament of Mario Strikers Charged, available in the Road to the Strikers Cup mode after beating the Fire Cup and Crystal Cup. It is the most difficult tournament in the game. It consists of nine preliminary matches, three final matches, and the championship game.
In the preliminary round, the player must face nine different randomly-selected captains and their teams. In order to move on to the next round, the player's team must get into the Top 8 of the 10 teams via points (3 for each match won, 0 for each match lost, 1 for each match lost at sudden-death). The next round consists of three matches- the quarter-finals, the semi-finals, and the finals. In each match, the highest seed will always play the next available lowest seed (i.e. #1 vs. #8, #2 vs. #7, etc.). If the player wins all three of their final matches, they will move on to the championship game.
During the first playthrough of the Striker Cup, the opponent in the championship game will be Petey Piranha, but during subsequent playthroughs, the defending champion will be randomly selected. The championship game is a three-match series against the champion on the Stormship Stadium. If the player wins two of the three matches, they will win the Striker Cup. However, the player must start it over entirely if they lose either the final or championship round. Upon winning the Striker Cup for the first time, Petey Piranha and the Stormship Stadium are unlocked. Earning both the Brick Wall and Golden Foot Awards during the Crystal Cup unlocks the Galactic Stadium as well.
Names in other languages
[
edit
]
| Language | Name | Meaning |
| --- | --- | --- |
| French | Coupe Striker | Striker Cup |
| Spanish (NOA) | Copa Goleadores | Scorers' Cup |
| Spanish (NOE) | Copa Delantero | Striker Cup |