Super Mario Orchestra Concert
From the Super Mario Wiki, the Mario encyclopedia
Jump to navigation
Jump to search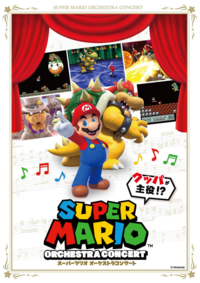 The Super Mario Orchestra Concert (Japanese: スーパーマリオオーケストラコンサート), subtitled as and also known as "Bowser is the protagonist!?" (Japanese: クッパが主役!?, Koopa ga Shuyaku!?), was a series of concerts in Japan that were featured as part of the KYOTO CMEX (standing for "Cross Media Experience") 2018 festival for movies, animation, video games and manga. It was officially supervised by Nintendo.
Details
[
edit
]
The concerts took place during the weekend of September 15-16 2018 in the Main Hall of ROHM Theater Kyoto (Okazaki-cho Town 13 Sakyo-ku, Kyoto-shi). The first concert was held at 6:00PM JST on September 15, with additional matinee and evening concerts the following day at 1:00PM JST and 5:00PM JST, respectively. Regular seating (A-Seats) cost 6,500 yen (including tax), special seating (S-Seats) cost 8,500 yen, and student seating cost 1,000 yen. Parents could purchase a pair of seats for them and their child for 10,000 yen in regular seating, or 13,000 yen in special seating. Concert merchandise and free photo opportunities with Mario were also available. After the concerts, attendees who had purchased QR codes were able to view recordings on the Take Out Live app on smart devices. Those videos were viewable until December 31, 2018.
Other than KYOTO CMEX, it was organised by Phonex Communications. The music director was Erika Fukasawa, and Taizō Takemoto served as the conductor.
The video games featured included Super Mario Bros., Super Mario Bros.: The Lost Levels, Super Mario Bros. 3, Super Mario World, Super Mario 64, Yoshi's Story, Super Mario Galaxy, and Super Mario Odyssey.[1]
Setlist
[
edit
]
M1: Super Mario Bros. series medley

From: Super Mario Bros.
From Super Mario Bros.: The Lost Levels
From Super Mario Bros. 3

Ground Theme
Athletic Theme
Fortress Theme
King Bowser
Ending

M2: Super Mario World medley

Title Theme
MAP 1 (Yoshi's Island)
Ground Theme
MAP 2 (Overworld)
Athletic Theme
Underwater Theme
King Bowser
Ending

M3: Yoshi's Story medley

Yoshi Story
Page 1: Beginning
Yoshi's Song
Yoshi at the Beach
Page 3: Clouds
Yoshi Standing in the Wind
Yoshi's Mood
Baby Koopa's Castle
Duel With Baby Koopa
Yoshi's Tale

M4: Super Mario 64 medley

Title Theme
File Select
Peach's Message
Main Theme
Powerful Mario
Merry-Go-Round
Correct Solution
Cave Dungeon
Metallic Mario
Looping Steps
Koopa's Road
Ultimate Koopa
Staff Roll
Game Start

M5: Super Mario Galaxy medley

Overture
Enter the Galaxy
Rosalina in the Observatory 2
Rosalina in the Observatory 3
Final Battle with Bowser

M6: Super Mario Odyssey medley

To the Next World
Band Performance (Super Mario Brothers: Above Ground)
Bowser's Castle: Main Courtyard

Encore: Jump Up, Super Star![2]
External links
[
edit
]
See also
[
edit
]
References
[
edit
]