Super Mario Power-Up Summer
From the Super Mario Wiki, the Mario encyclopedia
Jump to navigation
Jump to search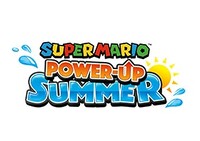 Super Mario Power-Up Summer was an event taking place in Universal Studios Japan in Osaka as part of the theme park's "NO LIMIT! Summer" event.[1] It took place in the New York area of the park three times a day between July 5 and August 24, 2023, lasting for about 15 minutes.[1][2] It was a Super Mario-themed version of the park's yearly summer event,[2] which mainly consists in participants getting sprayed with water.
Details
[
edit
]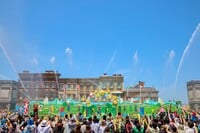 The event's stage was located in the Gramercy Park square; it was decorated with a backdrop themed after the background in the ground levels of New Super Mario Bros. Wii and a rainbow with ? Blocks, a Super Mushroom, a Fire Flower, and a Super Star.
Before the start of the event, participants were divided into four teams themed after Mario, Luigi, Princess Peach, and Toad, with instructors teaching every team to dance. The flags on four Goal Poles behind the stage were used to indicate the excitement of each team. The first flag that reached the top of the pole determined the winning team.[3]
Afterwards, the event started with the four characters appearing on stage and every team had to follow the movements of their respective character to get more excited. After they left, the teams were encouraged to dance to get more excited while water started to be sprayed from Warp Pipes on the stage and water shooters. During this, the teams used their water shooters to hit their team's emblem on banners to color them.[3]
However, this was interrupted by Bowser Jr., who appeared on stage with a group of dancers wielding big inflated balls with his emblem; the teams had to unite into one and dance in order to stop Bowser Jr. After an attempt from the dancers to repel him, Mario and the others reappeared on stage to help, with some of the dancers swapping their water shooters for F.L.U.D.D.-like ones, after which Bowser Jr. left. After a final dance, the event ended.[3]
Merchandise
[
edit
]
The following merchandise was sold in the park for the event.[1][4][5]
Image
Description
Sale start date
Price
A water shooter with stock artwork of Mario, Luigi, Princess Peach, and Toad and the Super Nintendo World logo on the sides
July 3, 2023
¥3,500
A shirt featuring Mario, Luigi, Princess Peach, and Toad that changes color when wet
July 4, 2023
¥4,700 (adult size)
¥3,700 (child size)
A pair of blue shorts featuring Mario
¥4,900
A towel featuring Mario, Luigi, Princess Peach, and Toad
¥1,800
A towel with a hood featuring Mario, Luigi, Princess Peach, and Toad
¥4,000
Gallery
[
edit
]
Promotional artwork
[
edit
]
Event photographs
[
edit
]
Names in other languages
[
edit
]
Language
Name
Meaning
Japanese
スーパーマリオ・パワーアップ・サマー
Sūpā Mario Pawāappu Samā
Super Mario Power-Up Summer
See also
[
edit
]
References
[
edit
]
^ a b c Super Mario Power-Up Summer. usj.co.jp. Archived from the original on July 4, 2023, 17:49:43 UTC via archive.today. Retrieved July 4, 2023.
^ a b (July 4, 2023). 「ユニバーサル・スタジオ・ジャパン」で夏の水かけイベント「スーパーマリオ・パワーアップ・サマー」がスタート。 nintendo.co.jp. Retrieved July 4, 2023. (Archived July 4, 2023, 05:22:37 UTC via archive.today.)
^ a b c Kenta Hatanaka (July 4, 2023). マリオと一緒に暑さを吹き飛ばせ! USJの水かけイベント「スーパーマリオ・パワーアップ・サマー」レポート. GAME Watch. Retrieved July 4, 2023. (Archived July 4, 2023, 16:36:07 UTC via Wayback Machine.)
^ (July 5, 2023). 暑い夏をもっと楽しもう!「ユニバーサル・スタジオ・ジャパン」夏の新作マリオグッズの数々. Nintendo DREAM WEB. Retrieved July 5 2023. (Archived July 5, 2023, 20:09:42 UTC via Wayback Machine.)
^ Super Mario Power Up Summer 2023 Merchandise at Universal Studios Japan. TDRExplorer. Retrieved July 5, 2023. (Archived July 5, 2023, 20:12:38 UTC via Wayback Machine.)