Chill Bully
From the Super Mario Wiki, the Mario encyclopedia
Jump to navigation
Jump to search
The Chill Bully,[1][2] also known generically as the Bully[3][4][5] or Big Bully,[6] is a type of Big Bully found in Super Mario 64 and Super Mario 64 DS. He has a light-blue body with a yellow spike on the top of his head, and he wears light-green shoes. He appears in Snowman's Land, on top of an ice platform. Surrounding the platform is a freezing pond, and touching it has similar effects to touching lava.
In Chill with the Bully, the second mission of Snowman's Land, the objective is for Mario to defeat the Chill Bully. To do this, Mario must hit him backward until he falls off into the cold water. Like regular Bullies, the Chill Bully also tries to ram Mario off the platform. When the Chill Bully has been defeated, a Power Star is released above the icy platform for Mario to collect.
In Super Mario 64 DS, unlike other Bullies, the Chill Bully can be defeated by having Yoshi obtain a Power Flower and use his fire breath to push him off the platform. In this version, the Chill Bully's design was updated to have a fully 3D body with a chipped appearance, rather than the smooth, marble-like flat texture it had before. An even bigger, mustachioed Chill Bully, named Chief Chilly, is introduced as the boss guarding Wario.
In Mario Golf, "Chill Bully" sometimes appears on the scorecard.
Gallery
[
edit
]
Names in other languages
[
edit
]
Language
Name
Meaning
Japanese
どんけつ[3]
Donketsu
アイスどんけつ[7]
Aisu Donketsu
Same as Bully

Ice Bully
French
Voyou
Bully
Italian
Bronco di ghiaccio
Ice Bully
Spanish (NOE)
Bronco de Hielo
Ice Bully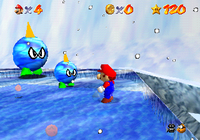 A smaller counterpart of the Chill Bully exists in Super Mario 64's code, but it was not used in the final game. According to source assets, it was to be named ice_otos (or ice_otosu), while Chilly Bully was labeled as big_ice_otosu.
References
[
edit
]