Ice Ice Outpost
From the Super Mario Wiki, the Mario encyclopedia
Jump to navigation
Jump to search
Ice Ice Outpost
Information
Appears in
Mario Kart 8 (DLC Pack 1) (2014)
Mario Kart 8 Deluxe (2017)

Cup(s)

Triforce Cup
Online play
Available (Wii U, Switch)

Music sample
Yasuaki Iwata

Frontrunning


Course map
Mario Kart 8 / Mario Kart 8 Deluxe

Staff ghost(s)

| | |
| --- | --- |
| 8DX 150cc | Nin★Pavel |
| 2:09.427 | |

| | |
| --- | --- |
| 8DX 200cc | Nin★Juliet |
| 1:32.435 | |
Ice Ice Outpost is a race course included with The Legend of Zelda × Mario Kart 8 downloadable content in Mario Kart 8 and in the base content of Mario Kart 8 Deluxe. It is the third course of the Triforce Cup. The course takes place in an outpost surrounded within a group of large icebergs with a built yellow and green road. Many Toads in coats are seen at the starting line with many tents, containers and other equipment used for drilling oil. The music for this course appears as a track in Super Smash Bros. Ultimate.
Course layout
[
edit
]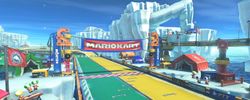 The course starts on a green and yellow road between two flat icebergs with Toads and building equipment. It immediately leads to a set of item boxes before the track splits into a green and a yellow path. After a slow curve to the left, the left (green) path goes over the yellow path before a wide U-turn to the left. In the process, the yellow path goes over the green before settling into one path entering an iceberg tunnel.
The road then turns right where a shortcut can be taken to cut off the turn. After the turn, players can take a shortcut on a narrow iceberg by dropping off to the left of the path. After the road curves slightly turn to the left, the green path drops off which grants players a trick.
The path continues on before players go into anti-gravity mode where the path splits again. After alternating heights, the paths intertwine again while they turn more sharp to the left with a steep incline which leads to a glider pad. The players glide and touch down on the road which leads to one more right turn leading back to the finish line. Small icebergs are found on the corner of the turn to act as a shortcut to cut off the turn.
Shortcuts
[
edit
]
When entering the large ice tunnel, the player can drive onto a small ramp which leads to an iceberg, cutting off a section of the course.

This shortcut is best performed when the player begins heading towards the ramp from the green path.

Half way around the track, the player can drop down off the edge of the green track onto a narrow ice tunnel.
Before the final turn, the player can drive onto two icebergs to cut off the corner freely, similar to Cloudtop Cruise's leaves.
Sponsors
[
edit
]
"The main feature of this course's design is that it has two separate but intersecting roads. I wanted to bring this across in the music with both a melody line and a separate obbligato line. The drum sound centered on the tom-toms gives the sense of discovering an unknown land."
Gallery
[
edit
]
Names in other languages
[
edit
]
Language
Name
Meaning
Japanese
ツルツルツイスター
Tsuru-tsuru Tsuisutā
Slippery Twister
Chinese (Simplified)
滑滑扭扭乐
Huáhuá Niǔniǔ Lè
Slippery Twisting Park
Chinese (Traditional)
滑滑扭扭樂
Huáhuá Niǔniǔ Lè
Slippery Twisting Park
Dutch
Toads Poolbasis
Toad's Polar Base
French
Station Glagla
Brrr Brrr Station
German
Polarkreis-Parcours
Polar Circle Course
Italian
Pista Polare
Polar Track
Korean
미끌미끌 트위스터
Mikkeul-mikkeul Teuwiseuteo
Slippery Twister
Portuguese
Circuito Ártico
Arctic Circuit
Russian
Полярный пробег
Polyarnyy probeg
Polar Mileage
Spanish
Base Polar
Polar Base
Mario Kart 8 / Mario Kart 8 Deluxe
Drivers
Featherweight
Baby Mario • Baby Luigi • Baby Peach • Baby Daisy • Baby Rosalina • Lemmy • Dry Bones
Light
Toad • Koopa Troopa • Shy Guy (Light-blue* · Black* · Green* · Yellow* · White* · Blue* · Pink* · Orange*) • Lakitu • Toadette • Larry • Wendy • Cat Peach* • Villager (Female)* • Isabelle* • Bowser Jr. • Inkling Girl
Medium
Princess Peach • Princess Daisy • Yoshi (Light-blue* · Black* · Red* · Yellow* · White* · Blue* · Pink* · Orange*) • Mario • Luigi • Iggy • Ludwig • Tanooki Mario* • Villager (Male)* • Inkling Boy • Birdo ‡ (Orange ‡ · Yellow ‡ · Blue ‡ · Light-blue ‡ · Green ‡ · Red ‡ · Black ‡ · White ‡) • Kamek ‡ • Diddy Kong ‡ • Peachette ‡
Cruiser
Rosalina • Metal Mario (Gold ) • Pink Gold Peach • Donkey Kong • Waluigi • Roy • Link* • King Boo
Heavy
Bowser • Wario • Morton • Dry Bowser* • Petey Piranha ‡ • Wiggler ‡ • Funky Kong ‡ • Pauline ‡
Any
Mii
Vehicle parts
Bodies
Karts
Standard Kart • Pipe Frame • Mach 8 • Steel Driver • Cat Cruiser • Circuit Special • Tri-Speeder • Badwagon • Prancer • Biddybuggy • Landship • Sneeker • Sports Coupe • Gold Standard • GLA* • W 25 Silver Arrow* • 300 SL Roadster* • Blue Falcon* • Tanooki Kart* • B Dasher* • Streetle* • P-Wing* • Koopa Clown
Standard bikes
Standard Bike • The Duke • Flame Rider • Varmint • Mr. Scooty • City Tripper* • Master Cycle Zero †
Sport bikes
Comet • Sport Bike • Jet Bike • Yoshi Bike • Master Cycle*
ATVs
Standard ATV • Wild Wiggler • Teddy Buggy • Bone Rattler* • Inkstriker • Splat Buggy
Tires
Standard • Monster • Roller • Slim • Slick • Metal • Button • Off-Road • Sponge • Wood • Cushion • Blue Standard • Hot Monster • Azure Roller • Crimson Slim • Cyber Slick • Retro Off-Road • Gold Tires • GLA Tires* • Triforce Tires* • Leaf Tires* • Ancient Tires †
Gliders
Super Glider • Cloud Glider • Wario Wing • Waddle Wing • Peach Parasol • Parachute • Parafoil • Flower Glider • Bowser Kite • Plane Glider • MKTV Parafoil • Gold Glider • Hylian Kite* • Paper Glider* • Paraglider †
Courses
New courses
Mushroom Cup
Mario Kart Stadium • Water Park • Sweet Sweet Canyon • Thwomp Ruins
Flower Cup
Mario Circuit • Toad Harbor • Twisted Mansion • Shy Guy Falls
Star Cup
Sunshine Airport • Dolphin Shoals • Electrodrome • Mount Wario
Special Cup
Cloudtop Cruise • Bone-Dry Dunes • Bowser's Castle • Rainbow Road
Classic courses
Shell Cup
Wii Moo Moo Meadows • GBA Mario Circuit • DS Cheep Cheep Beach • N64 Toad's Turnpike
Banana Cup
GCN Dry Dry Desert • SNES Donut Plains 3 • N64 Royal Raceway • 3DS DK Jungle
Leaf Cup
DS Wario Stadium • GCN Sherbet Land • 3DS Music Park • N64 Yoshi Valley
Lightning Cup
DS Tick-Tock Clock • 3DS Piranha Plant Slide • Wii Grumble Volcano • N64 Rainbow Road
DLC courses*
Egg Cup
GCN Yoshi Circuit • Excitebike Arena • Dragon Driftway • Mute City
Triforce Cup
Wii Wario's Gold Mine • SNES Rainbow Road • Ice Ice Outpost • Hyrule Circuit
Crossing Cup
GCN Baby Park • GBA Cheese Land • Wild Woods • Animal Crossing
Bell Cup
3DS Neo Bowser City • GBA Ribbon Road • Super Bell Subway • Big Blue
Booster courses‡
Golden Dash Cup
Tour Paris Promenade • 3DS Toad Circuit • N64 Choco Mountain • Wii Coconut Mall
Lucky Cat Cup
Tour Tokyo Blur • DS Shroom Ridge • GBA Sky Garden • Ninja Hideaway
Turnip Cup
Tour New York Minute • SNES Mario Circuit 3 • N64 Kalimari Desert • DS Waluigi Pinball
Propeller Cup
Tour Sydney Sprint • GBA Snow Land • Wii Mushroom Gorge • Sky-High Sundae
Rock Cup
Tour London Loop • GBA Boo Lake • 3DS Rock Rock Mountain • Wii Maple Treeway
Moon Cup
Tour Berlin Byways • DS Peach Gardens • Merry Mountain • 3DS Rainbow Road
Fruit Cup
Tour Amsterdam Drift • GBA Riverside Park • Wii DK Summit • Yoshi's Island
Boomerang Cup
Tour Bangkok Rush • DS Mario Circuit • GCN Waluigi Stadium • Tour Singapore Speedway
Feather Cup
Tour Athens Dash • GCN Daisy Cruiser • Wii Moonview Highway • Squeaky Clean Sprint
Cherry Cup
Tour Los Angeles Laps • GBA Sunset Wilds • Wii Koopa Cape • Tour Vancouver Velocity
Wave 6
Wii Daisy Circuit
Battle courses
Wii U
Wii Moo Moo Meadows • GCN Dry Dry Desert • SNES Donut Plains 3 • N64 Toad's Turnpike • Mario Circuit • GCN Sherbet Land • N64 Yoshi Valley • Toad Harbor
Switch
3DS Wuhu Town • GCN Luigi's Mansion • SNES Battle Course 1 • Urchin Underpass • Dragon Palace • Battle Stadium • Sweet Sweet Kingdom • Lunar Colony
Other
Items
Banana • Blooper • Boo • Boomerang Flower • Bullet Bill • Coin • Crazy Eight • Feather • Fire Flower • Golden Mushroom • Green Shell • Lightning • Mushroom • Piranha Plant • Red Shell • Spiny Shell • Super Horn • Triple Bananas • Triple Green Shells • Triple Mushrooms • Triple Red Shells
Course objects
Antigravity Panel • Arrow field ‡ • Barrel • Bath Bomb ‡ • Bell* • Board • Bob-omb Car ‡ • Boulder • Bowser Statue • Bus • Bumper ‡ • Cannon • Car • Cash • Ceiling Needle ‡ • Coin • Crate • Current • Dash Panel • Dash panel ramp truck • Drain Pipe • Falling Pillar • Fire Bar • Fire Chain • Flipper ‡ • Glide Ramp • Goal Ring ‡ • Hot-air balloon • Half-pipe ‡ • Item Box • Lava Geyser • Leaf pile* • Master Sword* • Mecha Piranha Plant ‡ • Metal ball ‡ • Millstone • Mine Cart* • Mushroom Platform ‡ • Mushroom Trampoline ‡ • Oil slick • Pit* • Ring • Rupee* • Snowboy* • Snowman • Spin Boost Pillar • Spinner • Submarine • Table ‡ • Tire • Traffic cone • Train* • Truck • Volcanic debris • Water Geyser ‡ • Winged Cloud ‡
Enemies and species
Big Wiggler ‡ • Bone Piranha Plant • Boo • Bouncing Note • Bowser Monument • Chain Chomp • Cheep Cheep • Clampy ‡ • Deku Baba* • Dolphin • Dry Bones • Exploring Shy Guy ‡ • Fire Piranha Plant ‡ • Fire Snake • Fish Bone • Freezie • Frogoon • Goomba • Goomba Tower • Goonie ‡ • Hammer Knight • Huffin Puffin ‡ • Incoming Chomp ‡ • Innertube Goomba ‡ • Jellybeam • Keese* • Little bird • Manta • Mecha Cheep • Mechakoopa • Mini Toad* • Monty Mole • Moo Moo • Mr. Resetti* • Nep-Enut ‡ • Noki • Penguin ‡ • Petal Guy ‡ • Pianta • Piranha Plant • Pokey • Ptooie ‡ • Raving Piranha Plant • Screaming Pillar • Sidestepper • Skating Shy Guy • Snowboarding Shy Guy ‡ • Stilt Guy ‡ • Super Thwomp* • Swoop • Thwomp • Tiki Goon • Toad • Unagi • Whomp ‡ • Yoshi
Techniques
Anti-gravity • Drift • Hop • Mini-Turbo • Rocket Start • Slipstream • Spin Boost • Spin Turn • Jump Boost • U-turn • Underwater driving
Notable areas, landmarks, and sightings
Amsterdam ‡ • Athens (Hadrian's Arch · Parthenon) ‡ • Bangkok ‡ • Berlin (Berlin Wall · Brandenburg Gate · Charlottenburg Palace) ‡ • Bowser's Castle • DK's Tree House • Hammer Bros. Sphinx • London (Big Ben · Tower Bridge · Tower of London) ‡ • Luigi's Mansion • New York (Empire State Building · Statue of Liberty · Rockefeller Center) ‡ • Paris (Arc de Triomphe · Cathedral of Notre Dame · Eiffel Tower · Louvre) ‡ • Peach's Castle • Sydney ‡ • Tokyo ‡ • Vancouver ‡
Official Mario Kart 8 Deluxe tournaments
North America
NOA 150cc Tournament and NOA Battlethon • Mario Kart North American Open • Mario Kart 8 Deluxe Holiday Fun Run • Mario Kart 8 Deluxe Championship Cup 2022 • Mario Kart 8 Deluxe North American Qualifier 2022 • Mario Kart 8 Deluxe North American Qualifier 2023 • Mario Kart 8 Deluxe Championship Cup 2023 • Mario Kart 8 Deluxe Championship 2023 Qualifier • Mario Kart 8 Deluxe Championship 2023
Australia and New Zealand
Mario Kart 8 Deluxe Super Saturdays • Mario Kart AU/NZ My Nintendo Cup • Mario Kart 8 Deluxe: AU/NZ Grand Prix
China
Mario Kart 8 Deluxe Summit Invitational Tournament • Mario Kart 8 Deluxe Online Tournaments (2021 Tencent series) • Mario Kart 8 Deluxe National Battle Team Open Tournament • Mario Kart 8 Deluxe Open Team Championship
Europe
Mario Kart 8 Deluxe Seasonal Circuit
Hong Kong
Nintendo HK 2021 Cup
Japan
Mario Kart 8 Deluxe Online Challenge • Mario Kart 8 Deluxe Online Challenge Final Stage
Spain
#TorneoMK8D
UK and Ireland
Nintendo UK VS Cup • Nintendo VS UK Cup
Miscellaneous
Andrew Trego • Animal Crossing × Mario Kart 8* • "Blue Shell Blues" • Cheese* • Daisy Cruiser* • DK's Tree House • Emblem • Finish line • From the Pit • Ghost • Gravity • Heart ‡ • Highlight Reel • Hyrule Castle* • In-game statistics (Deluxe) • Item probability distributions • Lakitu • The Legend of Zelda × Mario Kart 8* • Mario Kart 8 Deluxe – Booster Course Pass ‡ • Mario Kart Band • Mario Kart TV • Mercedes-Benz × Mario Kart 8* • Miiverse • Poochy ‡ • Pre-release and unused content • Soundtrack • Sponsors • Staff (Deluxe) • Stamp (list) • Update history
Related

Play Nintendo

activities:


Take a spin in one of these beauties!

•

Racing through this poll

•

One cup, four tracks…

•

Leaf it to me

•

Gaming gardens trivia quiz

•

Mario Kart 8 Deluxe Memory Match-Up

- Indicates exclusivity to Mario Kart 8                 * - Indicates downloadable content in Mario Kart 8 - Indicates exclusivity to Mario Kart 8 Deluxe                 † - Indicates content available in version 1.6.0 and later of Mario Kart 8 Deluxe                 ‡ - Indicates content available in the Mario Kart 8 Deluxe – Booster Course Pass