Koopa Capers
From the Super Mario Wiki, the Mario encyclopedia
Jump to navigation
Jump to search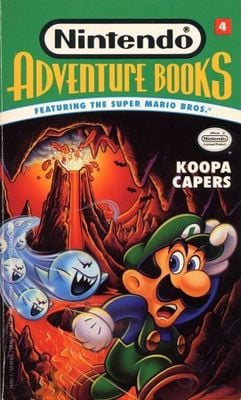 Koopa Capers is the fourth book in the Nintendo Adventure Books series, first published in August 1991.[1] It was written by Bill McCay. It is also notable in that Mario does not make an appearance in it, with Luigi mentioning that Mario is busy "fixing [a] drip" at Niagara Falls.
Plot synopsis
[
edit
]
The story from the back cover:
Koopa Kid Kidnapped! Luigi to the Rescue?
Wendy O. Koopa has disappeared and an embarrassed King Bowser asks the Super Mario Bros. to find her. Experienced princess-rescuer Luigi reluctantly agrees. But all is not as it seems. Can Luigi trust Bowser and his creepy creatures—or does the treacherous turtle have a secret scheme up his shell?

As in all Nintendo Adventure Books, you control the action. Only you can make the choices that allow Luigi to beat Boo Diddly, Hot Foot, and the rest of the Koopa creatures. Help him crack codes, solve puzzles, conquer mazes, and subdue enemies. You and Luigi must outwit the Koopas at their own games—or go down in final defeat!
Characters
[
edit
]
Enemies
[
edit
]
Locations
[
edit
]
Giant Land (mentioned, referred to as "Land of the Giants")
Magma Pits
Niagara Falls (mentioned)
Score chart
[
edit
]
610 pts. or more – Rompin', Stompin', Wrenchmaster Supreme
510–600 pts. – Power Plunger
410–500 pts. – Fluid Mechanic
210–400 pts. – Plumber With Promise
200 pts. or fewer – Drained Brain
References
[
edit
]