Doors to Doom
From the Super Mario Wiki, the Mario encyclopedia
Jump to navigation
Jump to search
It has been requested that this article be rewritten and expanded to include more information. Reason: add info on the enemies that appear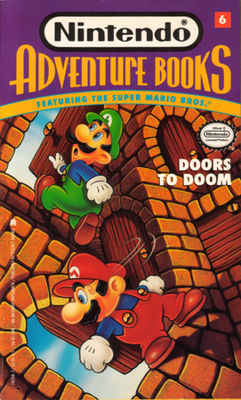 Doors to Doom is the sixth Nintendo Adventure Book. It is the first title in the series to give the player straight points instead of having them collect coins to determine their score, and is also prone to breaking the fourth wall.
Plot synopsis
[
edit
]
The story from the back cover:
Knock, Knock, Trouble's There
When Mario and Luigi open the strange door that suddenly appears in their Brooklyn plumbing shop, they plunge into the weird world of Dr. Sporis von Fungenstein, the mad Goomba scientist. He bounces our fearless heroes on a journey through a dangerous jungle, Subcon, and the Mushroom Worlds. Mario and Luigi must survive the attack of wicked Shy Guys, Ninjis, Wart, and the incorrigible Kong Family.

As in all Nintendo Adventure Books, you control the action. Only you can make the choices that allow Mario and Luigi to overcome the obstacles they face at each mysterious doorway. Help Mario and Luigi crack codes, solve puzzles, conquer mazes, and subdue enemies. You and the Mario Bros. must outwit von Fungenstein at his own game—or go down in final defeat!
Characters
[
edit
]
Score chart
[
edit
]
410 or more pts. — Award-Winning Power Hero
210-400 pts. — Future Hero-in-Training
200 or less pts. — Dauntless Dreamer