How to Draw Nintendo Heroes and Villains
From the Super Mario Wiki, the Mario encyclopedia
Jump to navigation
Jump to search
It has been requested that more images be uploaded for this article. Remove this notice only after the additional image(s) have been added. Reason: Sample images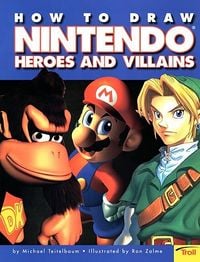 How to Draw Nintendo Heroes and Villains is a book written by Michael Teitelbaum, illustrated by Ron Zalme, and published by Troll Communications L.L.C. in 2000.[1] It shows how to draw Nintendo's famous characters such as Mario, Donkey Kong, and Link. A lot of the images the book teaches to draw are rendered artworks of the various characters from their respective games.
This book was released after the 1997 How to Draw Donkey Kong & Friends, also written by Michael Teitelbaum. A spiritual successor was released in 2007, through Scholastic Corporation, titled How to Draw Nintendo Greatest Heroes & Villains.
Drawings
[
edit
]
The drawings go in order as they appear in the book: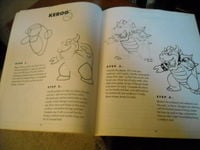 Bowser is incorrectly named "Kerog" in this book because one of his official renders has this name.[2]
Tiny Kong and Chunky Kong's artwork are the only artworks based on their in-game models and not their rendered models.
Despite assisting the Kongs in Donkey Kong 64, Snide is labeled as a "villain."
References
[
edit
]