Club Nintendo Classic
From the Super Mario Wiki, the Mario encyclopedia
Jump to navigation
Jump to search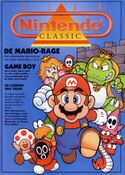 "Hey, Kids! It's me, Mario! Listen closely, because there's something I just can't wait to tell you about!"

—Mario, page 1
Club Nintendo Classic was a bonus issue released in 1990 for subscribers to Club Nintendo throughout Europe. The issue's purpose was to cover older games that could not be featured as often due to new video games frequently being released. Super Mario games covered in the issue were Super Mario Bros., Super Mario Bros. 2, and Super Mario Land.
Game Boy Hardware and Accessories
[
edit
]
"Game Boy Hardware and Accessories" was a four-page comic that promoted the Nintendo Entertainment System, new Game Boy, and accessories for both products. The artwork is hand-drawn but also uses real images of Nintendo products.
Mario is playing Tetris on his Game Boy, only for the batteries to die. He gets told by Luigi that he could have played for ten hours if he had a Rechargable Battery Pack A/C Adapter. Luigi pulls out the battery pack in question and shows off his Game Boy Belt-Pack Carrying Case, prompting Mario to start fighting him over both accessories. They stop fighting after Princess Peach threatens not to give them any cake if they continue to do so.
Princess Peach is promptly abducted by an entity only referred to as "Evil Alien". Although Mario shoots Evil Alien's spacecraft with an NES Zapper, it still escapes with Princess Peach. Luigi then flies over with two rockets and tells Mario that they will go after Evil Alien with the rockets. Mario and Luigi are outnumbered by alien spacecrafts, but defeat them with an NES Max and an NES Advantage controller. The comic ends with Mario and an alien peacefully playing Metroid on a Nintendo Entertainment System while another alien, Luigi, and Princess Peach watch them.
Gallery
[
edit
]
Super Mario Land

[

edit

]
Super Mario Bros.

[

edit

]
Super Mario Bros. 2

[

edit

]
Miscellaneous
[
edit
]
Artwork on the first page featuring Princess Peach, Luigi, Mario, and Toad
External links
[
edit
]