Skylanders: Unexpected Allies
From the Super Mario Wiki, the Mario encyclopedia
Jump to navigation
Jump to search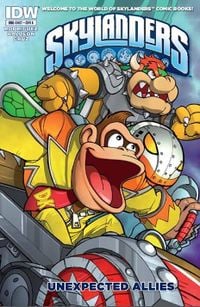 Skylanders: Unexpected Allies is a 12-page comic book, in the Skylanders IDW comic series, that chronologically takes place before the events of Skylanders: SuperChargers. The premise of the book is to explain how Bowser and Donkey Kong ended up becoming part of the SuperChargers team. The art was done by David Baldeon. The comic book was given as a promotional item at GameStop for pre-orders of the Wii U version of Skylanders: SuperChargers, or pre-orders of either the Wii or Nintendo 3DS versions of Skylanders: SuperChargers Racing.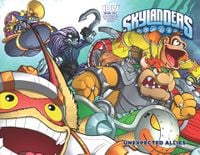 The beginning provides a short backstory, telling the plot of Skylanders: SuperChargers: Kaos has unleashed an evil weapon, and Mags sends a distress signal across Skylands to assemble a special team called the SuperChargers to stop it. The distress signal apparently manages to reach the Super Mario world, as the book then shows Donkey Kong and Bowser falling from the sky, and landing in a jungle. The two argue among themselves about whose fault it is that they got there. Captain Blubberbeard finds them, and demands they hand over any valuables the two have - they decline, and Bowser and Donkey Kong begin fighting Blubberbeard's pirate lackeys.
Bowser and Donkey Kong begin to struggle in their fight, but while fighting, the duo comes across a Rift Engine. Upon touching it, the powerful machine assigns them an element and "Supercharges" them - Donkey Kong receives the Life Element, and becomes "Turbo Charge Donkey Kong", and Bowser receives the Fire Element and becomes "Hammer Slam Bowser". Their fight becomes much easier, and the pirates begin running away. Bone Bash Roller Brawl and the rest of the Superchargers find Bowser and Donkey Kong, and decide to recruit them into the brigade after having witnessed their powers.