Unjust Desserts
From the Super Mario Wiki, the Mario encyclopedia
Jump to navigation
Jump to search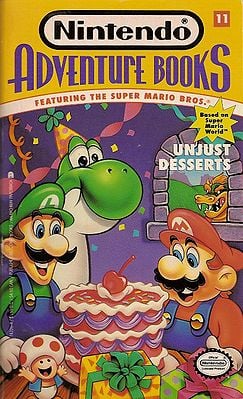 Unjust Desserts is the eleventh book in the Nintendo Adventure Books series. The book was written by Matt Wayne. Its title is a pun on "just desserts."
Plot synopsis
[
edit
]
The story from the back cover:
Yoshi's Birthday Bash
It's Yoshi's birthday party and Mario, Luigi, and all his dinosaur buddies are there to help him celebrate. All is well until Yoshi slurps down his birthday surprise and suddenly starts gobbling up everything—and everyone—in sight! Can the Mario Bros. control the dinosaur's runaway appetite and rescue his disgruntled lunch?

As in all Nintendo Adventure Books, you control the action. Only you can make the choices that allow Mario and Luigi to overcome the perils they face as they search for the cure to Yoshi's upset stomach. Help them crack codes, solve puzzles, conquer mazes, and subdue enemies. You and the Mario Bros. must outwit a whole new collection of Koopa creeps—or go down in final defeat.
A Feather is shown in the inventory section, but no Feathers can be found in the book.
Characters
[
edit
]
Enemies
[
edit
]
Locations
[
edit
]
Buttermilk Falls (mentioned)
Luigi's Body
Palace Garden
Plungers Lodge (mentioned)
Royal Post Office (mentioned)
Yoshi's Body
Score chart
[
edit
]
1,201 pts. or more – Perfect Plumber
801–1,200 pts. – Dinosaur Explorer
501–800 pts. – Stomach Surveyor
201–500 pts. – Plunger Pupil
200 pts. or fewer – Leaky Gasket