Bloopad
From the Super Mario Wiki, the Mario encyclopedia
Jump to navigation
Jump to search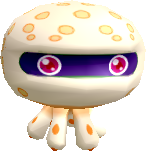 Bloopads,[1] originally known as Jumping Bloopers,[2] Jump Bloopers,[3] Mamae Gessos,[4] or Mame Gessos,[5] are rare jellyfish-like Bloopers that appear only in Super Mario Sunshine, where they are found solely in Ricco Harbor. They occasionally jump out of the water, leaving them susceptible to being sprayed by FLUDD. When sprayed, they land on the water and flatten. They can be used as platforms in this condition and thus are useful in helping Mario cross slimy water. Mario must cross quickly, however, as they revert to their normal form after about fifteen seconds. They never move in any direction horizontally and only jump up vertically.
In a few episodes, boats filled with dead Bloopers and Jumping Bloopers can be found near the beginning of the stage; here, Jumping Bloopers are found in colors other than cream, such as white and reddish.
In Mario Golf: Toadstool Tour, the name "Bloopad" can appear on the leaderboard.
Additional names
[
edit
]
Internal names
[
edit
]
Names in other languages
[
edit
]
Language
Name
Meaning
Japanese
クラゲッソー[7]
Kuragessō
Portmanteau of「海月」(kurage, jellyfish) and「ゲッソー」(Gessō, Blooper)
French
Bloups sauteur[8]
Jumping Blooper
German
Quallen-Blooper
Jellyfish Blooper
Italian
Calamako Salterino/Saltellante
Jumping Blooper
References
[
edit
]