Swinging Scaffolding
From the Super Mario Wiki, the Mario encyclopedia
Jump to navigation
Jump to search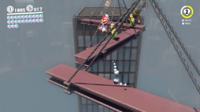 Swinging Scaffoldings, also referred to as suspended iron beams,[1] swaying beams,[2] swinging girders,[3] and swinging beams,[4] are solid objects that appear in the Metro Kingdom in Super Mario Odyssey. They consist of a single floating iron beam attached to a rope. The beam swings from one side to the other, in such a way that the end of one beam connects to the opposite end of another beam. The rope of the beam is not attached to anything. Mario must cross Swinging Scaffoldings to reach the Power Moon for the sidequest Swinging Scaffolding: Jump!
Swinging Scaffoldings reappear in Uptown, Downtown in the Nintendo Switch and Nintendo 3DS versions of Captain Toad: Treasure Tracker. In this game, Swinging Scaffoldings act similarly to Seesaws, tilting when a player stands on them.
In a third episode of the Captain Toad: Treasure Tracker comic, Captain Toad falls off a Swinging Scaffolding.
See also
[
edit
]
References
[
edit
]