Balloon World
From the Super Mario Wiki, the Mario encyclopedia
Jump to navigation
Jump to search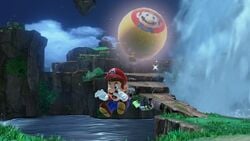 Balloon World[1], also known as Luigi's Balloon World, is an online minigame that appears as part of an update for Super Mario Odyssey, released on February 21, 2018.[2] The minigame can be played by completing the main story and finding Luigi near the Odyssey in any of the kingdoms besides the Cloud Kingdom, Ruined Kingdom, Dark Side and Darker Side, and talking to him. Unlike certain online features in other Nintendo Switch games, a Nintendo Switch Online membership is not required to play Balloon World.
This minigame features two different modes: "Hide It" mode and "Find It" mode. In "Hide It" mode, the player has thirty seconds to hide a balloon somewhere in the kingdom. The player can choose to place the balloon before the time runs out or they can restart to try and find a different hiding spot. However, players cannot place a balloon high in midair or above pits and instead the balloon will be placed as close as possible to where the player tried to hide it. In "Find It" mode, the player has a set amount of time (3-40 seconds) to find a balloon hidden in a kingdom by another player in the world. To help the player, there is an arrow pointing to the direction of where the balloon is located as well as a meter counter that will decrease or increase depending on how close or far the player is from the balloon. However, the arrow will disappear after a few seconds and the player can make it reappear by standing still. Collecting three Coins while either hiding or finding balloons will increase the timer by one second. The player cannot enter into different areas that require warping in either mode and will return to the main area with Cappy saying they cannot because they are in the middle of a game.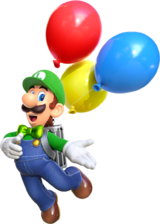 Balloon World also features a ranking system, which shows the statistics of the player, such as how many Coins they received and how many balloons they found in a row. The player's rank is represented by stars, which are awarded for each objective that is completed. Each time the player ranks up, they receive a large sum of Coins; the higher rank they become, the more Coins are awarded, and the harder it will be for the player to find balloons, as more difficult balloons are more likely to appear for higher ranked players. For every 10 stars collected, Luigi will gain new balloons for his case. At first, he only has a red balloon, but at 10 stars, he gains a blue balloon. At 20, he gains a yellow balloon; at 30, he gains a green balloon; and at 40, he gains a purple balloon. If all 50 stars are earned, Luigi's balloons become golden and begin to sparkle, similar to how the Odyssey's sail turns gold and shiny after collecting all 880 Power Moons.
The player earns stars in five sections. In Find It, there is a section for the number of coins collected, the number of balloons popped, and balloons popped in a row. In Hide It, there is a section for coins collected and the number of tries other players take to find the player's balloons.
If online, a notification appears if other players try to find the player's balloons (green border), if one of the player's balloons is popped (red border), or when more coins can be earned than usual in a certain kingdom (black border). These notifications can be switched off in the Options menu. If an attempt is made while online and not in Balloon World, the player will automatically receive their coin reward, along with a notification displaying the user who made the attempt, and whether the balloon was popped or not.
The balloons used in this minigame have images of the player's Nintendo Switch profile icons, which can include Mii and various other popular Nintendo characters. Additionally, the time of day and weather in some kingdoms change when playing this minigame, such as the Cascade Kingdom taking place at night and the Metro Kingdom taking place during a rainstorm.
Locations
[
edit
]
Star
Find It
Hide It
Coins Earned
Number Found
Number Found in a Row
Coins Earned
Others' Tries
1
200
3
2
100
1
2
600
10
3
300
10
3
1,200
30
5
600
25
4
2,400
60
7
1,200
50
5
5,000
100
9
2,500
80
6
9,000
180
11
4,500
120
7
14000
300
12
7,000
200
8
20,000
450
13
10,000
350
9
30,000
620
14
15,000
550
10
50,000
800
15
25,000
800
Names in other languages
[
edit
]
Language
Name
Meaning
Japanese
バルーンファインド[3]
Barūn Faindo
Balloon Find
Chinese (Simplified)
发现气球
Fāxiàn Qìqiú
Find the Balloon
Chinese (Traditional)
發現氣球
Fāxiàn Qìqiú
Find the Balloon
Dutch
Ballonnenjacht
Balloon Hunt
French
Chasse aux ballons[4]
Balloon Hunt
German
Ballonjagd
Balloon Hunt
Italian
Caccia ai palloncino
Balloon Hunt
Korean
풍선 월드
Pungseon Weoldeu
Balloon World
Russian
Мир Шариков
Mir Sharikov
Balloon World
Spanish
Mundoglobo[5][6]
Balloon World
The balloons attached with Luigi match the colors of the Japan and PAL regions' SNES Controller and logo.
References
[
edit
]