Picture Match
From the Super Mario Wiki, the Mario encyclopedia
Jump to navigation
Jump to search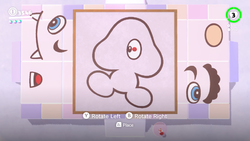 Picture Match is a minigame featured in Super Mario Odyssey. It appears in the Cloud Kingdom and the Mushroom Kingdom and involves replicating an image of a character as accurately as possible using capturable objects called Picture Match Parts. Mario can move and rotate the parts in order for better accuracy and decapture the parts to place them. To make the minigame more difficult, the parts disappear a few seconds after they are placed.
The minigame is first seen in the Cloud Kingdom in a Warp Pipe in the middle of the large circular arena. Mario can talk to the Toad wearing a beret and begin the minigame. Mario must replicate the face of a Goomba by placing its eyes, mouth, and eyebrows in the correct spots. He can then talk to the Toad again when he is done. A score of at least 60 points (80 when Mario plays again after opening the Moon Rock) is a passing score, and the Toad gives Mario a Power Moon.
The other version of Picture Match appears in the Mushroom Kingdom and can be found by capturing a Mini Rocket near the Goomba Woods area. This time, Mario must replicate his own face using parts of his eyes, eyebrows, mouth, nose, and mustache. The same rules apply as the Cloud Kingdom version of the minigame as Mario must have a score of at least 60 points to earn a Power Moon.
A more difficult version of both Picture Match minigames is featured. In addition to the parts disappearing after being placed, all colors and outlines of the picture, aside from the outer outline, fade out, leaving the picture as a blank white silhouette. A passing score for this version is 80 points or higher, and Mario receives another Power Moon.
The background music that plays in the Picture Match areas is a rendition of "Spinning Slots" from Super Mario Bros. 3.
See also
[
edit
]
Names in other languages
[
edit
]
Picture Match
[
edit
]
Language
Name
Meaning
Japanese
絵あわせ
Eawase
Picture matching
Chinese (Simplified)
拼图
Pīntú
Jigsaw Puzzle
Chinese (Traditional)
五官拼圖
Wǔguān pīntú
Facial features jigsaw Puzzle
Dutch
Dubbelgangers
Doppelgängers
French
Portrait craché
Spitting image
German
Gesichterpuzzle
Face puzzle
Italian
Salva la faccia
Save the face
Korean
그림 맞추기
Geurim Matchugi
Picture Matching
Russian
Фоторобот
Fotorobot
Photo robot
Spanish
Retratista
Portrait painter
Picture Match Part (Goomba)
[
edit
]
Language
Name
Meaning
Japanese
福笑い(クリボー)
Fuku warai (Kuribō)
Blindfolded Sticker (Goomba)
Chinese (Simplified)
蒙眼贴画(栗子小子)
Méng yǎn tiēhuà (Lìzǐ Xiǎozi)
Blindfolded Sticker (Goomba)
Chinese (Traditional)
鬼臉(栗寶寶)
Guǐliǎn (Lìbǎobǎo)
Grimace (Goomba)
Dutch
Gezichtselement (Goomba)
Facial Feature (Goomba)
French
Portrait craché (Goomba)
Picture Match (Goomba)
German
Gesichterpuzzleteil (Gumba)
Face Puzzle Part (Goomba)
Italian
Pezzo di Salva la faccia (Goomba)
Picture Match Part (Goomba)
Korean
얼굴 맞추기(굼바)
Eolgul Matchugi(Gumba)
Face Match (Goomba)
Russian
Элемент фоторобота «Гумба»
Element fotorobota «Gumba»
Picture Match Part (Goomba)
Spanish (NOA)
Pieza del Retratista (goomba)
Picture Match Part (Goomba)
Spanish (NOE)
Pieza del Retratista (Goomba)
Picture Match Part (Goomba)
Picture Match Part (Mario)
[
edit
]
Language
Name
Meaning
Japanese
福笑い(マリオ)
Fuku warai (Mario)
Blindfolded Sticker (Mario)
Chinese (Simplified)
蒙眼贴画(马力欧)
Méng yǎn tiēhuà (Mǎlìōu)
Blindfolded Sticker (Mario)
Chinese (Traditional)
鬼臉(瑪利歐)
Guǐliǎn (Mǎlìōu)
Grimace (Mario)
Dutch
Gezichtselement (Mario)
Facial Feature (Mario)
French
Portrait craché (Mario)
Picture Match (Mario)
German
Gesichtpuzzleteil (Mario)
Face Puzzle Part (Mario)
Italian
Pezzo di Salva la faccia (Mario)
Picture Match Part (Mario)
Korean
얼굴 맞추기(마리오)
Eolgul Matchugi(Mario)
Face Match (Mario)
Russian
Элемент фоторобота «Марио»
Element fotorobota «Mario»
Picture Match Part (Mario)
Spanish
Pieza del Retratista (Mario)
Picture Match Part (Mario)