Tiara
From the Super Mario Wiki, the Mario encyclopedia
Jump to navigation
Jump to search
This article is about the character named Tiara from Super Mario Odyssey. For the headdress normally worn by Princess Peach, see Peach's Crown.
Tiara is a supporting character in Super Mario Odyssey. She is a Bonneter and lives with her bigger brother Cappy in the Cap Kingdom. Much like with Cappy, Tiara's main body resembles that of an Eerie. Similar to Cappy's normal form resembling a top hat, Tiara, true to her name, resembles a bridal tiara. She is kidnapped by Bowser to be used as Princess Peach's headdress for their wedding, which is seen at the beginning of the game. This prompts Cappy to team up with Mario to rescue both damsels.
After the game is completed, Tiara begins exploring the world with Peach, much like Mario and Cappy. Afterwards, she stays with Peach on her castle's balcony in the Mushroom Kingdom.
Concept and creation
[
edit
]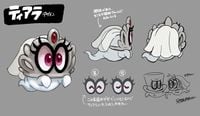 Tiara's final design has a veil similar to the one worn by Peach.[1] Tiara was given facial expressions similar to those of Cappy.[1]
Gallery
[
edit
]
Video for the first anniversary of Super Mario Odyssey from Nintendo's Instagram account

Group artwork for the party in order to welcome the candidate staff of 1-UP Studio in 2019
Names in other languages
[
edit
]
Language
Name
Meaning
Japanese
ティアラ[2]
Tiara
Tiara
Chinese (Simplified)
提雅拉
Tíyǎlā
Tiara
Dutch
Tiara
-
French
Tiara
-
German
Tiara
-
Italian
Tiara
-
Korean
티아라
Tiara
Tiara
Portuguese
Tiara
-
Russian
Тиара
Tiara
Tiara
Spanish
Tiara
-
References
[
edit
]