Mario in Real Time
From the Super Mario Wiki, the Mario encyclopedia
Jump to navigation
Jump to search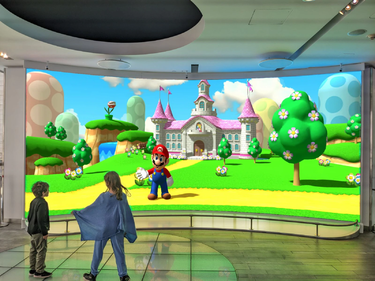 Mario in Real Time (more commonly known as MIRT) is an interactive system developed by SimGraphics and introduced in 1991,[1][2] and it has since been used by Nintendo across various promotional events. Conceived by SimGraphics CTO Mike Fusco,[3][4] the system allows for passersby at conventions, tradeshows, and other promotional events to interact with Mario, and on occasion other characters as well.
MIRT is notable for being Charles Martinet's first role as Mario (prior to his video game debut in Mario Teaches Typing), first appearing at conventions and tradeshows, and later during events at Nintendo New York following the installation of multiple kiosks, and later a massive 23-foot-wide display.[5] In the lead-up to Martinet's retirement, the system was overhauled to be fully automated with the use of directable AI, or "AI-VActor" technology, becoming available six days a week rather than being locked to events for which Martinet was available.[6]
MIRT has been repeatedly used by Nintendo for promotional events throughout the years, examples including San Diego Comic-Con 2012[7] and the Nintendo New York Luigi's Mansion: Dark Moon launch event in 2013.[8] Despite this, following MIRT's establishment as permanent fixture of Nintendo New York and the introduction of AI-VActor technology, it has since been retired from event appearances.
History
[
edit
]
Developed by Mike Fusco, SimGraphics' VActor technology was pitched to multiple companies as a form of promotion. Nintendo quickly took interest and contracted SimGraphics to create a system featuring Mario based on the technology.[3][4] Auditions were overseen by the producer who ran the events MIRT would appear in,[4] in tandem with Don James, executive vice president of operations for Nintendo of America.[9] As the audition was ending, it was crashed by Charles Martinet, who managed to convince the producer to let him try out. According to Martinet, the producer was seemingly annoyed by his performance by the time he left, but purportedly called James immediately afterwards to urge him that only Martinet's audition be sent to Japan.[9]
Martinet was very quickly hired, and he was flown out to South Pasadena the next day to be fitted.[10][11] Due to the long shifts, Stevie Coyle was hired as a voice match to take over during breaks by Martinet's suggestion.[2][12] At launch, this iteration of the system featured only Mario, but Wario and Donkey Kong were added after the release of Super Mario Land 2: 6 Golden Coins and Donkey Kong Country, respectively.[13][14]
In 1998, Coyle left to focus on other endeavors.[15] Soon after, Donkey Kong was removed from the system, with the Mario and Wario heads being updated to their current designs.[16][17] In 2003, however, the system was overhauled, giving Mario and Wario full bodies for the first time.[18][19][20] In addition, expressions and mouth movement became automatized, which meant face tracking equipment was no longer needed, allowing Martinet to perform from anywhere in the world.[21] Mario and Wario remained as the sole characters until 2012, when Wario was removed but Luigi was added (first appearing at the aforementioned San Diego Comic-Con 2012), alongside another overhaul of the system.
In 2021, an updated version of MIRT was introduced, utilizing AI-VActor technology, which allows for an AI duplicate of Martinet (or, rather, Mario) to fill in when he is not available.[6] So far, no unique duplicate has been shown off or announced for Luigi. As of the present, MIRT has been retired from event appearances and is used exclusively for promotion at Nintendo New York, originally most commonly during Christmastime.[22][23] However, with AI-VActor technology, MIRT is now available six days a week.[6]
Overview
[
edit
]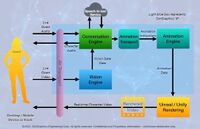 MIRT is engaged through its display, which shows either Mario or Luigi in front of a background. People would interact with them through a hidden camera and microphone, though modern displays place the mic in clear view.[3][24] Formerly, the system required a headset rig, which transposed the actors' expressions using roller balls onto a model of the character. The system also formerly required everything to be connected together, likely caused by the limits of computing power at the time. With the first overhaul of the system around 2000, however, expressions and mouth movements became automatized, which allowed for Martinet to perform remotely.
Under most circumstances, both characters cannot be seen at the same time. Previously, this was a technical limitation, as each character would need their own display, with a computer and headset rig,[13][14] though today it is purely Martinet playing both characters. Despite this, however, certain transitions between the characters do show them both onscreen, which Martinet uses as an opportunity to voice them both, going back and forth between them.[25] The AI-VActor model is trained on data from Martinet's more recent MIRT performances[6] and can perform all the same actions he can.
Gallery
[
edit
]
MIRT display of Wario at E3 1996

MIRT display of Donkey Kong at the VSDA expo 1994
References
[
edit
]