Record (WarioWare: D.I.Y.)
From the Super Mario Wiki, the Mario encyclopedia
Jump to navigation
Jump to search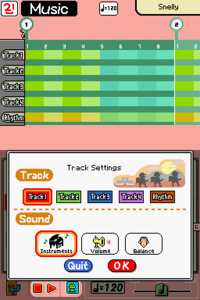 Records, along with microgames and comics, are one of the three main features in WarioWare: D.I.Y. In addition to being able to compose their own records, players can also listen to pre-made records from Diamond Studios used in the game's built-in microgames.
Diamond Studios
[
edit
]
Main article: List of records in WarioWare: D.I.Y.
Diamond Studios's records consist of 18 records for each microgame host (Mona, Jimmy T., Ashley, Orbulon and 9-Volt), adding up to a total of 90 pre-made records.
D.I.Y. Music
[
edit
]
Self-composed records can be created using the Super MakerMatic 21 in the D.I.Y. Studio, which are then sent to the Music department of the D.I.Y. Shop.
Description
[
edit
]
There are twenty-four blocks, with two measures per block. Songs can be as short as one block and as long as twenty-four, and the player can set the length of each song by placing a flag next to the last desired measure. The player can also change the tempo, ranging from 60 to 240 beats per minute. By clicking on the icon with the man on a pogo stick, the player can make the notes swing.
There are a total of 48 instruments that can be used to make records. Players input notes into a soundboard. As two notes cannot be played at the same time on each track, there are four tracks, where each one can play a different instrument. There is a fifth track reserved for the rhythm, where the player can choose from eight different drum sets. Unlike the other tracks, the rhythm can play up to four notes at one time.
For all five tracks, the player can change the instrument or drum set, the volume of the track, or the balance of the track (the sound may lean towards the left or the right speaker, or in between.) If the player wants the instrument, volume, or balance to be the same in every measure, the player can open up the red backpack and have those settings applied to all of the measures in the song, unless the player changes them in one of the measures.
Instruments
[
edit
]
| Instrument Group 1 | Instrument Group 2 | Science Fiction (SF) | Creatures | Voice | 8-Bit | Rhythm |
| --- | --- | --- | --- | --- | --- | --- |
| Piano (default) | Acoustic Guitar | Star Drop | Cat | Do-Re-Mi Voice | Ding-Ding | Normal Drums |
| Organ | Electric Guitar | Rocket | Dog | Wah Dude | Pong-Pong | Electric Drums |
| Harpsichord | Banjo | UFO | Pig | Opera Man | Fah-Fah | Samba Drums |
| Melodica | Bass | Moon | Insects | Soul Girl | Bong-Bong | Asian Drums |
| Flute | Violin | Alien | Frog | Baby | Bing-Bing | Kitchen Drums |
| Trumpet | Marimba | Green Dude | Yoshi | Laughing Men | Ting-Ting | Toy Drums |
| Saxophone | Vibraphone | Robot | Birds | Kung-Fu Men | Bling-Bling | Beat-Box Drums |
| Wood Flute | Timpani | Phone Dial | Monkey | Humming | Boon-Boon | 8-Bit Drums |