List of medals in WarioWare: D.I.Y.
From the Super Mario Wiki, the Mario encyclopedia
Jump to navigation
Jump to search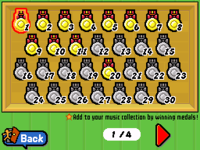 Medals are achievements in WarioWare: D.I.Y. and are shown in the D.I.Y. Data section in the D.I.Y. Studio. The more medals the player earns, the more records are unlocked. This page lists all 120 medals obtainable in the game.
Medals 104 to 114 are no longer obtainable due to the closure of Nintendo Wi-Fi Connection services in May 2014.
| Number | Clue | Name | Goal |
| --- | --- | --- | --- |
| 001 | Took a look around the ???. | D.I.Y. Shop Manager | Took a look around the D.I.Y. Shop. |
| 002 | Stocked all of ???'s games in the D.I.Y. Shop. | All Mona Games Completed | Stocked all of Mona's games in the D.I.Y. Shop. |
| 003 | Stocked all of ???'s games in the D.I.Y. Shop. | All Jimmy T. Games Completed | Stocked all of Jimmy T.'s games in the D.I.Y. Shop. |
| 004 | Stocked all of ???'s games in the D.I.Y. Shop. | All Ashley Games Completed | Stocked all of Ashley's games in the D.I.Y. Shop. |
| 005 | Stocked all of ???'s games in the D.I.Y. Shop. | All Orbulon Games Completed | Stocked all of Orbulon's games in the D.I.Y. Shop. |
| 006 | Stocked all of ???'s games in the D.I.Y. Shop. | All 9-Volt Games Completed | Stocked all of 9-Volt's games in the D.I.Y. Shop. |
| 007 | Unlocked all ??? stages in the D.I.Y. Shop. | All Game Blenders Unlocked | Unlocked all Game Blender stages in the D.I.Y. Shop. |
| 008 | Scored ???+ on ???'s stage in the Game Blender. | Oddball | Scored 40+ on Mona's stage in the Game Blender. |
| 009 | Scored ???+ on ???'s stage in the Game Blender. | Jock | Scored 40+ on Jimmy T.'s stage in the Game Blender. |
| 010 | Scored ???+ on ???'s stage in the Game Blender. | Chowhound | Scored 40+ on Ashley's stage in the Game Blender. |
| 011 | Scored ???+ on ???'s stage in the Game Blender. | Genius?! | Scored 40+ on Orbulon's stage in the Game Blender. |
| 012 | Scored ???+ on ???'s stage in the Game Blender. | Nintendo Fanatic | Scored 40+ on 9-Volt's stage in the Game Blender. |
| 013 | Scored ???+ in ??? in the Game Blender. | Diamond in the Rough | Scored 60+ in Diamond Software: Shuffle in the Game Blender. |
| 014 | Scored ???+ in ??? stage in the Game Blender. | Sparkling Diamond | Scored 30+ in Diamond Software: Ultra Hard! stage in the Game Blender. |
| 015 | Collected all of ???'s records in the D.I.Y. Shop. | All of Mona's Music | Collected all of Mona's records in the D.I.Y. Shop. |
| 016 | Collected all of ???'s records in the D.I.Y. Shop. | All of Jimmy T.'s Music | Collected all of Jimmy T.'s records in the D.I.Y. Shop. |
| 017 | Collected all of ???'s records in the D.I.Y. Shop. | All of Ashley's Music | Collected all of Ashley's records in the D.I.Y. Shop. |
| 018 | Collected all of ???'s records in the D.I.Y. Shop. | All of Orbulon's Music | Collected all of Orbulon's records in the D.I.Y. Shop. |
| 019 | Collected all of ???'s records in the D.I.Y. Shop. | All of 9-Volt's Music | Collected all of 9-Volt's records in the D.I.Y. Shop. |
| 020 | Collected all ??? comics. | Complete Run | Collected all Diamond Publishing comics. |
| 021 | Filled the ??? shelf in the D.I.Y. Shop. | D.I.Y. Game Collector | Filled the D.I.Y. Games shelf in the D.I.Y. Shop. |
| 022 | Filled the ??? shelf in the D.I.Y. Shop. | D.I.Y. Record Collector | Filled the D.I.Y. Records shelf in the D.I.Y. Shop. |
| 023 | Filled the ??? shelf in the D.I.Y. Shop. | D.I.Y. Comic Collector | Filled the D.I.Y. Comics shelf in the D.I.Y. Shop. |
| 024 | Software from your brand has sold ???+ copies. | Fresh New Game Studio | Software from your brand has sold 100+ copies. |
| 025 | Software from your brand has sold ???+ copies. | Up-and-Coming Game Studio | Software from your brand has sold 300+ copies. |
| 026 | Software from your brand has sold ???+ copies. | Veteran Game Studio | Software from your brand has sold 500+ copies. |
| 027 | Software from your brand has sold ???+ copies. | Famous Game Studio | Software from your brand has sold 1,000+ copies. |
| 028 | Software from your brand has sold ???+ copies. | Nationally Known Game Studio | Software from your brand has sold 2,000+ copies. |
| 029 | Software from your brand has sold ???+ copies. | World-Famous Game Studio | Software from your brand has sold 3,000+ copies. |
| 030 | Software from your brand has sold ???+ copies. | Galactic Celebrity Game Studio | Software from your brand has sold 4,000+ copies. |
| 031 | Your game ??? has sold ???+ copies. | Rookie Creator | Your game [name here] has sold 50+ copies. |
| 032 | Your game ??? has sold ???+ copies. | Established Creator | Your game [name here] has sold 100+ copies. |
| 033 | Your game ??? has sold ???+ copies. | Popular Creator | Your game [name here] has sold 200+ copies. |
| 034 | Your game ??? has sold ???+ copies. | Famous Creator | Your game [name here] has sold 300+ copies. |
| 035 | Your game ??? has sold ???+ copies. | Star Creator | Your game [name here] has sold 400+ copies. |
| 036 | Your game ??? has sold ???+ copies. | Legendary Creator | Your game [name here] has sold 500+ copies. |
| 037 | Completed Game D.I.Y. 101 ???. | MakerMatic Grad | Completed Game D.I.Y. 101 Lesson 1. |
| 038 | Completed Game D.I.Y. 101 ???. | MakerMatic Pro | Completed Game D.I.Y. 101 Lesson 2. |
| 039 | Successfully ??? Game D.I.Y. 101. | MakerMatic Master | Successfully completed Game D.I.Y. 101. |
| 040 | Successfully ??? Record D.I.Y. 101. | Record MakerMatic Grad | Successfully completed Record D.I.Y. 101. |
| 041 | Successfully ??? Comics D.I.Y. 101. | Comic MakerMatic Grad | Successfully completed Comics D.I.Y. 101. |
| 042 | Shipped ??? different job games. | Wage Slave | Shipped four different job games. |
| 043 | Shipped ??? different job games. | Tireless Worker | Shipped eight different job games. |
| 044 | Shipped ??? different job games. | Employee of the Month | Shipped 12 different job games. |
| 045 | Shipped ??? job games. | Senior Manager | Shipped all job games. |
| 046 | Shipped a total of ??? job games. | Assistant Manager | Shipped a total of 10 job games. |
| 047 | Shipped a total of ??? job games. | High-Powered Executive | Shipped a total of 20 job games. |
| 048 | Mastered ??? techniques in the Assembly Dojo. | Assembly Pupil | Mastered four techniques in the Assembly Dojo. |
| 049 | Mastered ??? techniques in the Assembly Dojo. | Assembly White Belt | Mastered eight techniques in the Assembly Dojo. |
| 050 | Mastered ??? techniques in the Assembly Dojo. | Assembly Black Belt | Mastered 16 techniques in the Assembly Dojo. |
| 051 | Mastered ??? techniques in the Assembly Dojo. | Assembly Ninja | Mastered 24 techniques in the Assembly Dojo. |
| 052 | Mastered ??? techniques in the Assembly Dojo. | Assembly Grand Master | Mastered all techniques in the Assembly Dojo. |
| 053 | Shipped your ??? game made in the Game MakerMatic. | MakerMatic: Firsties! | Shipped your first game made in the Game MakerMatic. |
| 054 | Shipped ??? games made in the Game MakerMatic. | MakerMatic: 10 Games | Shipped 10 games made in the Game MakerMatic. |
| 055 | Shipped ??? games made in the Game MakerMatic. | MakerMatic: 20 Games | Shipped 20 games made in the Game MakerMatic. |
| 056 | Shipped ??? games made in the Game MakerMatic. | MakerMatic: 30 Games | Shipped 30 games made in the Game MakerMatic. |
| 057 | Shipped ??? games made in the Game MakerMatic. | MakerMatic: 40 Games | Shipped 40 games made in the Game MakerMatic. |
| 058 | Shipped ??? games made in the Game MakerMatic. | MakerMatic: Ever Onward! | Shipped 50 games made in the Game MakerMatic. |
| 059 | Shipped your ??? record made in the Record MakerMatic. | Record MakerMatic: Release Party | Shipped your first record made in the Record MakerMatic. |
| 060 | Shipped your ??? record made in the Record MakerMatic. | Record MakerMatic: 5! | Shipped your fifth record made in the Record MakerMatic. |
| 061 | Shipped your ??? record made in the Record MakerMatic. | Record MakerMatic: 10! | Shipped your 10th record made in the Record MakerMatic. |
| 062 | Shipped your ??? record made in the Record MakerMatic. | Record MakerMatic: 15! | Shipped your 15th record made in the Record MakerMatic. |
| 063 | Shipped your ??? record made in the Record MakerMatic. | Record MakerMatic: 20! | Shipped your 20th record made in the Record MakerMatic. |
| 064 | Shipped your ??? record made in the Record MakerMatic. | Record MakerMatic: Keep on Rockin'! | Shipped your 25th record made in the Record MakerMatic. |
| 065 | Shipped your ??? comic made in the Comic MakerMatic. | Comic MakerMatic: Issue #1! | Shipped your first comic made in the Comic MakerMatic. |
| 066 | Shipped your ??? comic made in the Comic MakerMatic. | Comic MakerMatic: 5! | Shipped your fifth comic made in the Comic MakerMatic. |
| 067 | Shipped your ??? comic made in the Comic MakerMatic. | Comic MakerMatic: 10! | Shipped your 10th comic made in the Comic MakerMatic. |
| 068 | Shipped your ??? comic made in the Comic MakerMatic. | Comic MakerMatic: 15! | Shipped your 15th comic made in the Comic MakerMatic. |
| 069 | Shipped your ??? comic made in the Comic MakerMatic. | Comic MakerMatic: 20! | Shipped your 20th comic made in the Comic MakerMatic. |
| 070 | Shipped your ??? comic made in the Comic MakerMatic. | Comic Maker: Ongoing Series | Shipped your 25th comic made in the Comic MakerMatic. |
| 071 | Spent more than ??? hour with the Game MakerMatic. | Game Time: 1 hour making! | Spent more than one hour with the Game MakerMatic. |
| 072 | Spent more than ??? hours with the Game MakerMatic. | Game Time: 3 hours making! | Spent more than three hours with the Game MakerMatic. |
| 073 | Spent more than ??? hours with the Game MakerMatic. | Game Time: 5 hours making! | Spent more than five hours with the Game MakerMatic. |
| 074 | Spent more than ??? hours with the Game MakerMatic. | Game Time: 10 hours making! | Spent more than 10 hours with the Game MakerMatic. |
| 075 | Spent more than ??? hours with the Game MakerMatic. | Game Time: 20 hours making! | Spent more than 20 hours with the Game MakerMatic. |
| 076 | Spent more than ??? hours with the Game MakerMatic. | Game Time: 30 hours making! | Spent more than 30 hours with the Game MakerMatic. |
| 077 | Spent more than ??? hours with the Game MakerMatic. | Game Time: 50 hours making! | Spent more than 50 hours with the Game MakerMatic. |
| 078 | Spent more than ??? hour with the Record MakerMatic. | Record Time: 1 hour making! | Spent more than one hour with the Record MakerMatic. |
| 079 | Spent more than ??? hours with the Record MakerMatic. | Record Time: 3 hours making! | Spent more than three hours with the Record MakerMatic. |
| 080 | Spent more than ??? hours with the Record MakerMatic. | Record Time: 5 hours making! | Spent more than five hours with the Record MakerMatic. |
| 081 | Spent more than ??? hours with the Record MakerMatic. | Record Time: 10 hours making! | Spent more than 10 hours with the Record MakerMatic. |
| 082 | Spent more than ??? hours with the Record MakerMatic. | Record Time: 20 hours making! | Spent more than 20 hours with the Record MakerMatic. |
| 083 | Spent more than ??? hour with the Comic MakerMatic. | Comic Time: 1 hour making! | Spent more than one hour with the Comic MakerMatic. |
| 084 | Spent more than ??? hours with the Comic MakerMatic. | Comic Time: 3 hours making! | Spent more than three hours with the Comic MakerMatic. |
| 085 | Spent more than ??? hours with the Comic MakerMatic. | Comic Time: 5 hours making! | Spent more than five hours with the Comic MakerMatic. |
| 086 | Spent more than ??? hours with the Comic MakerMatic. | Comic Time: 10 hours making! | Spent more than 10 hours with the Comic MakerMatic. |
| 087 | Spent more than ??? hours with the Comic MakerMatic. | Comic Time: 20 hours making! | Spent more than 20 hours with the Comic MakerMatic. |
| 088 | Reached D.I.Y. Forum ??? ???. | Forum Hound | Reached D.I.Y. Forum message capacity. |
| 089 | Connected to a Wii for the ??? time. | D.I.Y. Showcase | Connected to a Wii for the first time. |
| 090 | Connected to a friend's DS for the ??? time. | Two Cans on a String | Connected to a friend's DS for the first time. |
| 091 | Connected to a friend's DS for the ??? time. | Rotary Dial | Connected to a friend's DS for the fifth time. |
| 092 | Connected to a friend's DS for the ??? time. | Dial-Up | Connected to a friend's DS for the 10th time. |
| 093 | Connected to a friend's DS for the ??? time. | Serious Bandwidth | Connected to a friend's DS for the 20th time. |
| 094 | Connected to a friend's DS for the ??? time. | Mind Meld | Connected to a friend's DS for the 30th time. |
| 095 | Shipped ??? products to a friend's DS. | 5 Products Shipped! | Shipped five products to a friend's DS. |
| 096 | Shipped ??? products to a friend's DS. | 10 Products Shipped! | Shipped 10 products to a friend's DS. |
| 097 | Shipped ??? products to a friend's DS. | 30 Products Shipped! | Shipped 30 products to a friend's DS. |
| 098 | Shipped ??? products to a friend's DS. | 50 Products Shipped! | Shipped 50 products to a friend's DS. |
| 099 | Shipped ??? products to a friend's DS. | 100 Products Shipped! | Shipped 100 products to a friend's DS. |
| 100 | Received ??? products from a friend's DS. | 5 Products Received! | Received five products from a friend's DS. |
| 101 | Received ??? products from a friend's DS. | 10 Products Received! | Received 10 products from a friend's DS. |
| 102 | Received ??? products from a friend's DS. | 30 Products Received! | Received 30 products from a friend's DS. |
| 103 | Received ??? products from a friend's DS. | 50 Products Received! | Received 50 products from a friend's DS. |
| 104 | Connected to the Warehouse for the ??? time. | Warehouse Member | Connected to the Warehouse for the first time. |
| 105 | Shipped ??? to the Warehouse. | Shipped to Storage Crate! | Shipped a product to the Warehouse. |
| 106 | Received ??? from the Warehouse. | Received from Storage Crate! | Received a product from the Warehouse. |
| 107 | Connected to the NinSoft Store for the ??? time. | Nintendo Friend | Connected to the NinSoft Store for the first time. |
| 108 | Registered ??? friend code. | First Friend! | Registered one friend code. |
| 109 | Registered ??? friend codes. | Three Friends! | Registered three friend codes. |
| 110 | Registered ??? friend codes. | Five Friends! | Registered five friend codes. |
| 111 | Registered ??? friend codes. | 10 Friends! | Registered 10 friend codes. |
| 112 | Entered ??? design challenge. | First Design Challenge | Entered first design challenge. |
| 113 | Entered ??? design challenge. | Second Design Challenge | Entered second design challenge. |
| 114 | Entered ??? design challenge. | Regular Challenger | Entered fifth design challenge. |
| 115 | Played WarioWare: D.I.Y. ??? days. | Got the hang of the MakerMatic? | Played WarioWare: D.I.Y. 10 days. |
| 116 | Played WarioWare: D.I.Y. ??? days. | Day 20 already! | Played WarioWare: D.I.Y. 20 days. |
| 117 | Played WarioWare: D.I.Y. ??? days. | Hanging in there! | Played WarioWare: D.I.Y. 30 days. |
| 118 | Played WarioWare: D.I.Y. ??? days. | Wow! Day 50! | Played WarioWare: D.I.Y. 50 days. |
| 119 | Played ???. | Credit Where Credit Is Due | Played staff credits. |
| 120 | Scored perfectly in ???! | Perfect Shooter | Scored perfectly in staff credits. |