Super Mario-A-Thon
From the Super Mario Wiki, the Mario encyclopedia
Jump to navigation
Jump to search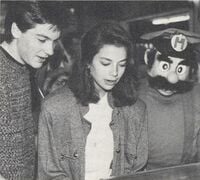 The Super Mario-A-Thon was an event that took place at the Roxbury Park Recreation Center in Beverly Hills, California on December 6, 1986. It was documented in Nintendo Fun Club News's very first Winter 1987 volume, which shows two photographs of the event, both having a person in a Mario costume. At the Super Mario-A-Thon, attendees would compete in Super Mario Bros. for the highest score, and the notable attendees consisted of forty young celebrities from various television shows and films. The purpose of the Super Mario-A-Thon was for Nintendo to raise money for the Scott Newman Foundation, a non-profit organization whose purpose was to help kids refuse to take drugs.
The top score was earned by Wil Wheaton, the star of Stand By Me, who managed to accumulate 239,400 points within ten minutes. His two younger siblings, Amy and Jeremy, also earned top scores. When asked about how many points he managed to achieve at home, Wil replied that it was around 900,000 points.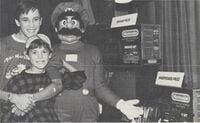 A total of 22 prizes were handed out within three tiers:
A Nintendo Control Deck and a copy of Super Mario Bros.: Attendees who managed to earn a higher score than a celebrity were put in a drawing. Twenty lucky people were selected as winners at random.
A 19-inch color TV with an NES Deluxe Set: This was the grand prize, and it was awarded to a random person via a random drawing of all challengers.
An NES Deluxe Set with 15 popular Nintendo Entertainment System games: This was given to the overall high score winner. Wil Wheaton won this prize.