StreetPass Mii Plaza
From the Super Mario Wiki, the Mario encyclopedia
Jump to navigation
Jump to search

StreetPass Mii Plaza is a pre-installed application on the Nintendo 3DS developed by Nintendo that relies heavily on StreetPass connectivity to play its games. It allows players to create a profile using any Mii that they have made in the Mii Maker, which will be sent to other users via StreetPass when connected, and used to play games. Two games (seven after updating the software completely) which utilize the player's Mii can be played in the Plaza: Puzzle Swap, Find Mii, Mii Force, Flower Town, Warrior's Way and Monster Manor. The game's only unlockables are Nintendo-themed accessories which can be used to dress up the player's Mii, and three dimensional scenes featuring recent Nintendo games or events.
Features
[
edit
]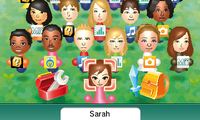 StreetPass Mii Plaza allows the creation of a profile that players can customize with their personal information, which is sent to other users upon connecting via StreetPass. This information includes a Mii, which is used as a player character while in the Plaza, a greeting, a birthday, the 3DS' registered location and minor details such as a favorite hobby or dream. Players can choose to make some of this information private if they wish, and can change the information in the Settings sub-menu at any time. As long as the player has the wireless communications switch turned on and StreetPass enabled, the data is transferred between any wireless-enabled 3DS system within range. A notification light on the 3DS turns green to indicate when another 3DS has been detected, even when the software is closed.
StreetPass Plaza is the location where the player's Mii resides. The Plaza is lush with green lawn and small plants, and features a yellow arch adorned with a grass root as its front entrance. Upon opening the software after a connection has been made, the entrance is shown with the player's Mii greeting any new Miis that have been encountered, before inviting each to take residence in the plaza and play Find Mii and Puzzle Swap with them, as well as any additional games that they have purchased. As Miis are invited into the Plaza via StreetPass and online games such as Mario Kart 7 or Mario Tennis Open, the Plaza grows, and the music becomes more dynamic.
The player is given the option of playing StreetPass games to unlock accessories for their Mii and 3D images related to various Nintendo series by using either Miis obtained by StreetPass or Play Coins. After the December 2011 update, additional features were introduced, including a slideshow for completed Puzzle Swap panels, a world map which shows locations that differ to the player's, an achievements list, and a music player for listening to the application's various tracks. After the summer 2013 update, a Shop menu was added, where four additional StreetPass games can be purchased. The touch screen was also updated to allow for quick access to each of these games, as well as Find Mii and Puzzle Swap. Other features such as an Exchange Booth for unlocking outfits and a Check for Updates tool were also introduced.
Puzzle Swap
[
edit
]
Puzzle Swap features various different puzzles that the player can complete. Players are given one piece to start off with, and more can be obtained by StreetPassing with other people. After StreetPassing with someone, the player is then entitled to take a puzzle piece from them (and vice versa) to add to their collection. If another player does not have any new pieces, nothing is gained. Players can also spend two Play Coins to buy a random puzzle piece to any incomplete puzzle they have. Once a puzzle is completed, a three-dimensional image of the puzzle can then be viewed.
While the initial puzzles consisted of fifteen pieces, the December 2011 update included several puzzles with either twenty-four or forty pieces, as well as the ability to receive new puzzles through SpotPass. Additionally, the four center-most pieces in the twenty-four piece puzzles and the eight center most pieces in the forty piece puzzles are pink. These pink pieces cannot be purchased with Play Coins, and can only be obtained by StreetPassing other people who have obtained them.
Mario-themed Puzzle Swap panels

[

edit

]
Find Mii
[
edit
]
Find Mii (called StreetPass Quest outside of North America) is a basic turn-based RPG where Miis are utilized to fight through several enemy-filled rooms in order to free the player's own Mii from imprisonment. The minigame inspired a stage of the same name to be included in Super Smash Bros. for Nintendo 3DS and Super Smash Bros. Ultimate.
Miis are given two attacks, either a three-hit sword attack or a magic attack with effects determined by the Mii's favorite color, and are leveled up by consecutive StreetPasses with the same person. Players can also hire 'wandering' heroes (taking the appearance of either a cat or dog depending on the player's preference) for two Play Coins, with a limit of up to ten in a single party. Accessories such as Mario character caps can be obtained after clearing certain rooms and are used to dress up the player's Mii in the Plaza.
An expansive sequel to Find Mii, known as Find Mii II (StreetPass Quest II outside of North America) was made available with the December 2011 system update, featuring tougher challenges, additional options (such as the ability to purchase potions with Play Coins) and new unlockable accessories. It can only be played once the first Find Mii game has been cleared twice.
Paid Games (DLC)
[
edit
]
It has been requested that this section be rewritten.
The option to purchase 4 additional StreetPass games becomes available after updating the software. These games can be purchased individually, or all at once for a discount. StreetPassing players who have also purchased one of these titles allows for additional, individualized bonuses to be obtained within the games they share.
Gallery
[
edit
]
Mii Force
[
edit
]
Mii Force (known as StreetPass Squad in PAL regions) is the first of the four games that was added to StreetPass Mii Plaza in 2013. The goal is to save the StreetPass Galaxy from the Goldbone Gang. As the user gets more StreetPass Tags, the more weapons the user can use to get rid of the Goldbone Gang. When the user gets hit then one of the helpers will leave. Each level ends with a boss.
Language
Name
Meaning
Japanese
すれちがいシューティング
Surechigai Shūtingu
Passing Shooting
Flower Town
[
edit
]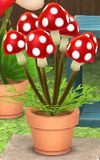 Flower Town (known as StreetPass Garden in PAL regions) is the second of the four games that was added to StreetPass Mii Plaza in 2013. The goal is to grow 80 different species of flowers. Each Mii that visits the player's garden, either makes the current flower grow or pollinates one of its seeds. The player can decorate their garden with flowers and accessories. Players are also able to change the pots that their plants are in. Some Mario-themed pots are the Green Pipe, Yellow Pipe, and Brick Planter. The Mega Mushroom Flower resembles a Super Mushroom, and the Bite Weed is similar to a Piranha Plant.
Language
Name
Meaning
Japanese
すれちがいガ〜デン
Surechigai Gāden
Passing Garden
Warrior's Way
[
edit
]
Warrior's Way (known as StreetPass Battle in PAL regions) is the third of the four games that was added to StreetPass Mii Plaza in 2013. The goal is to take over the world with an army. To get soldiers, the player must get a StreetPass Tag which grants soldiers that equal that person's plaza population. Another way to get soldiers is to win a battle. If a battle is lost, some of the player's soldiers will depart. The player can also fight with the people who joined via StreetPass Tags if they have already owned Warrior's Way.
Language
Name
Meaning
Japanese
すれちがい

合戦


Surechigai Kassen
Passing Battle
Monster Manor
[
edit
]
Monster Manor (known as StreetPass Mansion in PAL regions) is the last of the four games that was added to StreetPass Mii Plaza in 2013. The goal is to solve a mystery in the mansion with the help of people the player meets via StreetPass Tags. Each plaza visitor will give a piece of a hallway in their color. If the player combines a piece of a hallway with the corresponding color to another, the pieces will become a room which may contain treasure chests. The player must also engage in a duel with monsters to progress using various weapons obtained from chests as well. The player must find a staircase to progress further in the game.
Language
Name
Meaning
Japanese
すれちがい

迷宮


Surechigai Meikyū
Passing Maze
Ultimate Angler
[
edit
]
Ultimate Angler (known as StreetPass Fishing outside of America), is a fishing game released in 2015 as the Bundle 2 DLC games with the second being Battleground Z. Players get bait from people met via StreetPass, the type of bait depends on what their favorite color is. There are two species of fish that relate to the Mario series that are considered mystery species that only specific Mii characters met can spot them, and they are the Cheep Cheep and the Blooper. The Cheep Cheep can be found on Oceanora Island and the Blooper can be found on Mythroll Island.
Battleground Z
[
edit
]
Battleground Z (known as StreetPass Zombies outside of America), is a beat'em up game. It was added in 2015 with Ultimate Angler as part of the Bundle 2 DLC game pack. Players complete missions while fending off a zombie horde. Unlike other StreetPass games, the main characteristic of a Mii are based off of hobby, not the color. Because of this, there are 26 weapons to obtain, each with a Normal Attack and a Charge Attack. The weapons will also change color based on that Mii's color.
Outfits
[
edit
]
Hats and Costumes (collectively referred to as Outfits) are used to customize the player's Mii in the Plaza. Players can choose a favorite outfit for their Mii to wear while playing StreetPass games, and this outfit will also be worn when the player's Mii is transferred to other Plazas via StreetPass. Full costumes and various other hats can also be obtained by exchanging tickets earned in Mii Force, Flower Town, Warrior's Way and Monster Manor at the Exchange Booth.
List of Mario-themed hats/outfits

[

edit

]
Find Mii
[
edit
]
Find Mii II
[
edit
]
Find Mii II Secret Quest
[
edit
]
Exchange Booth
[
edit
]
Gallery
[
edit
]
For this subject's image gallery, see Gallery:StreetPass Mii Plaza.
StreetPass Mii Plaza: Main Theme 1 - The initial plaza theme

File info
0:30
Names in other languages
[
edit
]
Language
Name
Meaning
Japanese
すれちがいMii広場
Surechigai Mī Hiroba
Passing Mii Plaza
Dutch
StreetPass Mii-park
StreetPass Mii Park
French
Place Mii StreetPass
StreetPass Mii Plaza
German
Streetpass Mii-Lobby
Streetpass Mii Lobby
Spanish
Plaza Mii de StreetPass
StreetPass's Mii Plaza
External links
[
edit
]
References
[
edit
]