Photos with Mario
From the Super Mario Wiki, the Mario encyclopedia
Jump to navigation
Jump to search
Photos with Mario

For alternate box art, see the game's gallery.
Developer
Nintendo EAD (Nintendo Software Development Group No. 1 Tokyo)
Publisher
Nintendo
Platform(s)
Nintendo 3DS
Release date
April 23, 2013
May 18, 2014
November 4, 2015

Genre
Augmented reality
Rating(s)
Mode(s)
Single player
Media

Nintendo 3DS:

Digital download

Input

Nintendo 3DS:

Gamepad

Tilt
Photos with Mario is a free photography-based application released on the Nintendo 3DS, allowing players to take pictures of various Super Mario characters. It is the Nintendo 3DS's first entirely Super Mario-centered application and was developed by the same teams behind Super Mario Galaxy, Super Mario Galaxy 2, and Super Mario 3D Land. The application requires 65 blocks of space to download and is compatible with special Super Mario-themed AR cards.
Photos with Mario and the first set of cards that it requires were released in Japan on April 23, 2013, while in the United States, the application was released on May 18, 2014,[1] and the cards were released on May 28; the app was intended to be released on May 28 as well, but it was mistakenly released ten days early. As of November 2013, it is one of three such applications on the Nintendo 3DS, the others being Photos with Animal Crossing[2] and Photo Together with Pikmin.
Photos with Mario was eventually removed from the Nintendo 3DS Nintendo eShop on March 27, 2023, making it no longer available for download.[3] However, players who have previously downloaded the app can still play it as long as it is on their 3DS device.
Gameplay
[
edit
]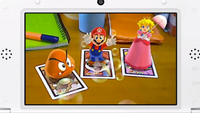 The application features the ability to move the characters away from the AR card and place them anywhere to take a photo by pressing
to "grab" the characters on screen and place them elsewhere; pressing the button again "releases" the characters, causing them to appear back on their card or disappear if it is no longer on screen. Pressing

takes a picture, and pressing one of the face buttons allows for a time delay before a photo is automatically taken (
being three seconds,
being five seconds,
being ten seconds, and
being random). Pressing the camera button on the bottom screen switches from the exterior camera to the interior one, and vice versa. The player can also cause several effects to happen on-screen by using the
, such as blowing bubbles with right, causing a shower of stars with down, causing it to snow with left, and having party poppers go off with up. The lighting in the scene can be altered with the
, allowing players to change the angle and color of the light.
Placing multiple cards in one frame causes the characters to interact with each other in some way (i.e. the Goomba charges Mario but gets jumped on); the ? Block card is also compatible with the application, which creates a Warp Pipe that provides a different reaction with each character the card interacts with (with Mario, Peach, and Luigi, a Toad emerges, and with the Goomba, Koopa Troopa, and Bowser, a Piranha Plant emerges; if multiple character cards are in the frame, the question card shows only a pipe, and if nothing else is on screen, a Bullet Bill emerges). Viewing the cards from various directions and calling their name into the microphone also causes several actions to occur.
Six compatible AR cards have been released in Japan in two sets. The cards were released with special Nintendo eShop prepaid cards at three different price points (1000, 2000, and 3000 yen, respectively). In the United States, the first three cards were released exclusively at Target stores at launch before being released at general retail later on, included with exclusive $10 Nintendo eShop cards, while Luigi, Bowser, and Koopa Troopa were released exclusively at Target, GameStop, and Best Buy (respectively) in the same manner.[4] In Europe, the Mario, Luigi, and Bowser cards like in Japan were released at three different price points (Mario for £10, Luigi for £15, and Bowser for £50).
In addition to the free AR card, a QR code is also included on the prepaid card to download the application from the Nintendo 3DS eShop for the Japanese and North American Nintendo eShop cards, while in Europe a download code for the software is included on the back of the AR cards.
Gallery
[
edit
]
For this subject's image gallery, see Gallery:Photos with Mario.
Have fun with your favorite Mushroom Kingdom characters!

Use this free application to view the AR character card included with the "Photos with Mario" series of $10 Nintendo eShop Cards. Watch as they leap to life on your system's screen! Place different cards in one frame to see characters interact in fun ways. Move characters around to capture unexpected scenes, save the photos to your SD card, and share them with friends.

Find the Photos with Mario series of $10 Nintendo eShop Cards at select retailers. Choose from Mario™, Peach™, Goomba, Bowser™, Koopa Troopa, or Luigi™ versions—or collect all six.
Main article: List of Photos with Mario staff
Names in other languages
[
edit
]
Language
Name
Meaning
Japanese
いっしょにフォト スーパーマリオ
Issho ni Foto Sūpā Mario
Photo Together with Super Mario
Before its true release date on the North American Nintendo eShop, the release date was erroneously shown as being "07/09/1981," the release date for the arcade version of Donkey Kong.
References
[
edit
]
External links
[
edit
]