The Year of Luigi
From the Super Mario Wiki, the Mario encyclopedia
Jump to navigation
Jump to search
The Year of Luigi was a special event that was held in 2013 and continued in 2014 in commemoration of the 30th anniversary of Luigi's debut in Mario Bros., which was first released in 1983. Therefore, released during the event were several games, collectibles, and downloadable content with Luigi as the main focus. The Year of Luigi was originally announced during the February 2013 Nintendo Direct,[1] and in early December, Reggie Fils-Aime stated that it would continue into 2014, which was confirmed by Satoru Iwata in the Nintendo Direct on December 18, 2013.[2]
As announced by Shigeru Miyamoto on February 18, 2014, the Year of Luigi officially ended on March 18, 2014.[3][4]
Nintendo 3DS
[
edit
]
Console special editions
[
edit
]
A Luigi-themed Nintendo 3DS XL with Mario & Luigi: Dream Team pre-installed on the 4GB SD card. (Available for retail in Japan[5] and North America,[6] and exclusively via Nintendo's official online store in the United Kingdom.[7])
Merchandise
[
edit
]
Japan Club Nintendo members can get a copy of The Year of Luigi Sound Selection. It contains 30 songs from Luigi's Mansion to Mario & Luigi: Dream Team. It costs 400 points, but members who have purchased and registered any Year of Luigi games can get the CD for only 200 points.[8]
Exclusive merchandise is available in Japan.[9]
US and Canada Club Nintendo members who purchased the New Super Luigi U DLC from the Nintendo eShop by August 1, 2013 and completed the surveys within four weeks after downloading had a chance to win 1 of 980 Luigi pins.[10]
A Year of Luigi coin was made available with a small green bag for 1500 and 1250 stars in the European and Australian Club Nintendo websites, respectively.[11]
A Luigi's Mansion: Dark Moon diorama is available on the American Club Nintendo site for 1500 coins, and the European Club Nintendo for 7000 Stars.[12]
A Year of Luigi poster as part of a three poster set as an optional Platinum reward for Club Nintendo members who ranked the status by July 2013.[13]
Special elements to applications
[
edit
]
Five drawing competitions in Miiverse were held, the themes of each contest being related to elements from Luigi's Mansion: Dark Moon. The drawings were chosen by MariChan, who was in charge of the Luigi communities.[15]
A New Super Luigi U scrapbook, with screenshots of Miiverse, the screenshots being chosen by MariChan.[16]
Four Miiverse communities were opened, and remained open only during the duration of the event:

A general community for the Year of Luigi.
A Developer's Room dedicated to the Year of Luigi.
A community for Luigi's Mansion: Dark Moon.
A community for Mario & Luigi: Dream Team.

Six Miis of Nintendo employees sent out to players' StreetPass Mii Plazas wore dark green clothes and Luigi's Cap for the event:
A Year of Luigi stationary was released for Swapnote.
Shigeru Miyamoto and Takashi Tezuka sent out notes on Swapnote about the Year of Luigi.
References in later media
[
edit
]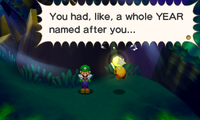 Gallery
[
edit
]
For this subject's image gallery, see Gallery:The Year of Luigi.
The Year of Luigi - Promotional recording of Luigi, released by Nintendo of America.

File info
1:47
Names in other languages
[
edit
]
Language
Name
Meaning
Japanese
ルイージの年
Ruīji no Toshi
Year of Luigi
Dutch
Jaar van Luigi
Year of Luigi
French
Année de Luigi
Year of Luigi
German
Jahr des Luigi
Year of Luigi
Italian
Anno di Luigi
Year of Luigi
Portuguese
Ano do Luigi
Year of Luigi
Russian
Год Луиджи
God Luidzhi
Year of Luigi
Spanish
Año de Luigi
Year of Luigi
Although Iwata claimed that Luigi's debut was in the Mario Bros. arcade game,[1] his actual first appearance in a released game was in the earlier Mario Bros. Game & Watch game. He also claimed that the arcade game was released on July 14, 1983 when its actual release date was June 21, 1983.[19][20]
The Year of Luigi's logo is similar to that of the logo used for the 25th anniversary of Super Mario Bros.
In the Luigi-themed special edition of the Nintendo 3DS XL, at the back of the system, a Mario silhouette can be spotted surrounded by Luigi silhouettes.[21]
Danny Wells, who portrayed and voiced Luigi in The Super Mario Bros. Super Show!, died during the Year of Luigi on November 28, 2013.
External links
[
edit
]
References
[
edit
]