Kenta Nagata
From the Super Mario Wiki, the Mario encyclopedia
Jump to navigation
Jump to search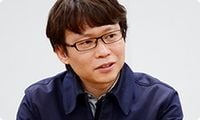 Kenta Nagata (Japanese: 永田 権太, nicknamed "gon" in 1080° Snowboarding) is a Japanese composer employed by Nintendo. He is proficient with the piano and bass but also plays guitar.
Nagata joined Nintendo in 1996[1]. In the Super Mario franchise, he is most notable for his works in the Mario Kart series, as well as serving as sound director for New Super Mario Bros. Wii, New Super Mario Bros. 2, and Mario Kart 8. It is speculated he married fellow Nintendo composer Shinobu Tanaka over the course of his employment.
Other works include some tracks for Pokémon Stadium, Animal Crossing, and The Legend of Zelda: The Wind Waker, and the entirety of Big Brain Academy.
Song credits
[
edit
]
Aryll's Theme (from The Legend of Zelda: The Wind Waker) — Composition, guitar
Title (from Dōbutsu no Mori) — Composition, bass
Fortress Boss — Bass
Among the Demons — Bass
Epona's Song — Arrangement
K.K. Soul — Bass
Ground Theme — Arrangement[3]
Underground Theme — Arrangement[3]
Castle Boss Theme — Composition/arrangement[3]
Game Over — Arrangement[3]
Title — Composition/arrangement[4]
Ground Theme — Arrangement[5]
Remix 10 — Arrangement[6]
Gallery
[
edit
]
References
[
edit
]
External links
[
edit
]