Jeff Griffeath
From the Super Mario Wiki, the Mario encyclopedia
Jump to navigation
Jump to search
"As a matter of fact, I'm a LEAD artist. (That means I know all the secret keystrokes to make the paint program work.) I just finished work on our history game. Wanna see it?"
Jeff Griffeath is a former employee of The Software Toolworks. He served as the art director for the MS-DOS and SNES versions of Mario's Time Machine, a lead artist for the PC version of the game, and a regular artist for the MS-DOS and SNES versions of Mario is Missing!. He was also a regular artist for the Chessmaster series. Within the PC version of Mario's Time Machine, he appears as a physical character who meets Mario after the latter travels to Novato in 1993 (1994 in the Deluxe re-release).
Fellow art director Maude Church described Jeff Griffeath as a talented artist who gave her plenty of room to work while also making sure to check over all of the work.[1]
History
[
edit
]
Mario's Time Machine

[

edit

]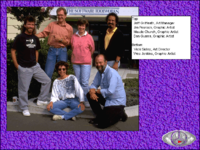 In Mario's Time Machine, Jeff Griffeath was working in The Software Toolworks' art department when Bowser steals the Floppy Disk holding the final version of Mario's Time Machine and Mario travels to the headquarters to return it. When Mario first meets him, he asks where he is, and Griffeath tells him that he is in the company's art department, where they "aims ta please". Griffeath asks Mario if he needs anything, and Mario promptly asks him if he is an artist. Griffeath says that he is, in fact, a lead artist, which means that he knows exactly how the computer programs work, and that he has just finished some artwork for Mario's Time Machine. He invites Mario to look at it, but he refuses. Griffeath agreeably says that he can visit at any point, and tells him to ask the receptionist for him while also giving him an Art File for the game to remember him by. He then asks if Mario is able to draw, as the company is interested in hiring more artists. Mario promptly scribbles a sketch of Luigi, and Griffeath is impressed, saying that he wants to show it to the art director, Vicki Sidley. He says that Mario may even be called back for an interview, but Mario declines the offer, as he needs to return the Floppy Disk. Griffeath is disappointed, as he reiterates how Sidley wants him to find more artists, and he bemoans the fact that Mario may never be known as a great artist. Mario spontaneously asks Griffeath if anything is troubling him, and Griffeath angrily tells him that he needs the latest script for the game to make new artwork while also complaining about how the writers are constantly changing it. Mario soon brings him the Script, and Griffeath thanks him while also telling him that two of the other writers on staff, Wes Jenkins and Jim Pearson, are also talented artists. He enthusiastically says that the company has some impressive Renaissance people, ending the conversation.
External links
[
edit
]
References
[
edit
]