Sam Shalam
From the Super Mario Wiki, the Mario encyclopedia
Jump to navigation
Jump to search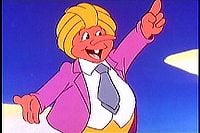 "This is a genuine Persian carpet... made in Hong Kong."
Sam Shalam is a salesman who runs a used flying carpet lot with his assistant Slammer in Cloud Land in The Super Mario Bros. Super Show!.
In the episode "Mario and the Red Baron Koopa", Mario and Luigi wind up at Sam's lot after an incident involving a rising platform. Needing a magic carpet to defeat King Koopa and Lakitu, Mario, after some bartering, manages to buy a bug-infested carpet from Sam for the price of three washers and a stick of gum.
Eventually, Mario and Luigi's carpet is burnt to a crisp by King Koopa and his fireball-gun. Without a flying carpet beneath them, Mario and Luigi are sent plummeting downward, only to be narrowly saved by a trampoline used Princess Toadstool, Toad and several others.
This trampoline bounced Mario and Luigi back-up to Sam's lot; meeting Sam again, Mario and Luigi accused Sam of cheating them, by saying the flying carpet he sold them was fire-proof, despite it being easily burned by King Koopa.
Hearing that Mario and Luigi want to stop King Koopa, Sam happily gives the two a pair of flying carpets for free; Sam's reason for doing this being that he wanted to see King Koopa defeated for having stolen his fireball-gun equipped magic carpet.