Slammer (character)
From the Super Mario Wiki, the Mario encyclopedia
Jump to navigation
Jump to search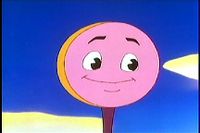 Slammer is the paddle-shaped assistant of Sam Shalam, a used magic carpet salesman. Slammer seems to be somewhat less of a swindler than Sam, saying that most of the carpets sold by Sam aren't worth buying and are junk.
Slammer's only appearance was in The Super Mario Bros. Super Show! episode "Mario and the Red Baron Koopa". After Mario and Luigi were raised to Sam Shalam's magic carpet lot in Cloud Land, Sam, after using Slammer to beat the dust out of some carpets, approaches Mario and Luigi, trying to persuade them to buy a carpet.
Eventually, Mario buys a bug-infested carpet (which Sam had been using Slammer to beat) from Sam and Slammer for three washers and a stick of gum.