Panther and the Thunderbolts
From the Super Mario Wiki, the Mario encyclopedia
Jump to navigation
Jump to search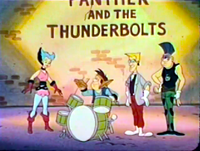 Panther and the Thunderbolts is a rock band prominently featured in the Saturday Supercade episode New Wave Ape. Pai is the lone female of the band, as well as the band's only notable member.
During an upcoming competition with rival rock band Slam, the band needed to find a replacement for their lead drummer after he had overloaded himself with chili dogs. Donkey Kong then appeared inside the studio and played a drumbeat which impressed Pai and caused her to hire Donkey Kong as the backup drummer. After receiving a haircut and subsequently being hypnotized by Harry and Dee-Dee to hide Slam's instruments, Donkey Kong took part in the performance, during which he was de-hypnotized by Mario and Pauline to return the instruments. Efforts by Harry and Dee-Dee to prevent the de-hypnotization failed, and Pai soon found out what the duo was up to; she fired Harry from his position, making clear her desire for a fair competition.
During the end of the episode, it is revealed that Panther and the Thunderbolts won their competition with Slam.