Ms. Munchly
From the Super Mario Wiki, the Mario encyclopedia
Jump to navigation
Jump to search
"Congratulations! You earned the title of Gourmet Master!"
Ms. Munchly is a character that appears in WarioWare Gold. She hosts an eating contest in Diamond City Castle.
Ms. Munchly first appears sleeping in front of Kat & Ana as they ready themselves to get ninja learner's permits. Kat says their fates rest in Ms. Munchly's hands. After Ana questions if she is actually a ninja, Kat tells her true ninjas never look like ninjas. Kat signs herself and Ana into the eating contest. Eventually, the duo wins the contest and Ms. Munchly gives them the title of "Gourmet Master", leaving them confused. She tells the two that the Department of Ninja Licensing is next door.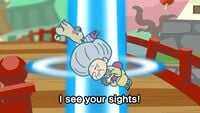 Ms. Munchly returns as a minor character in WarioWare: Get It Together!. In Orbulon's story, he humorously takes her in addition to various artifacts that he plans to give to all of his friends as souvenirs. Ms. Munchly does not react to her unexpected abduction.
Profiles
[
edit
]
WarioWare Gold character cards

[

edit

]
Rank C – This woman is often found dozing at Diamond City Castle. Even while deep in z's, she looks formidable.
Rank B – Ms. Munchly thinks that a feast with friends is a nice fine thing indeed. She loves parfaits. Strawberry, please.
Rank A – In the days of yore, she worked at a sushi restaurant. No one made HUGE sushi faster than Ms. Munchly.
Names in other languages
[
edit
]
Language
Name
Meaning
Japanese
コトブキさん
Kotobuki-san
Ms. Kotobuki; from「寿」(kotobuki, longevity) and may also be in reference to「寿教室」(kotobuki kyōshitsu, culture courses for the aged)
Chinese (Simplified)
阿寿
Ā Shòu
Derived from the Japanese name
Chinese (Traditional)
阿壽
Ā Shòu
Derived from the Japanese name
French
Mme Bonnechaire
Mrs. Goodfood
German
Oma Spatchel
Grandma Spatula
Italian
Signora Eva Long
Mrs. Eva Long; "Eva Long" is an anagram of "Longeva" (long-lived)
Korean
코토부키 씨
Kotobuki Ssi
Derived from the Japanese name
Russian
Госпожа Манчли
Gospozha Manchli
Ms. Munchly
Spanish
Doña Gourmiko
Mrs. Gourmiko